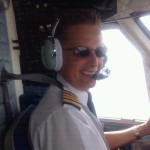 We asked Skybus captain, Mark Slade, about his fascinating job and what he enjoys most about flying to the Scilly Isles.
The Isles of Scilly are postcard perfect on the ground, but from above they are spectacular. On a sunny day, the azure waters that surround the white sands of the Scilly Isles are so clear, that you can make out the shape of the rocks beneath. Looking down, you could be anywhere in the Caribbean, when in fact you're just twenty-eight miles from the Cornish coast.
From the Skybus, you can really see how unspoiled the Scilly Isles are, there are miles of green open space, a few boats scattered about the shore and hardly any roads or cars. With the islands looking so welcoming, flying there is a fantastic start to your holiday, and an experience that our 21 pilots get to enjoy almost daily.
Skybus Captain, Mark Slade, joined us as a first officer in 2008. Over the past few years he's made hundreds of trips to and from the islands, transporting visitors from Newquay, Exeter and Land's End.
Originally from Falmouth, Mark sold his heating and ventilation business to follow his dream of becoming a pilot. Once qualified, he began his new career flying aerial photographers and advertising banners around the Cornish coastline. He joined us in 2008, spending three years as a first officer before doing a full season as the single pilot on our smaller plane, the Islander. Last year we're thrilled to say he qualified as a captain, and he now expertly pilots our sixteen-seater Twin Otter.
In the warmer months, Mark mostly flies excited tourists and eager bird watchers to the islands. The Skybus has an open cockpit, so unlike many larger commercial planes, Mark actually gets to speak to his passengers face to face. For children, it's a fantastic (and rare!) opportunity to see a pilot in action. It's such a short distance that it's hands-on flying as opposed to cruise control –which Mark tells us is much more interesting for him.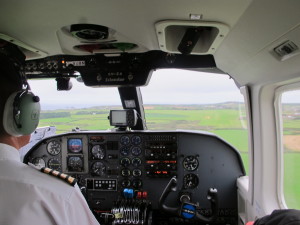 Our Skybus is also a vital link between the Isles of Scilly residents and the mainland, and locals regularly use our Land's End service, which takes just 15 minutes. In fact, it's so quick that Mark's even flown a Chinese takeaway over to the islands in the past!
So what's the best thing about being a Skybus pilot? For Mark, it has to be the views. Flying from Exeter and Newquay at a relatively low 1000-5000 feet, over the long beach at Perranporth and the golden sands of St Ives Bay, he has a fantastic view of Cornwall's rugged coastline. As he says, when the sun comes up, it's belting.
When travelling to the Isles of Scilly, the journey really is part of your experience. This summer, why not fly to the islands by Skybus. We have flights to St Mary's from Exeter, Newquay, or from the beautiful new Land's End airport, which has panoramic views and a wood burning stove. Check out our low fares finder to ensure you get the best price available. We look forward to welcoming you on-board.