While our flights to St. Mary's are well known, it's still a bit of a secret that we run scenic flights from Land's End. To shine a light on this unique experience, we asked our lovely pilot, Simon Williams, to tell us all about his route above the spectacular Cornish coastline…
Hi Simon, could you please describe the scenic flight route?
Scenic flights are fabulous on a sunny day. It's Cornwall in all its majesty. It's all the good stuff! It's seaside, cliffs and coast. It's Cornwall past and present.
We take off from Land's End Airport and the route takes us down the South Penwith coast, where sights include Sennen Cove, some wrecks (The Mülheim) and Land's End. You'll see The Minack Theatre carved out from the granite – it's difficult to point out, but when you see it from above you realise how wonderful it is. We also pass Nanjizal Bay, Gwennap Head and the old coast guard station, St Michael's Mount and the big Porthcurno Beach.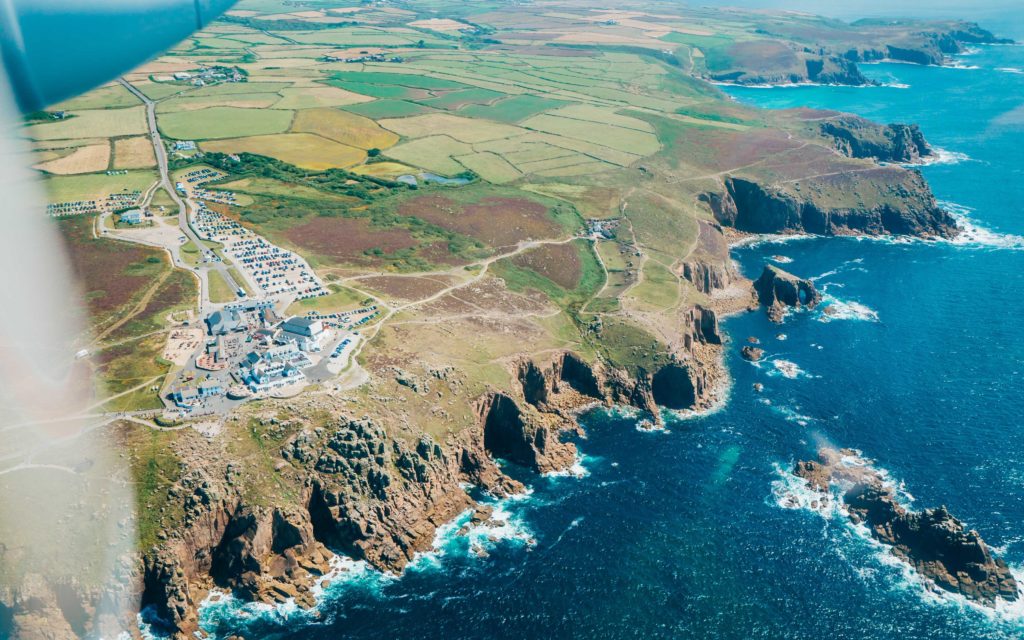 It sounds spectacular!
The other day we could have been in the Caribbean! The sea was turquoise-blue, the sun was shining and a yacht was parked just in the cove – it was absolutely jaw dropping. I wish I'd taken a photograph!
And it's a twenty-minute flight?
Twenty to twenty-five minutes, depending on favorable weather conditions –it's never shorter than twenty.
What's the best bit about the flight?
The thing I like the most is lighting up the faces of our passengers. I had two Austrian couples on the other day and we showed them where they filmed the Rosamunde Pilcher series. I flew them around saying, "you might recognise some of these scenes, come and have a look!" It's engaging, lovely stuff, you know?
When did you decide to become a pilot?
I always wanted to fly. My dad and uncles were in the Air Force, so I got excited about airplanes and used to go to air shows. I'd always wanted to do it, but I ended up in the ambulance service. I saved up and got my Private Pilot's Licence – in fact the Chief Pilot was one of my first instructors! I then saved up some more and, after my mid-life crisis [joking!], I went and got my Commercial Pilot's Licence.
How often are you in the air?
Scenics are 'as required', but there can be up to three flights in a day. I'm also a Captain on The Islander and a First Officer on the Twin Otter [both fly to Scilly]. Last season I averaged 12 flights per day, so six there-and-backs. We fly in three configurations – either with passengers, freight or in air ambulance mode. It's never mundane!
What made you want to work for Isles of Scilly Travel?
It's local, it's Cornwall – I'm very proud to be Cornish! I knew that Land's End would offer me a really happy time.
What's your favourite place on Scilly?
Tean – one of the uninhabited islands. On our honeymoon, my wife and I got dropped off there with a picnic basket and a bottle of wine. It was just lovely. We've had some very happy times on the islands – I just love them.
What's the most amazing thing you've seen during a flight?
The whale. It was on a flight to Scilly, as I went to turn in to land. I was south east of the islands and there it was, right below me. It was very humbling for me to see it. I just thought "wow, how cool you are!"
What's the best thing about what you do?
… Can I have two?
Of course!
I love the passengers – our customers – they're wonderful. I love to give them a good time and I take great pride in my work. It's not good enough to just turn up and do it, these people have chosen us and we want them to come back, so let's give them a fabulous time!
The other bit I like is the flying. I don't need to go away – I'm on holiday every day!
Scenic flights are a unique experience and start from just £50 per person. We also have gift vouchers available if you'd like to treat someone special. Call us on 01736 785231 for more information.