Island Helicopters
Island Helicopters operates all year round to the Isles of Scilly from Land's End Airport. The journey takes 15 minutes and is a wonderful introduction to Scilly, you'll fly over the sweeping headlands over the coast of Land's End before making the short connection to Scilly. Island Helicopters will use a brand new AW169 helicopter. The class-leading twin-engine aircraft is capable of carrying up to 10 passengers with comfort, safety and speed.
Make the connection to Scilly with Island Helicopters and enjoy a seamless transfer service from our friendly bus drivers, and a warm welcome at check-in before boarding our brand new aircraft. Your captain will welcome you aboard and transport you across to the stunning Isles of Scilly.
Key Information
Luggage Allowance
15kg allowance per person
15kg max weight
60cm x 40cm x 30cm max size
Boarding and Check-In
We ask that you check-in at least 1 hour before departure time – to be on the safe side, and to give you time to relax. Check in closes 30 minutes before your schedule departure time.
Flight Duration
Land's End 15 minutes.
2019 Island Helicopter Fares
Land's End
Standard Return Fare
Adult
From £230
Child ( 2-15 )
From £230
*Limited seats available at the from prices. To get the best fares avoid peak travel times such as Friday, Saturday or Monday. Book well in advance and check our offers.
A faster journey: more time on Scilly
We operate from Land's End Airport into St. Mary's Airport on the Isles of Scilly: a short, 20-minute hop making it easy to connect to the Isles of Scilly.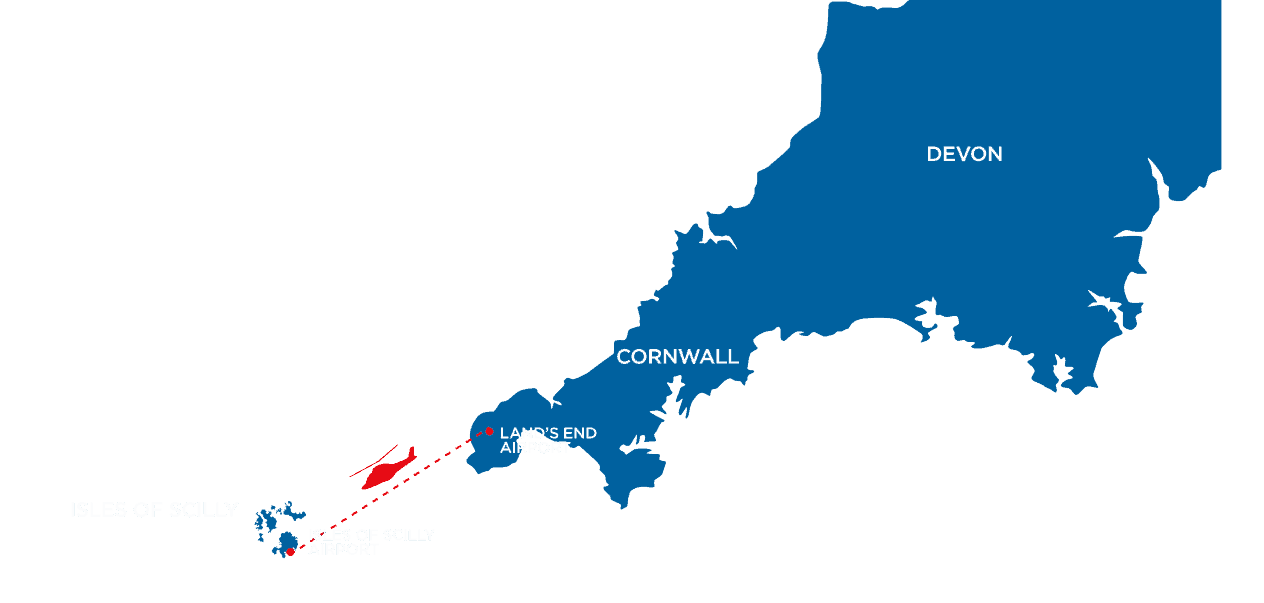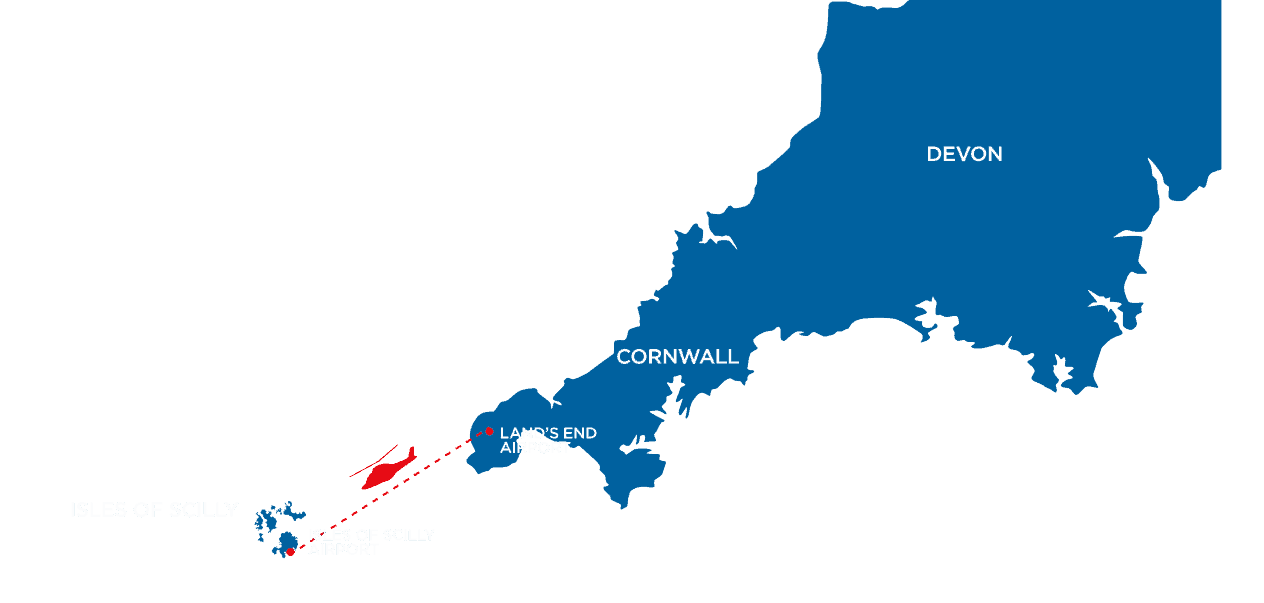 Amazing sights on your journey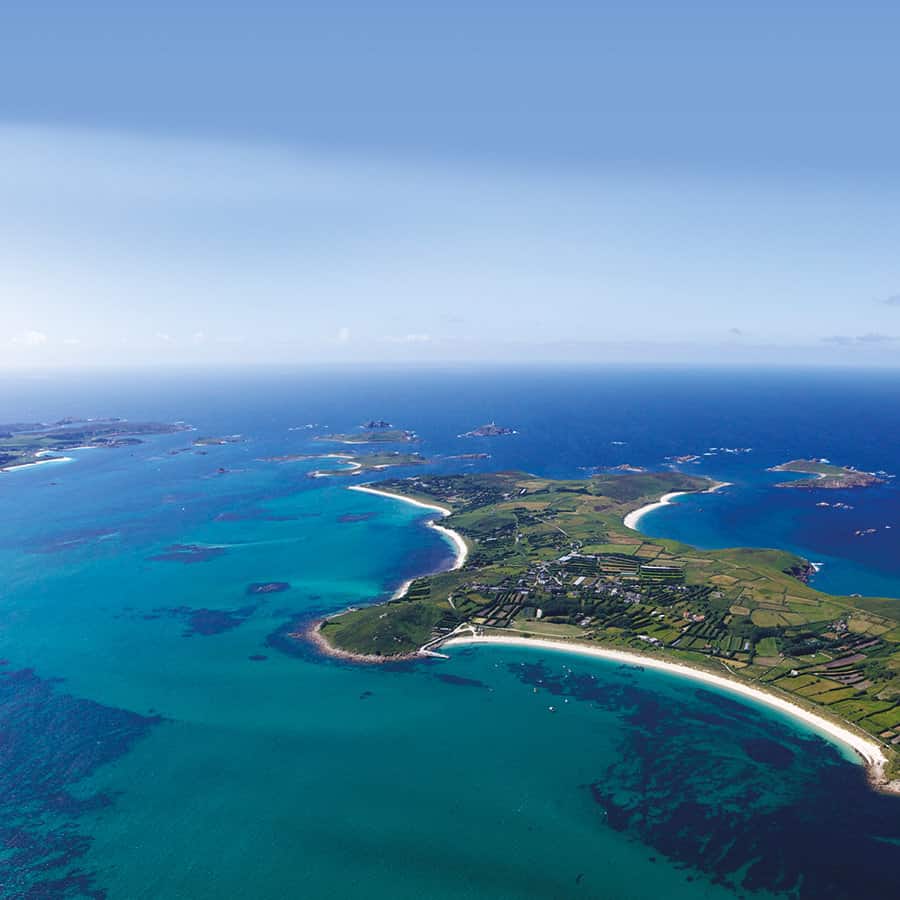 Your first glimpse of the islands
Very quickly after take off, the Isles of Scilly come into view. Before you know it, you're looking down at quiet, sandy coves and clear, turquoise seas in between.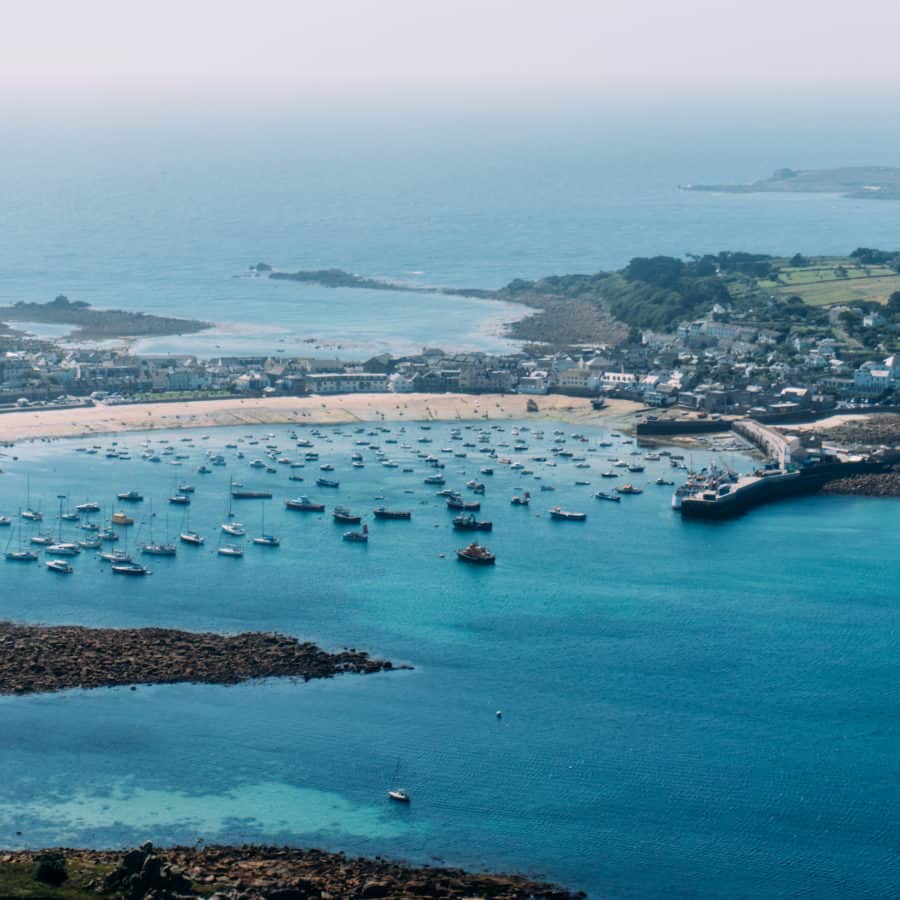 Land in paradise
Arrival into the Isles of Scilly is the perfect introduction to Scilly, with birds eye views of this sub-tropical paradise.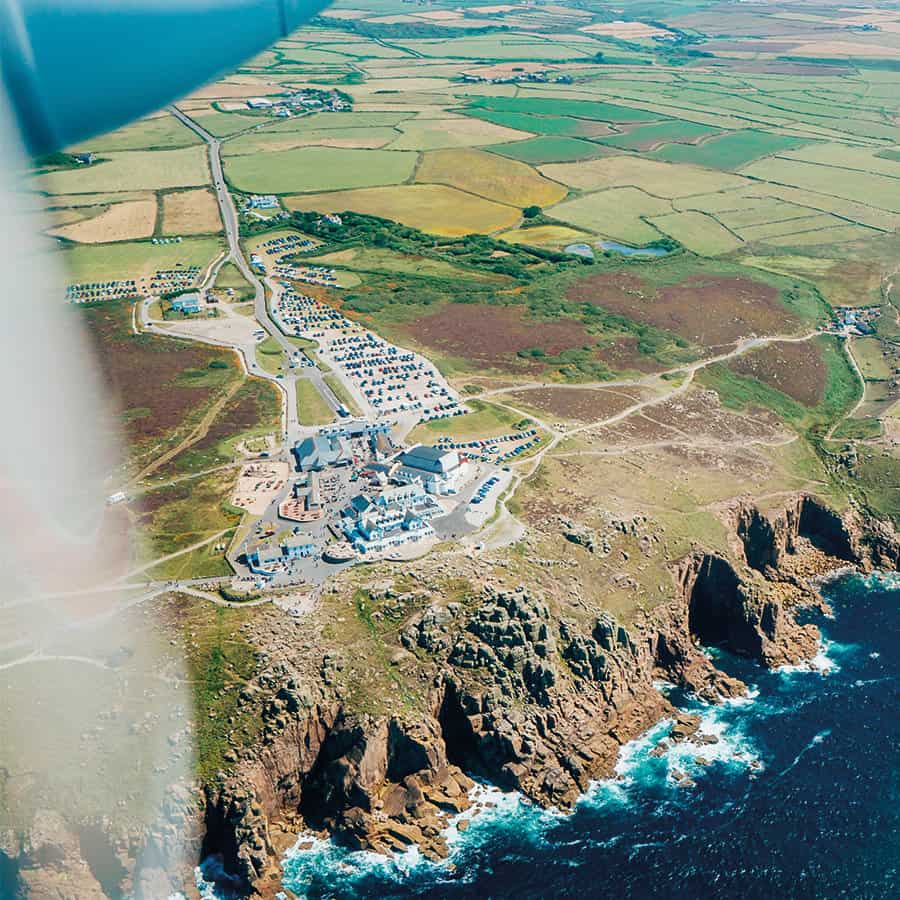 Rugged Land's End
Cornwall's furthest tip is suitably dramatic. As you head out over the Atlantic, you'll see the cliffs, rocks and waves in an entirely new way.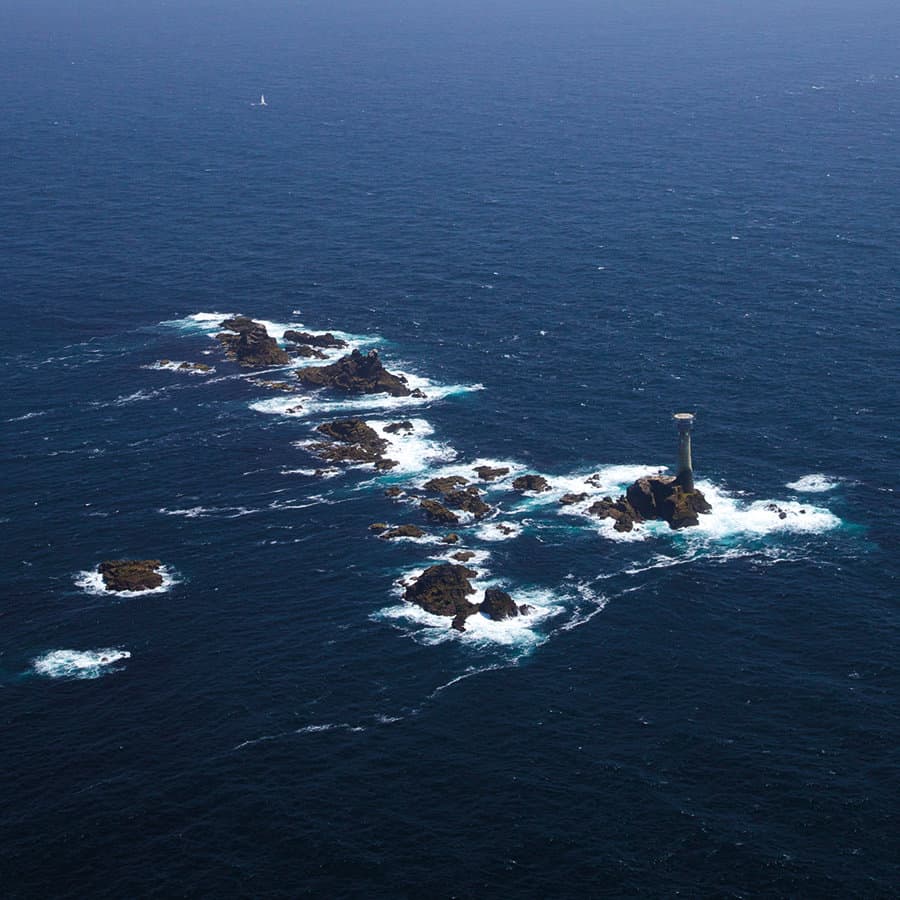 Longships Lighthouse
There's been a lighthouse protecting shipping from the treacherous Land's End coast since 1795. The current tower is almost 150 years old, and can be seen 11 miles away.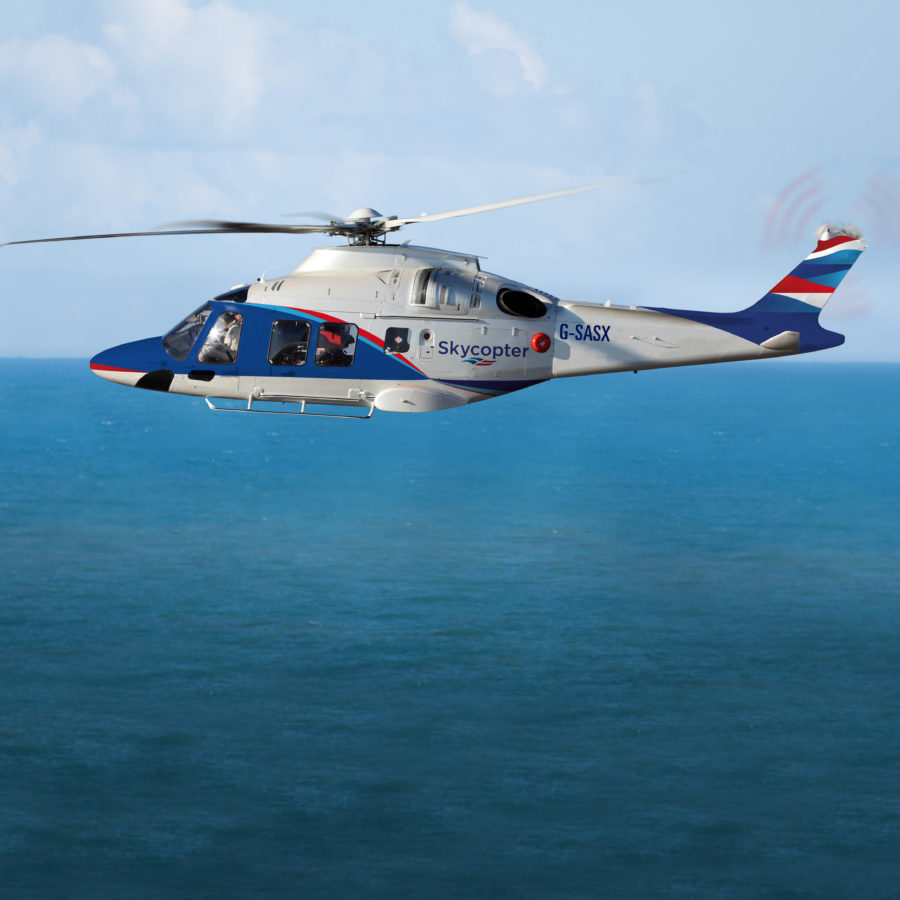 The Helicopter experience
Travel in style on the brand new AW169 10-seater helicopter.
Passenger Information
For full information on travelling aboard Island Helicopters, please visit:
Luggage allowances on Island Helicopters
15Kg Max Luggage Total
Single and return trips
1 x Hold luggage
Max 15 Kg per passenger
60cm x 40cm x 30cm
No single piece from than 20 Kg
1 x Cabin luggage
Small bag
30cm x 15cm x 15cm
Coat, small camera, binoculars or book
Cabin luggage only
Day trips
1 x Cabin luggage
Small bag
30cm x 15cm x 15cm
Coat, small camera, binoculars or book
Luggage
For full information on taking luggage on Island Helicopters, please visit our plan your trip section.
About Island Helicopters
Island Helicopters is operated by Gloucester-based Specialist Aviation Services (SAS) in partnership with the Isles of Scilly Travel (part of Isles of Scilly Steamship Group), using a brand new 10-seater AW169 helicopter.