Freight Information
Our freight offices in Penzance and St Mary's handle all seabourne freight between the mainland and the Isles of Scilly.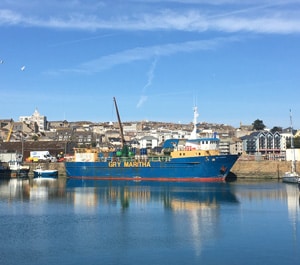 We have a dedicated freight ship, the Gry Maritha, which is designed to carry palletised cargo, bulk fuel and a deck crane which enables the ship to carry large goods up to a maximum weight of 6 tonnes, including vehicles and machinery. The freight ship maintains an all year round service to the Isles of Scilly.
A small amount of freight can be carried on our passenger ship, Scillonian III, when operating between March and November.
All goods are required to be booked in at least 24 hours' in advance and we reserve the right to refuse any consignment not properly packed or booked. Larger items must be pre-booked further in advance as deck space is limited.