Scillonian III
The Scillonian passenger ferry service has been the Islands' lifeline for almost a century – since 1977, Scillonian III has carried over four million passengers safely to and from the mainland. The crossing from Penzance to St. Mary's takes around 2hrs and 45 minutes, and gives you a unique perspective of some of Cornwall's most iconic coastline.
There are comfy, reclining seats as well as café bars, serving hot and cold drinks and snacks. Dogs are welcome in most areas of the ship; please keep your pet on a lead, keep to the designated areas, and buy them a dog ticket when you book.
Key Information
Luggage Allowance
2 pieces allowance per person
25kg max weight per person (no single piece more than 20kg)
85cm x 60cm x 40cm max size
Boarding and Check-in Times
We ask that you check-in 1 hour before your departure time to be on the safe side, and to give you time to relax. Check-in closes 30 minutes before your scheduled departure time.
Sailing Time
2 hours, 45 minutes
2018 Scillonian III Fares
Standard Single Fare
Adult (16 +)
From £49.50
Child (2-15)
From £25
Infant (under 2)
From £15
Day Trip Fare
Adult (16 +)
£45
Child (2-15)
£24
Infant (under 2)
£16
Fly + Sail Day Trip Return Fare
Adult (16 +)
£88
Child (2-15)
£65.50
Infant (under 2)
£35.50
*Limited seats available at the from prices. To get the best fares avoid peak travel times such as Friday, Saturday or Monday. Book well in advance and check our offers.
So much to see along the way
As we sail along the coastline, you'll be treated to a unique, seaward perspective of some of Cornwall and Scilly's best-loved landmarks – often as you've never seen them before. How many will you be able to name?
St Michael's Mount
This tidal island dominates the coastline near Penzance. The monastic buildings on its summit are more than eight hundred years old.
Penzance Jubilee Pool
Scillonian III moors next to this art deco lido, which was built in 1935. It was recently restored, after suffering extensive damage in the storms of 2014.
Mousehole
The fishing harbour immortalised in The Mousehole Cat was called "the loveliest village" by Welsh poet Dylan Thomas. Every year, thousands of people visit its fundraising Christmas lights.
The Minack Theatre
You'll see the world- renowned open-air theatre, carved into granite cliffs overlooking Porthcurno- one of Britain's most picture-perfect coves.
Land's End
On a sunny day, the white clifftop buildings at Land's End are visible from deck before – or after – you can see the coast itself.
Keep your eyes open for wildlife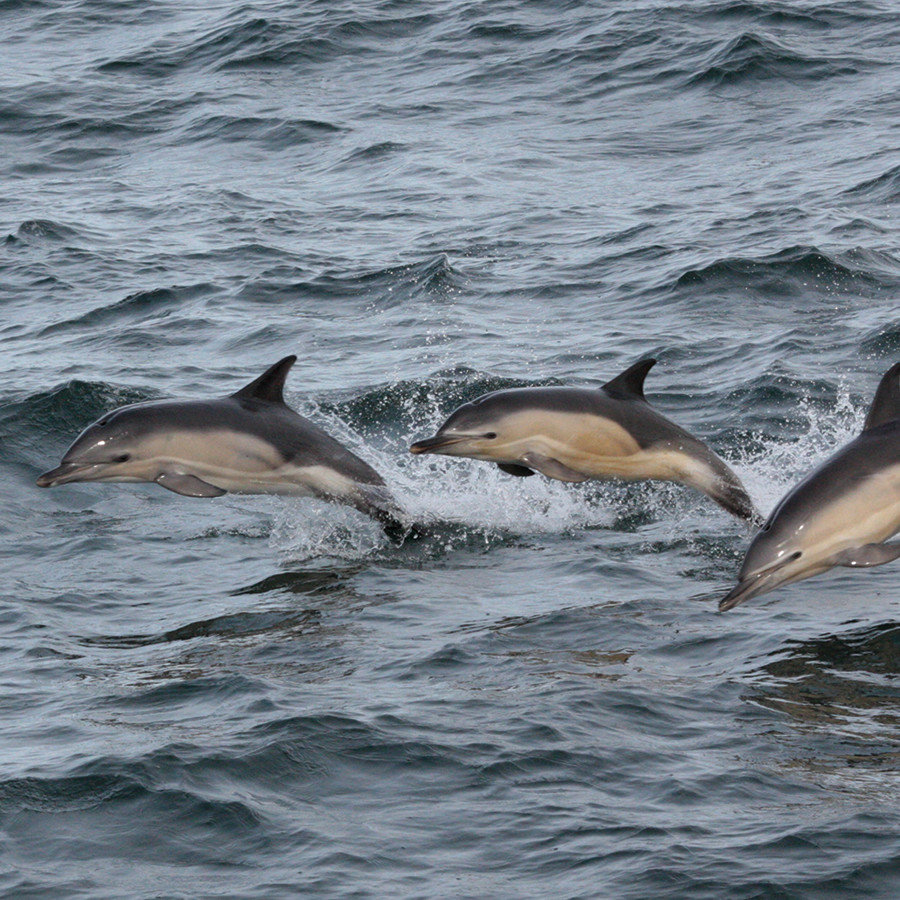 Common Dolphin
There are three types of dolphin around the Isles of Scilly. You're most likely to see bottlenose (like Flipper) or common dolphins (with distinctive, dark and light markings). Risso's dolphins prefer deep water, so sightings are rarer. A pod of dolphins can surface and swim away in seconds, so keep your eyes on the waves.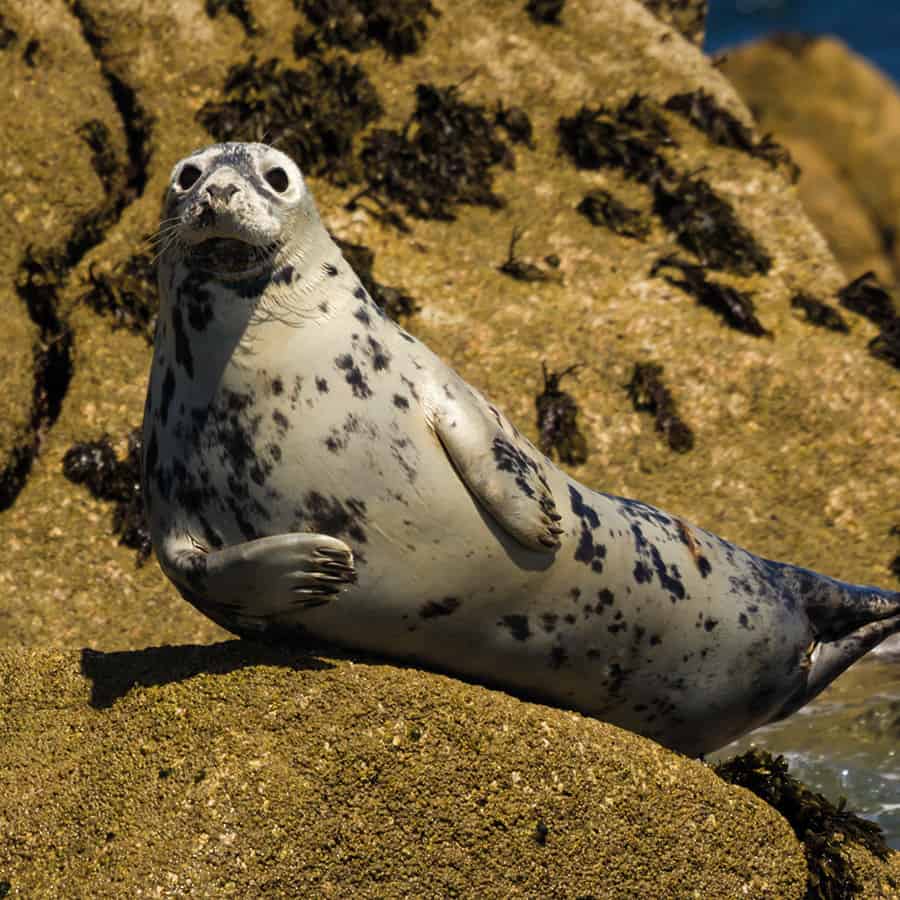 Atlantic Grey Seal
If you're lucky, you might catch a glimpse of the Isles of Scilly's largest mammal as you sail past the Eastern Isles.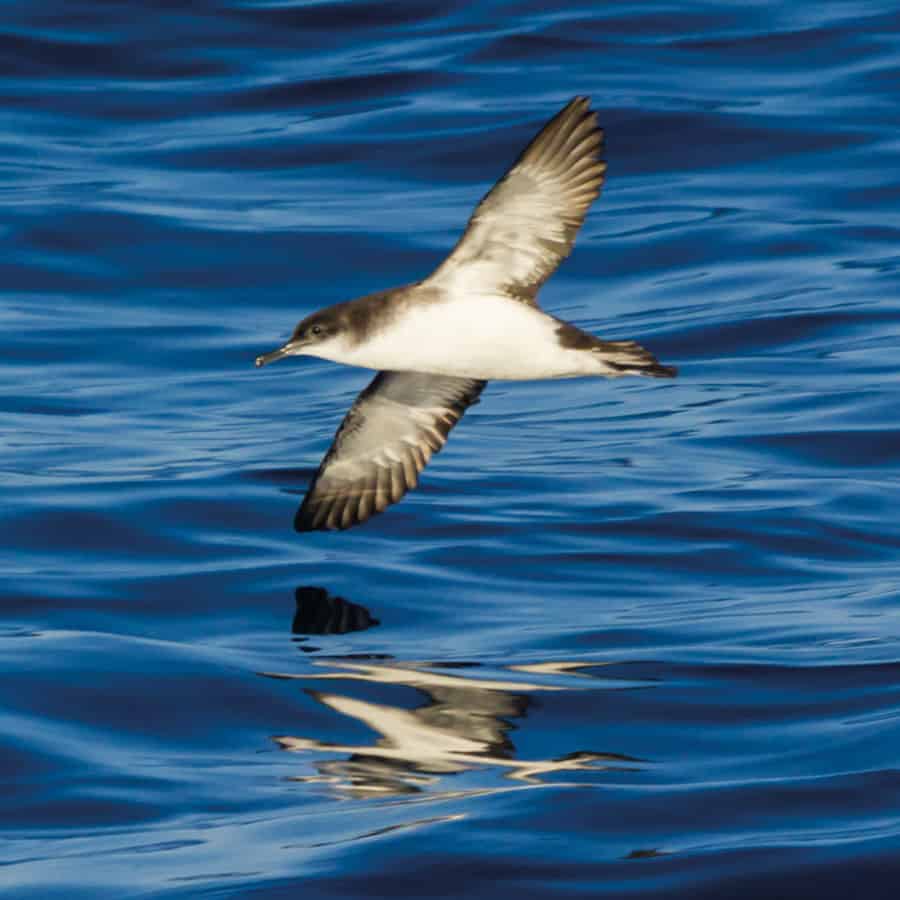 Manx Shearwater
Those small, black and white birds swooping alongside Scillonian III could be puffins – but they're more likely to be Manx shearwaters. They spend most of their lives at sea, only returning to land to breed – and only then when it's dark.
Ocean Sunfish
Scillonian III passengers most often see these fish – which can grow to huge sizes – shortly after leaving Penzance. They're large, flat and disc-shaped, with large fins pointing out above and beneath. They eat large volumes of jellyfish.
Basking Shark
These huge sharks are the world's second biggest fish, and can be 30 feet (10 metres) long – but don't worry; they only eat microscopic plankton. You might see them feeding off the coast of Cornwall between Lamorna and Land's End, and Porthcurno is a particular hotspot. Look for changes in the sea's surface, where currents are mixing and their food gathers.
Luggage allowance on Scillonian III
Excess Luggage
For full information on taking luggage on Scillonian, including excess luggage, please visit our plan your trip section.
About Scillonian III
Today's Scillonian passenger ferry, the Scillonian III, was built in Appledore, North Devon, and has served the Isles of Scilly for almost 40 years. In that time, she has covered more than half a million miles, and safely transported four million passengers, including Princes, Prime Ministers, authors and TV presenters. To keep her in great condition, our engineers give her a thorough overhaul every winter. The ship has a loyal and dedicated following of fans – including her own appreciation page on Facebook.