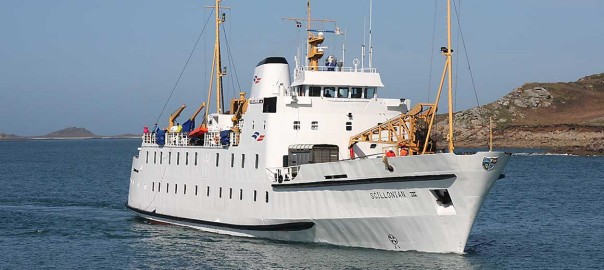 Scillonian
Scillonian III Timetable, 2014
The Scillonian III passenger ferry sails between Penzance and the Isles of Scilly on a daily basis taking as little as 2 hours and 40 minutes.
Enjoy the comfortable seating lounges and cafe facilities provided by Coffee Republic or choose to relax on the upper deck. Your crossing offers spectacular views of the Cornish coastline, quaint fishing coves, the world famous open air Minack Theatre and the Land's End peninsula before you sail to the clear, turquoise waters of the Scilly Islands.
General Schedule
Some departure times will be affected by tides, please see the table "Sailings Affected By Tides" below for details of affected sailings.
Sailing Dates
M
T
W
T
F
S
S
Depart Penzance
Depart St. Marys
Sailing Date:

24/03/2014 - 01/05/2014

M

T

W

T

F

S

S

Depart Penzance

0915

Depart St. Marys

1630
Sailing Date:

06/05/2014 - 23/05/2014

M

T

W

T

F

S

S

Depart Penzance

0915

Depart St. Marys

1630
Sailing Date:

24/05/2014

M

T

W

T

F

S

S

Depart Penzance

0630 & 1330

Depart St. Marys

0945 & 1645
Sailing Date:

26/05/2014 - 30/05/2014

M

T

W

T

F

S

S

Depart Penzance

0915

Depart St. Marys

1630
Sailing Date:

28/05/2014

M

T

W

T

F

S

S

Depart Penzance

0915

Depart St. Marys

1515
Sailing Date:

31/05/2014

M

T

W

T

F

S

S

Depart Penzance

0700 & 1415

Depart St. Marys

1015 & 1730
Sailing Date:

02/06/2014 - 28/06/2014

M

T

W

T

F

S

S

Depart Penzance

0915

Depart St. Marys

1630
Sailing Date:

29/06/2014 - 07/09/2014

M

T

W

T

F

S

S

Depart Penzance

0915

Depart St. Marys

1630
Sailing Date:

29/06/2014 - 07/09/2014

M

T

W

T

F

S

S

Depart Penzance

1030

Depart St. Marys

1500
Sailing Date:

08/09/2014 - 11/10/2014

M

T

W

T

F

S

S

Depart Penzance

0915

Depart St. Marys

1630
Sailing Date:

13/10/2014 - 18/10/2014

M

T

W

T

F

S

S

Depart Penzance

0915

Depart St. Marys

1630
Sailing Date:

20/10/2014 - 01/11/2014

M

T

W

T

F

S

S

Depart Penzance

0915

Depart St. Marys

1500
Sailing Date:

03/11/2014 - 08/11/2014

M

T

W

T

F

S

S

Depart Penzance

0915

Depart St. Marys

1400
For prices and special offers visit the Fares page for the Scillonian III or for information on flights to the Isles of Scilly visit Skybus Timetable
Gig Weekend
Sailing Dates
M
T
W
T
F
S
S
Depart Penzance
Depart St. Marys
Sailing Date:

02/05/2014

M

T

W

T

F

S

S

Depart Penzance

0600 & 1315

Depart St. Marys

0930 & 1630
Sailing Date:

03/05/2014

M

T

W

T

F

S

S

Depart Penzance

0815

Depart St. Marys

1630
Sailing Date:

05/05/2014

M

T

W

T

F

S

S

Depart Penzance

0630 & 1330

Depart St. Marys

0945 & 1645
Whitsun Week
Sailing Dates
M
T
W
T
F
S
S
Depart Penzance
Depart St. Marys
Sailing Date:

24/05/2014

M

T

W

T

F

S

S

Depart Penzance

0630 & 1330

Depart St. Marys

0945 & 1645
Sailing Date:

31/05/2014

M

T

W

T

F

S

S

Depart Penzance

0700 & 1415

Depart St. Marys

1015 & 1730
Special Sailings
Sailing Dates
M
T
W
T
F
S
S
Depart Penzance
Depart St. Marys
Sailing Date:

28/05/2014 - Race for Life

M

T

W

T

F

S

S

Depart Penzance

0915

Depart St. Marys

1515
Sailings Affected By Tides
Sailing Dates
M
T
W
T
F
S
S
Depart Penzance
Depart St. Marys
Sailing Date:

31/03/2014

M

T

W

T

F

S

S

Depart Penzance

1045

Depart St. Marys

1630
Sailing Date:

01/04/2014

M

T

W

T

F

S

S

Depart Penzance

0815

Depart St. Marys

1630
Sailing Date:

15/04/2014

M

T

W

T

F

S

S

Depart Penzance

1015

Depart St. Marys

1630
Sailing Date:

16/04/2014

M

T

W

T

F

S

S

Depart Penzance

0815

Depart St. Marys

1630
Sailing Date:

17/04/2014

M

T

W

T

F

S

S

Depart Penzance

0850

Depart St. Marys

1630
Sailing Date:

26/04/2014

M

T

W

T

F

S

S

Depart Penzance

0900

Depart St. Marys

1630
Sailing Date:

29/04/2014

M

T

W

T

F

S

S

Depart Penzance

1015

Depart St. Marys

1630
Sailing Date:

30/04/2014

M

T

W

T

F

S

S

Depart Penzance

0820

Depart St. Marys

1630
Sailing Date:

14/05/2014

M

T

W

T

F

S

S

Depart Penzance

0930

Depart St. Marys

1630
Sailing Date:

15/05/2014

M

T

W

T

F

S

S

Depart Penzance

1015

Depart St. Marys

1630
Sailing Date:

16/05/2014

M

T

W

T

F

S

S

Depart Penzance

0835

Depart St. Marys

1630
Sailing Date:

13/06/2014

M

T

W

T

F

S

S

Depart Penzance

1000

Depart St. Marys

1630
Sailing Date:

14/06/2014

M

T

W

T

F

S

S

Depart Penzance

0820

Depart St. Marys

1630
Sailing Date:

12/07/2014

M

T

W

T

F

S

S

Depart Penzance

0930

Depart St. Marys

1500
Sailing Date:

13/07/2014

M

T

W

T

F

S

S

Depart Penzance

0800

Depart St. Marys

1630
Sailing Date:

14/07/2014

M

T

W

T

F

S

S

Depart Penzance

0900

Depart St. Marys

1630
Sailing Date:

11/08/2014

M

T

W

T

F

S

S

Depart Penzance

1030

Depart St. Marys

1630
Sailing Date:

12/08/2014

M

T

W

T

F

S

S

Depart Penzance

0820

Depart St. Marys

1630
Sailing Date:

09/09/2014

M

T

W

T

F

S

S

Depart Penzance

1015

Depart St. Marys

1630
Sailing Date:

10/09/2014

M

T

W

T

F

S

S

Depart Penzance

0800

Depart St. Marys

1630
Sailing Date:

11/09/2014

M

T

W

T

F

S

S

Depart Penzance

0850

Depart St. Marys

1630
Sailing Date:

25/09/2014

M

T

W

T

F

S

S

Depart Penzance

0845

Depart St. Marys

1630
Sailing Date:

08/10/2014

M

T

W

T

F

S

S

Depart Penzance

1000

Depart St. Marys

1630
Sailing Date:

09/10/2014

M

T

W

T

F

S

S

Depart Penzance

1045

Depart St. Marys

1630
Sailing Date:

10/10/2014

M

T

W

T

F

S

S

Depart Penzance

0835

Depart St. Marys

1630
Sailing Date:

24/10/2014

M

T

W

T

F

S

S

Depart Penzance

0830

Depart St. Marys

1500
Sailing Date:

25/10/2014

M

T

W

T

F

S

S

Depart Penzance

0845

Depart St. Marys

1500
Sailing Date:

05/11/2014

M

T

W

T

F

S

S

Depart Penzance

0900

Depart St. Marys

1400