Select the service you are using
Scillonian
Parking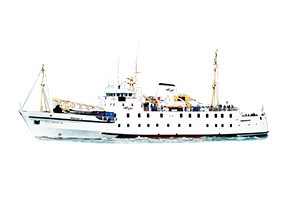 Parking at Penzance Harbour
For day trips on Scillonian, Cornwall Council's car parks at the Harbour and St Anthony's Gardens are ideal. Both are less than 800m (half a mile) from the quay. If you're staying longer, there's a choice of secure parking services designed especially for travellers to Scilly.
Scillonian Park and Ride
Parking at the Scillonian Park and Ride is a great and convenient way to start your holiday — Car parking for the Isles of Scilly is in the grounds of Trereife House, which is 1.7 miles/6 minutes from the Scillonian's departure point.
Directions
Upon arriving in Penzance, please drop your luggage and passengers at the Quay.
To reach the Park and Ride please follow these directions:
Head west to Battery Road (left off the quay).
Continue onto Western Promenade road until the mini roundabout, take the 2nd exit (right) onto Alexandra Road.
At the end of the road and at the roundabout, take the 1st exit (left) onto Alverton Road.
Follow this road until the next roundabout and take the 1st exit (left) onto the A30, signposted, Land's End.
After 0.2 miles on the A30 our parking is clearly signposted on the right-hand side, signposted "Trereife Park" and with a large blue Scillonian Park and Ride sign on the entrance.
Postcode for SAT NAV Users: TR20 8TH
How it works
Outbound Journey
Passengers with luggage, cycles, and camping equipment must drop their items off at Penzance Quay before parking at the Park and Ride, which is only a 6-minute drive away. Please drop luggage and camping equipment off at the Quay at 07.30am for an 09.15am departure
Camping trailers must be dropped off on the quay at 07.00am for a 09.15am. Please check for other sailing times.
Please ensure that only the driver takes the vehicle to the Park and Ride- a special exception may be made for lone parents by prior arrangement with our Travel Centre, which can be contacted on 01736 334220.
Once parked, our inclusive bus transfer service will chauffeur you to the quay. Please keep your keys with you for the duration of your journey.
Please note: If you arrive at the Park and Ride with any of the above equipment you will be asked to take it to the Quay and this may result in you missing the ferry. You must be with us 1 hour 30 minutes before your scheduled sailing departure time or you may miss the check-in time slot.
Return Journey
Our return transfer service will be ready and waiting at the end of the quay take you back to your car – look out for the red flag. Please note that at busy times there may be a short wait for the next transfer.
This return service is also for the driver only, who will be taken to collect their car. Co-passengers and luggage will need to wait on the Quay until the driver returns. If you wish to discuss any aspect of the Park and Ride service, please call us on 01736 334220 or email sales@islesofscilly-travel.co.uk.
Opening Hours
In order that we can promote Covid-19 social distancing measures please arrive at our Park & Ride site 1 hour 30 minutes before your scheduled departure time aboard Scillonian. We cannot guarantee a transfer to the quay in time for check-in for anyone arriving after this time, and this may result in you missing the sailing.
Please be aware you will need to wear a face covering during the transfer to and from the Quay and that it will not always be possible to maintain 2m social distancing within the transfer vehicle. It may be necessary to wait in your vehicle until your transfer departs for the Quay.
We are open for one hour after Scillonian arrives in Penzance in the evening or until the last transfer from the Quay arrives at the car park. Please ensure that you collect your vehicle promptly on arrival back in Penzance.
We cannot hold the sailing if you are late, should you have any problems please call the Car Park Steward on 07876234248 who will be available whilst the parking is open.
Bus Transfer Times
Morning transfers will start departing Scillonian III car park from 07.45 (for 09.15 departures).
Evening transfers will depart from Penzance quay upon arrival of Scillonian III, however at busy times there may be a wait for the next transfer due the limited numbers we can transfer at one time in the interests of social distancing.
Car Parking Prices
| | |
| --- | --- |
| 1 day | £22.00 |
| 2 days | £22.00 |
| 3 days | £22.00 |
| 4 days | £25.00 |
| 5 days | £31.25 |
| 6 days | £37.50 |
| 7 days | £43.75 |
| 8 days | £50.00 |
| 9 days | £56.25 |
| 10 days | £62.50 |
| 11 days | £68.75 |
| 12 days | £75.00 |
| 13 days | £81.25 |
| 14 days | £87.50 |
| Additional days | £6.25 |
From £6.25 per day when paying online and in advance of travel.
Parking must be booked at least 48 hours in advance.
For vehicles larger than a VW Transporter (5m x 2m) please contact us before booking.
Skybus
Parking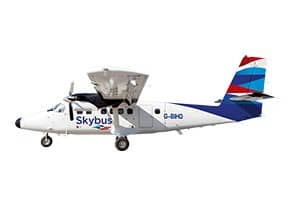 Parking at Land's End Airport
Land's End Airport has plenty of parking for all passengers; its two barrier-operated car parks are open to serve every Skybus departure and arrival.
Car Park opening hours
Monday to Saturday, all year round (except Christmas Day, Boxing Day and New Year's Day), the car parks open at 07:00 until half an hour after the last Skybus flight – when the gates are locked to ensure security. If you're not sure whether the car park will be open, please give our travel centre a call on 01736 334220. There's also an out-of-hours number for emergencies on 01736 753129.
To make things as easy as possible, we suggest you pay for your parking online when booking your flight. When you arrive, please take a car parking ticket at the entrance barrier, keep the this safe as you'll need it to exit the car park on your return. Park your car and make your way to Check-In. On your return to Land's End Airport, pre paid passengers should proceed to Check-In to have the ticket validated, this will allow you to exit the car park. If you haven't paid in advance you can pay on your return at the machine opposite baggage reclaim, if you have any difficulty in using the machine please go to Check-In in the terminal.
Car Parking Charges
| | |
| --- | --- |
| 0 – 1 hours | Free |
| 1 – 2 hours | £2.50 |
| 2 – 4 hours | £4.00 |
| 4 – 8 hours | £6.00 |
| 8 hours – 1 day | £7.50 |
| 1 day – 14 days | £7.50 per day |
Pre booked parking fee £7.00 per day (or part thereof)
On arrival parking fee £7.50 per day
Parking at Land's End Airport is a great, convenient way to start your holiday — but it's not suitable if you're returning to the mainland aboard Scillonian III, in which case you'd be better parking in Penzance and using our shuttle bus.
Disabled parking is in the south car park. Spaces are allocated with a disabled parking sign and are approximately 50 metres from the terminal building. Please display your disabled car parking badge. (Disabled parking is not free)
Please note: Vehicles and their contents are parked at the owner's risk and no liability is accepted for any loss or damage to the vehicle or contents or persons, however caused.
Parking at Exeter International Airport
Exeter Airport has four car parks available to Skybus Passengers:
Car Park 1: Drop off / Pick up only (£1 minimum fee). Entry 50m from Terminal (not served by Shuttle bus)
Car Park 2: Premium parking, 75m from Terminal, on approach road (not serviced by Shuttle bus)
Car Park 3: 100m from Terminal on B3184, served by Shuttle Bus
Car Park 4: Long Stay. Passengers flying from Exeter Airport with Skybus can receive a 10% discount when booking car parking on the Exeter Airport website. Simply enter skybus2020 when booking online. www.exeter-airport.co.uk
Parking at Newquay Airport
Cornwall Airport Newquay has two car parks. If you're departing, choose the West Car Park, to your right as you approach the terminal. The East Car Park serves arrivals and Car Hire Returns. Keep the ticket from the barrier safely with you; pay stations are in the Arrivals Hall and outside the main entrance to the West Car Park. Payment can be made by using cash, credit and debit cards before returning to your vehicle. Alternatively, you can buy car parking online, at least a day in advance, at www.cornwallairportnewquay.com. Both car parks at Newquay Airport have drop-off points and allow 10 minutes of free parking.