Select the service you are using
Skybus
Luggage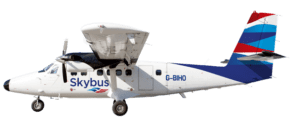 Skybus Hold Luggage
| | |
| --- | --- |
| Allowance per person | 2 pieces |
| Max weight | 15Kg (combined) |
| Max size | 75cm x 50cm x 30cm |
Please note that passengers travelling together can share luggage.  The weight allowance for each individual passenger (excluding infants) remains 15kg – i.e. the total weight limit for two passengers is 30kg.  If passengers wish to share luggage then no one bag may weigh more than 20kg. Day trips do not include a hold baggage allowance.
Skybus Cabin Luggage
| | |
| --- | --- |
| Allowance per person  | 1 piece |
| Max weight  | 3Kg |
| Max size  | 30cm x 15cm x 15cm |
Important: You can bring a small bag as hand luggage, but cases that would be allowed on larger aircraft may not be allowed, so please check the size carefully. You can also bring an overcoat, small camera, binoculars and something to read.
Skybus Excess Luggage
Charges:
Excess Baggage policy
Summer period (01 Mar – 31 Oct):-
Excess baggage will be charged at £6.00 per kilo departing from all Airports and carried on a space available basis only.
Winter period (01 Nov – 28/29 Feb):-
Excess baggage will be charged at £2.50 per kilo departing from Airports and carried on a space available basis only.
Excess luggage space is limited, so please check with Skybus on 01736 785233, and remember to ask about both for your outward and return flights. If either flight is full, it may be possible to find room for your luggage on the next available flight. Passengers can opt to pay for an additional seat in advance to ensure there is available payload for any excess baggage. This must be done in advance with our travel centre. If you are in any doubt about an item you'd like to take on-board, please feel free to check with our travel centre on 01736 334220.
Scillonian
Luggage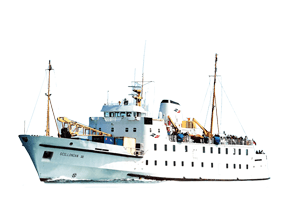 Scillonian Hold Luggage
| | |
| --- | --- |
| Allowance per person | 2 pieces |
| Max weight | 25Kg per person* |
| Max Size | 85cm x 60cm x 40cm |
All luggage is loaded by hand into containers for the voyage, so please do not use excessively large or difficult to handle cases or bags. No single piece should weigh more than 20Kg.
Please note: day trip tickets do not include a hold luggage allowance but are welcomed to take 1 piece of hand luggage weighing no more than 5Kg.
Scillonian Hand Luggage
| | |
| --- | --- |
| Allowance per person | 1 small bag |
| Max weight  | 5Kg |
| Max Size | 40cm x 55cm x 20cm |
Please ensure your luggage is clearly labelled with your name, booking reference, mobile number, where you're staying and your mainland address.
*Please note: Non-standard luggage items such as fishing rods etc will need to be placed into our luggage containers and booked as hold luggage.  All musical instruments are to go into the hold, they are separated from other luggage and placed in a separate container.  Please ensure that all items are appropriately packed.  Items are carried at the owner's risk
Scillonian Excess Luggage
Please note that these are accompanied prices.
Item 
2023 
Additional Information
Excess Luggage 
£32.25 per 50Kg return
No single piece of luggage should weigh more than 20Kg
camping Equipment
£32.25 per 50Kg return
Diving Equipment 
£32.25 per 50Kg return
Adult Bicycles 
£32.64 inc. trailers and collapsible bikes
Children's Bikes & Scooters
£11.82 return
aged under 5
Deflated Paddleboards 
£32.25 return
Kayaks / Canoes / surfboards
£87.16 return
These items will be craned onto the Scillonian and their total weight can not exceed 35kg. If fragile please protect your equipment with suitable packaging to protect items from knocks and scratches.
Please note:
We currently do not accept carriage of electric scooters.
We cannot accept or transport batteries or electric bikes if the electronics have been modified or altered in any way.
Your item will be refused if wiring or internal parts of the batteries are on show.
Please book your excess luggage in advance. Camping and diving equipment can also be taken, but please pass any gas cylinders to quay staff for safety. Musical instruments and fishing rods must be flight cased for shipping and bicycles appropriately protected for the journey (bicycles are loaded into containers, often with other bicycles & freight). Motorised wheelchairs will be loaded free of charge, but please do still book them in advance. To book your excess luggage please call our travel centre on 01736 334220.
Luggage transfer on St. Mary's
If you're staying on St. Mary's, your luggage can automatically be taken to your accommodation when you arrive, for a small fee of £2.50 per bag payable to Island Carriers. Simply write where you're staying on your luggage label, and they'll leave an invoice when they deliver your bags.
You can also arrange to have your luggage delivered back to the ship for your return journey.
If you would rather collect your luggage in person from St. Mary's Quay, either note this on your luggage label, simply leave off the accommodation address or inform the quay staff on Penzance Harbour.
Visitors should check with their accommodation provider before making arrangements, as they may also provide a luggage transfer service.
Transferring luggage to other islands
If you're staying on Tresco, St. Martin's, Bryher or St. Agnes, please also attach the relevant, coloured 'Off Island' label from Penzance Quay. This will help to ensure your luggage comes with you on the next part of your journey. Off island luggage if often loaded onto the inter-island boats through the side door of the Scillonian by our staff (to save you carrying it down the steps), please ensure your luggage is secure, and each individual piece of luggage weighs no more than 20kg.
Please note:
The fare you've paid applies to your booking and luggage from Penzance to St. Mary's Quay only. If you are going to an off-island, there will be a further charge from St. Marys to your destination island by the local inter-island boats. When checking your luggage in at Penzance, please ensure that the correct coloured label is applied to your luggage and that it is placed into the relevant off-island container.
If you would like to ship large freight items to an off island, please contact the Travel Centre in advance on 01736 334220 to arrange onward travel(please note that due to tides, we do not guarantee delivery the same day). Please do not leave your luggage unattended.
Return Journey
If you choose to deliver your own luggage to the quayside, please do between 10:00 and 11:00 or between 15:00 and 16:00 on your day of departure. You'll need to show your ticket and put your bags in the containers provided.
Large freight items are accepted throughout the day. All items for delivery must be on the quay no later the 1 hour and 15 minutes before departure. For standard sailing times, freight items must be on St. Mary's Quay no later than 15:15 for a 16:30 departure. We are unable to accept large freight items between 12.00 and 14:00 when the ship is docking. For timings for departures other then 16.30, please consult the freight office.
Freight
All freight items need to be booked in advance of your departure date due to the limited availability of space. Bicycles, camping and diving equipment are classified as freight and can be booked online.
For all sailings departing Penzance at 09:15 or later, large freight will usually be accepted between 06:30 and 07:00. For any sailings earlier than 09:15 large freight will generally be accepted 2 hours and 45 minutes before departure for half an hour. Cut off times must be adhered to so that we can clear the quay of freight traffic before check-in commences to ensure the safety of our passengers
For double sailing days and sailing times affected by tidal conditions, please call our travel centre on 01736 334220.
For more information on the types of trailers we can accept and can transport safely on our vessels please download our trailer guide here.