Anreise zu den Isles of Scilly
In den Weiten des atlantischen Ozeans, nur 28 Meilen entfernt vom südwestlichsten Punkt Cornwalls, liegt eine andere Welt verborgen. Eine kleine Inselgruppe mit mildem Klima, traumhafter Landschaft und einer einzigartigen Lebensart.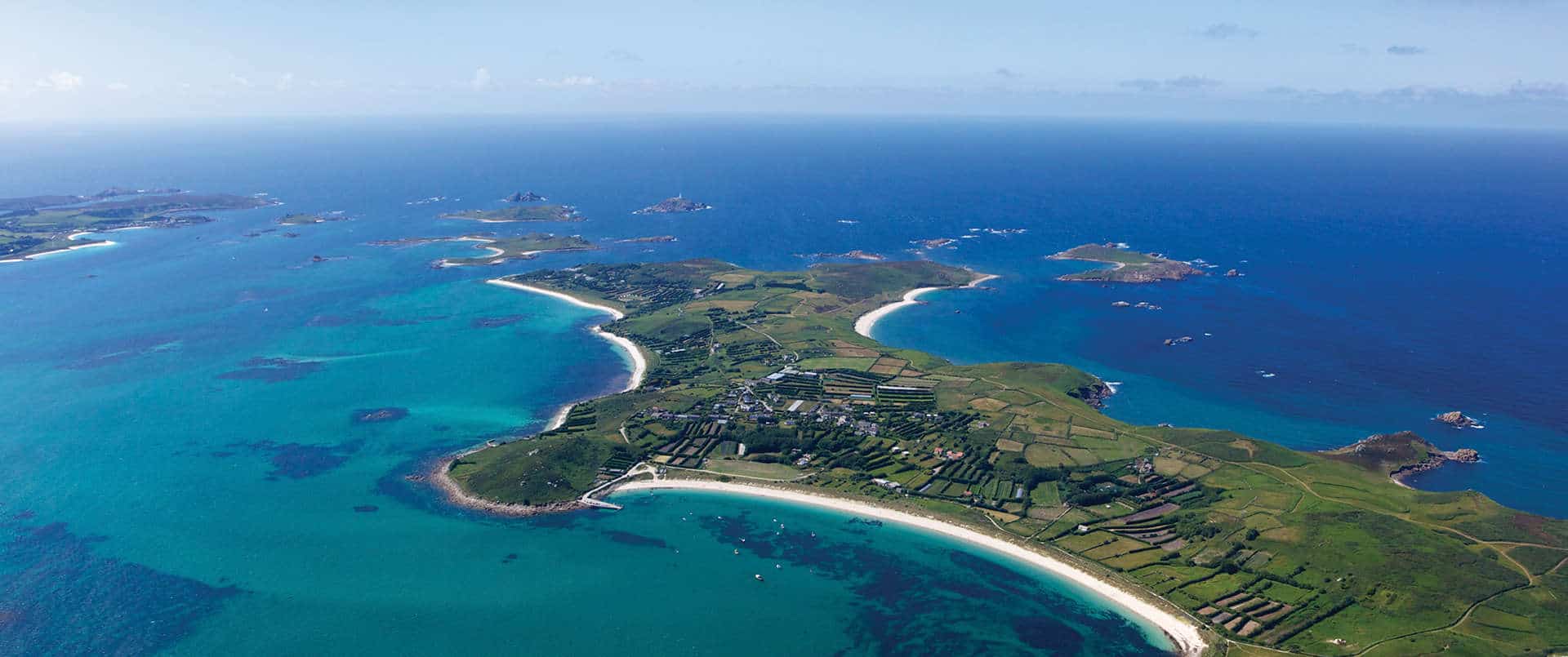 Vielleicht haben Sie schon einmal von den Scilly Islands gehört. Die Inseln sind besonders bekannt für ihre talentierten Künstler und Schriftsteller, ihre atemberaubende Küste, wunderschönen Sandstrände und unberührte Natur. Weniger bekannt ist allerdings die Tatsache, dass die Scilly Inseln ganz einfach, schnell und günstig erreichbar sind.
Ob Sie Ihren gesamten Urlaub auf den Isles of Scilly verbringen möchten, oder einen Tagestrip während Ihres Urlaubs in Cornwall planen – wir versprechen Ihnen ein unvergessliches Erlebnis. Und mit der großen Auswahl an Flügen und Fähren von Isles of Scilly Travel können Sie Ihre Reise ganz individuell gestalten und an Ihre Bedürfnisse anpassen.
Mit dem Skybus fliegen
Schneller geht es nicht! In nur 15 Minuten fliegen Sie gemütlich von Exeter, Newquay oder Land's End auf die Inseln. Effiziente Flughafentransfers und unser freundliches Serviceteam sorgen für eine angenehme Reise, während Sie sich entspannen und die atemberaubende Aussicht auf die Küste Cornwalls genießen. Unser beschaulicher Skybus hat das Ambiente eines Privatflugzeugs – dies könnte der erste Flug sein, auf dem Sie sich mehr Flugzeit wünschen.
Unsere Fähre Scillonian
Legt in Penzance ab und bringt Sie in drei Stunden nach St. Mary, die größte der 5 bewohnten Inseln. Kleine Abweichungen aufgrund von Gezeiten und Wetterbedingungen können vorkommen. Unterwegs können Sie einige der schönsten kornischen Sehenswürdigkeiten bestaunen, wie beispielsweise das Fischerstädtchen Mousehole, das Amphitheater Minack Theatre und die Gezeiteninsel St. Michaels Mount. Außerdem können Sie den bekannten Leuchtturm Wolf Rock von Nahem betrachten. Ein weiteres Highlight der Fahrt ist das rege Meeresleben an der Südwestküste Englands. Hier tummeln sich unter anderem Delfine, Seehunde und Riesenhaie, die sich gerne beim Vorbeifahren der Fähre blicken lassen.
Hinflug und Rückfahrt mit der Fähre?
Kein Problem. Parken Sie einfach auf dem gesicherten Parkplatz in der Nähe des Hafens von Penzance und fahren Sie mit unserem Flughafentransfershuttle zum Flughafen von Land's End. So können Sie die wunderschöne Natur und Sehenswürdigkeiten von Cornwall und den Isles of Scilly aus der Luft und vom Wasser aus genießen.
Wir bitten Sie um Verständnis dafür, dass wir bislang noch keine weiteren Seiten unserer Website ins Deutsche übersetzt haben. In der Zwischenzeit bitten wir Sie darum, die automatische Übersetzungsfunktion von Google zu nutzen. Für weitere Informationen und bei Fragen kontaktieren Sie bitte unser Reisecenter unter +44 1736 334220.