Travel club information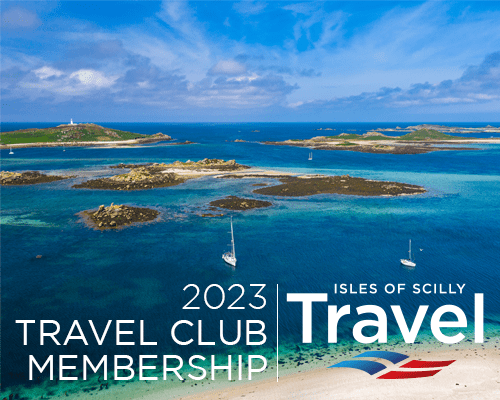 Residents of Scilly
Travel Club is an exclusive service for year-round residents of Scilly. It gives you discounts on travel, and the chance to book short-notice standby seats – so you can hop over to the mainland, when you need to, for less. Membership is free, and gives you a discount on travel on Scillonian III and Skybus, year round.  After almost a century's service to the islands, it's our way of thanking the community.
About Travel Club
WHAT DOES TRAVEL CLUB MEMBERSHIP GIVE ME?
Travel Club members can claim 15% off Skybus fares and a reduced rate on board Scillonian III. Members also have exclusive access to a standby rate for same-day and next-day Skybus flights from Land's End Airport if booked after 1pm.
WHO CAN JOIN THE TRAVEL CLUB?
Because the Isles of Scilly Steamship Group subsidises the Travel Club, we can only offer membership to full-time, permanent residents of the Isles of Scilly. To apply to join, you need to have been a resident of Scilly for at least 12 months, and have your main or family residence on one of the islands. Island residents  studying on the mainland can join too — a family member can complete an application on your behalf (we'll just need to see your student ID and a letter or email from your college or tutor).
HOW DO I APPLY?
Download one of our application forms, fill it out, and email it to tcrenewals@islesofscilly-travel.co.uk, post it to our Hugh Street office or pop it through the St Mary's Travel Centre post-box along with your supporting evidence — we'll take care of the rest. When we process your application, we might need to ask for additional evidence to support your claim. If you're a member of the Armed Forces, don't forget to present your military ID when you apply. We consider every application on a case-by-case basis, but usually you'll be ready to start travelling within 21 days.
HOW DO I USE MY MEMBERSHIP?
Booking tickets on Scillonian III and Skybus with your Travel Club membership is simple — either book online through our travel club booking portal, or call 01736 334220 (Option 1) and quote your membership number.
You will need to show your photographic ID to the Scillonian or Skybus staff at check-in. (Otherwise, you'll need to pay the full fare for your journey, or you may not be able to board.) Stand-by travel is available for booking from 1pm on the day before you travel (unfortunately, we can't hold seats).
You won't be able to use your Travel Club membership in conjunction with any other reduced fares or special offers. All bookings are subject to availability and all our other standard terms and conditions of carriage apply — these are available on request and can also be found online, here.
We would like to remind all Travel Club members that a valid form of ID is required when travelling with Skybus.  This also applies for NHS and patient transport  bookings. 
I've booked a ticket on Scillonian III, can I travel on Skybus instead?
Of course — as long as a seat's available. You'll just need to upgrade your ticket to the Skybus Travel Club rate.
Can I change my ticket?
If you need to change a Travel Club ticket, there's a small fee to be paid per person, per route and we'll need at least 48 hours' notice.
If a passenger wishes to change their booking there will be a 5% amendment fee of the original cost of the route being changed if more than 14 days notice from date of travel, and if between 2 to 14 days notice the amendment fee will be 10% of the original cost of the route being changed. Both with a minimum fee of £5.00.
Changes made to tickets within 48 hours of the scheduled departure time will be charged again at the full fare.
Can I cancel my ticket?
If you need to cancel your ticket, please get in touch.  We require at least 48 hours notice if you need to cancel your ticket, and there will be a cancellation fee to pay.
Travel Club member will pay a cancellation fee of 10% of the original cost of the route they are cancelling  (provided that more than 48 hours notice from the date of travel is given).  There will be a minimum fee of £5.00.
Unfortunately, we're unable to refund tickets cancelled within 48 hours of the scheduled departure time, because it's not likely we'll be able to re-sell the seat.
What if my journey is cancelled or delayed?
If we have to cancel your journey for any reason — such as bad weather or technical issues — you can either use the alternative transport we provide, or receive a full refund.
Do I need travel insurance?
We do everything we can to minimise disruption to travel on Scillonian III and Skybus – but any offshore island destination can sometimes fall prey to to factors like changeable weather conditions. We therefore recommend considering travel insurance to cover you, just in case.
When booking through my online account, when I enter my Date of Birth it says this is incorrect and I cannot proceed with the booking?
Whilst in your profile account , open settings and then go to your details section , use edit and change your date of birth , save change .  Go back to book and rebook .