Select the service you are using
Skybus
Accessibility Services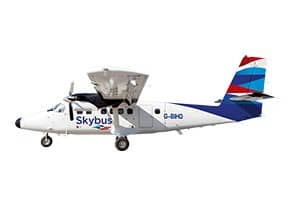 If you're travelling by air and would like a little extra help, we'll do everything we can. Please call us in advance to discuss your requirements, so we're ready when you arrive.
Land's End Airport Access
The airport terminal is around 200m (650ft) from the car park, and there is a disabled drop-off parking point adjacent to the terminal. The terminal building itself has ramped access and all facilities are on the ground floor. Wheelchairs and assistance are both available on request, but there is no hearing loop available at present.
St. Mary's Airport Access
The terminal building is roughly 10m (30ft) from the car park and passengers can be dropped off by the entrance. All facilities are at ground level and ramps provide access to all public areas. Wheelchairs and assistance are both available on request. There's more information online at www.scilly.gov.uk.
Exeter International Airport Access
There's information online for disabled passengers and those needing special assistance at www.exeter-airport.co.uk. Alternatively, call 01392 367 433 (option 8).
Skybus Accessibility
The design of the aircraft we use means passengers will need to be able to use steps for boarding. We're afraid there is no wheelchair access and it is not possible to lift passengers onto the aircraft. Once on-board, there is limited space to move around, the seats cannot be adjusted, and leg room is fixed. If you need help with personal care, or are unable to carry out safety requirements unaided, such as using a seatbelt or reaching an emergency exit, please travel with a companion to provide assistance. Most electric wheelchairs, buggies and scooters can be carried on-board, but need to be pre-arranged with our travel centre. For safety reasons, we'll need to know:
The make, model, size and unladen weight
The battery make and type – it must be sealed and dry cell or gel cell.
That the battery can be deactivated or disconnected
We'll also ask you to bring a copy of the operating manual to the airport. Please download and complete a Skybus Mobility Aid Request Form and return to us and a member of staff will be in touch.
Scillonian
Accessibility Services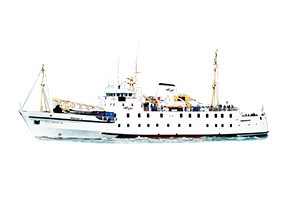 If you're travelling on Scillonian III, we'll do everything we reasonably can to assist you. Please contact our travel centre (01736 334220 / sales@islesofscilly-travel.co.uk) at least 48 hours in advance to discuss your requirements, so we're ready when you arrive.
If you have any further queries or would like to discuss access details, please contact our travel centre as detailed above.
If you do not contact us at least 48 hours before travelling we will do what we can to accommodate your request, but we cannot guarantee assistance.
Please see our ASSISTANCE QUALITY STANDARDS FOR DISABLED PERSONS AND PERSONS WITH REDUCED MOBILITY document for more information.
Penzance Quay Access
Penzance Quay has a tarmac pavement for some of its length with a dropped curb at both ends. The Scillonian docks around 150m (500ft) from the vehicle drop-off point. If you have reduced mobility, you can request a wheelchair to take you through check-in, towards the ship's gangway.
St. Mary's Quay Access
The town centre is approximately 300m (1000ft) from where the ship docks. A taxi or minibus can also be pre-booked to meet you on the quay. We can provide assistance to/from the drop-off location on the quay, through check-in towards the ship's gangway (around 120m).
Onboard Scillonian III
Scillonian III can be accessed by manual wheelchair, although the slope of the gangway does depend on the tide and can be steep at times. It's therefore not suitable for motorised wheelchairs; these can be loaded as freight, free of charge, and should be booked in advance.
The crew can assist passengers on and off the ship if pre-arranged, and we can provide a standard wheelchair for the duration of the journey.
When the ship is berthed, a Windrush platform chair lift can give wheelchair users access between the Bridge Deck and Upper Deck, and can carry up to 250kg (39st 5lbs). There is no stair lift or accessible route to the Main Deck and Lower Saloon, and no hearing loop is installed for public announcements.
Please be aware that if sea conditions are poor, it may be necessary to secure wheelchairs, or even cancel sailings for safety.
If you find yourself needing further assistance whilst onboard, please make yourself known to the Purser or another member of the crew.
Assistance dogs
Assistance dogs are welcome on-board; they can be booked through your online booking or by contacting us at least 48 hours in advance of travelling. Once onboard, please ensure they are kept on a lead.
Personal Care
The ship's crew are not able to help with personal care matters, such as toileting, feeding or lifting passengers. For safety reasons, passengers must also be able to communicate, and understand crew members' instructions. Anyone needing personal support on board should travel with a companion who is willing and able to help.
Onboard Safety Announcement
Once onboard, a safety announcement will be played through the public address (PA) system. This is accompanied by a visual display on the televisions within the passenger areas. If you are hard of hearing, please ensure you position yourself near a television when first boarding.
A link to the onboard safety video can be found here.
The safety video text can be read here.
In an emergency, announcements will be made through the PA system along with alarm bells/ship's whistle. The alarm and whistle are loud.