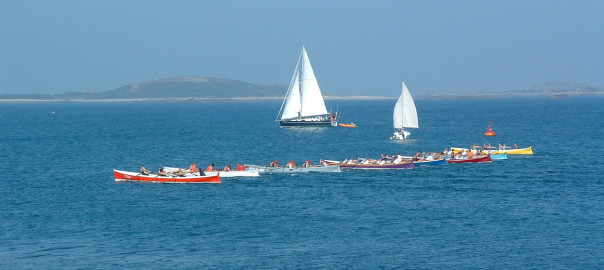 Events
Events and Festivals on the Isles of Scilly
Numerous events and festivals take place on the islands throughout the year.
The regular island events are displayed below, but for a comprehensive calendar of events, festivals and things to do, visit www.simplyscilly.co.uk
Walk Scilly
Walk Scilly is a seven day walking festival that is guided by local experts and offers a unique opportunity to explore and enjoy the five inhabited islands. A variety of local experts lead over 20 walks that will take you on hidden pathways that cross the islands natural landscape, whilst learning about the gardens, flora and fauna, castles and cliffs, beach and birds, bats and boats. There are additional talks and presentations in the evenings.
Walk Scilly takes place in April which is a perfect time to visit the islands. With warm days, it provides the best conditions for walking and sighting the array of bird and wildlife.
For more information visit Walk Scilly.
Art Scilly
Art Scilly gives you the opportunity to visit the islands in the off peak season, when local artists and crafts people take time out to explain their inspirations and motivations.
Throughout the week there are exhibitions of work and arts and craft trails are displayed across the islands. There are various classes to take part in, which are unavailable at other times of the year.
If you are the sort of person who would love to be involved, learn new skills in bookbinding, sketching, painting, jewellery or fused glass, this is the week you should be thinking about visiting the Isles of Scilly.
For further information on Art Scilly week, visit  Art Scilly  website.
Scilly Folk Festival
The Isles of Scilly Folk Festival is an event mixing mainland performers with the best talent the island has to offer. It provides great music and entertainment with singers performing at a number of events on all the islands.
 For more information on the Scilly Folk Festival visit:  www.simplyscilly.co.uk/whats-on/festival-and-events
Scilly 10
The Scilly 10 is a 10 mile road and off road course that is open to individuals and teams from the age of 11 wanting to run, jog or walk. The event takes place in April and is a Precious Lives Charity Run.
For more information on this event visit www.scillycharityrun.co.uk
Tresco and Bryher Food Festival
This two day event takes place across both islands and celebrates the islands finest chefs, producers and culinary delights.
In a fun and relaxed environment visitors are encouraged to take part in a series of small workshops that take place on Tresco.
For further festival information and to discover how you can learn to cook from the land and sea (for free) visit: http://www.tresco.co.uk/Food_and_Drink/Food_Festival.aspx
World Pilot Gig Championships
The World Pilot Gig Championships is an annual gig racing event held on the islands over the May bank holiday.
The Isles of Scilly has been host to this championship since 1990 and welcomes crews from across the world to compete for the title of world champions. The event is an energetic and colourful event that attracts more crew and supporters every year. There are multiple races that take place over the weekend of varying distances all starting on the Friday night.
The ladies and men's veteran's races take place on Friday evening, with the main event happening on Saturday and Sunday, with a sailing race on the Monday.
Further information about the World Pilot Gig Championships can be found at www.worldgigs.co.uk,