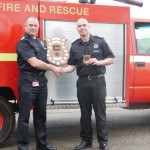 Jonathan Stephens, Watch Manager at Land's End Airport has been awarded the highest scoring Fire-Fighter Recruit Award of 2013 by Gatwick Airport Fire and Rescue Commercial Training Centre and has had his name engraved on a large plaque held at Gatwick.
At the beginning of 2013, Lands End Airport sent ten fire-fighters to Gatwick's Commercial Training Centre to undertake a six week Civil Aviation Authority (CAA) approved Initial Fire-Fighter Course due to an upgrade in the Airport Fire Category.
The Land's End Crew undertook intensive training and sat three examinations and were under continual practical assessment. Throughout 2013, over 60 fire-fighters from across various UK airports attended the course. Jonathan scored 88.6%, the highest grade reached in 2013.
Jonathan Stephens joined the crew at Land's End Airport in 2012 and enjoys the responsibilities that his role as Watch Manager entails. Whilst ensuring that the Airport Fire Category is maintained to the highest safety level, Jonathan is also responsible for overseeing daily operational checks, risk assessments and the delivery of fire training to his crew. Since carrying out the course in January 2013, Jonathan has also undertaken the 'Crew Commander Initial Course' where he also achieved another impressive score – 100%!
Stephens said; "This achievement is important to me, I'm a local man and receiving this award is something I'm very proud of. It comes at a time when big investments and improvements are being carried out at Land's End Airport and it reinforces the level of safety we abide by here at Land's End. Winning the award is self satisfaction and an achievement for the Airport".
To mark this achievement Fire Service Manager Chris Knowles of Gatwick Airport Fire and Rescue Service visited Land's End Airport on 16th December to present Jonathan with his award. Knowles said: "Jonathan worked hard to achieve the grade to attain this award, we are very pleased for him, his course instructors stated he was a pleasure to teach and it was great to see the award go to a developing airport within the industry".