The Isles of Scilly Steamship Group has further strengthened transport links to the islands with the acquisition of another aircraft for its in-house airline Skybus.
The new Islander brings the Skybus fleet to eight , with four Islanders and four Twin Otters operating to St Mary's Airport on the Isles of Scilly. The Group also operates the Scillonian III passenger ship and the freight vessel Gry Maritha, providing lifeline transport services to the islands.
Rob Goldsmith, Chief Executive of the Isles of Scilly Steamship Group, said: "The new Islander gives us significant new air capacity and underlines our commitment to invest in strengthening links to the islands and enhancing our facilities and services for passengers.
"This summer is our biggest ever flying schedule and introducing an eighth aircraft gives us even more flexibility to respond to demand."
Skybus has just taken delivery of the Islander at Land's End Airport in time for the busy summer holidays, but earlier this year the aircraft had a rather different guise – in the new James Bond movie blockbuster, Spectre.
The eight-seater Islander, registration G-BUBP, was bought for an undisclosed sum by the Steamship Group from Glasgow-based Cormack Islander Aircraft, who last year chartered it for the new Bond movie.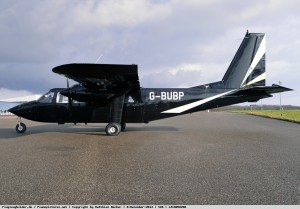 It was painted black with a special rinse-off paint, given a new registration number and used in a thrilling flight sequence filmed in the Austrian Alps with Bond star Daniel Craig at the controls. The aircraft even features in a trailer for the new film, which is released in November and will be the 24th Bond movie.
An aircraft 'stunt-double', using a mock-up built by the film's special effects team, was used for the ground action scenes rather than the real aircraft, which was returned to Scotland where the black paint was washed off.
Since then it has undergone routine maintenance and been resprayed in Skybus colours, ready to enter service on the Isles of Scilly route.
Rob added: "It's quite fun to think that the latest addition to our Skybus fleet will be making a little bit of movie history.
Skybus operates scheduled services from Land's End, Newquay and Exeter airports and recently announced a price freeze and longer flying hours for the winter season, starting in November.