The Isles of Scilly Steamship Group has appointed Cornish accountant Gary Randall to its Board of Directors.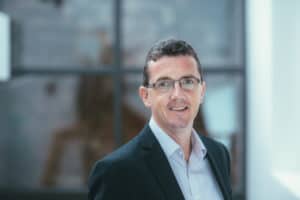 Gary has been practising as a Chartered Accountant for the last 25 years, developing an extensive client base across Devon and Cornwall. In 2013, he merged his business with Prydis to broaden the services provided to clients of both companies, and become Managing Director of Prydis Accounts Ltd.
Gary, who lives in St. Mellion, embraces the challenges of General Practice and particularly enjoys the interaction between the other facets of the business with Financial Planning, Corporate Law and Governance all forming part of the key day to day deliverables at Prydis.
In his downtime, Gary is a keen golfer and spends many Saturday afternoons at Liskeard Football Club, where he has worked to attract new players and bridge the gap between youth football and men's football.
Gary's son Josh was one of those new players, and Josh is now sitting his A-Levels, hoping to read law with business at university next year, while Gary's daughter Chelsea has just completed her second year at Sheffield University reading human geography.
Gary Randall said: "As a proud Cornishman, the opportunity to join the Board of the Isles of Scilly Steamship Group presented an ideal chance for me to use my skill set to help a business which is so vitally important to the county.
"The Group faces a number of challenges in delivering transport services to the island community of Scilly 28 miles off the coast of Cornwall, dealing with passenger and freight services in often very challenging environments and difficult weather conditions.
"But the ethos of the Group in working to serve the needs of individuals, businesses and islanders is resolute, and I am very much looking forward to working with the Board to help this continue, and to see the Steamship Group deliver a reliable, affordable service to both boost visitor numbers and support the island communities depending upon it."
Andrew May, Chairman of the Isles of Scilly Steamship Group, said: "The board followed a comprehensive and structured recruitment process during which it carefully evaluated the experience and skills it sought and matched these with a number of very promising candidates. So, it is a pleasure to welcome Gary to the Board; colleagues and I are looking forward to working with him as a part of our team. His unique skill set with his local and broader experience will be immensely valuable to ISSG as we go about our day to day business, and plan for the future.
"Gary's values align very closely with those of the Board's and its aims and ambitions for the Group in serving and supporting the communities with whom we work."
The Isles of Scilly Steamship Group was founded by islanders almost 100 years ago to provide lifeline passenger and freight services to the Isles of Scilly. It operates eight fixed wing Skybus aircraft from Land's End, Exeter and Newquay airports, and the seasonal Scillonian III passenger ferry from Penzance between March and November.
The £17-million turnover business employs 228 staff, making it one of the biggest employers in the region. Passenger numbers grew during the last financial year 2017-2018 by 2.7% overall, with the Group transporting 215,000 people to the islands via Scillonian III and Skybus.