At the end of 2019, we launched our ninth round of the Community Fund – the project first launched in 2016; we've supported many worthy projects in that time totaling close to £85,000.
One of the projects from round 9 that we supported with funding of £2,500 and the carriage of freight from the mainland; was the 'Glass Shelter for Scilly'. A brilliant community initiative project working with youngsters, artists and local community groups with an end result that benefits visitors and islanders on the Isles of Scilly.
The proposal was to improve the landmark 'bus' shelter on the strand on St. Mary's, as it had become dated and tired; the aim of the project was to celebrate local artists, Scillonian history and culture. The design featured a wooden frame housing many different glass panels, infused with works from different artists across the islands.
After initial setbacks due to Covid-19, the project has now been completed and the installation is in place. This was achieved by the community working with local stained-glass artist Oriel Hicks and carpenter Steve Harding to develop glazed panels featuring names and images associated with island history.
Oriel said about the project "The funding from the Steamship Group was used to pay for a hardwood frame made by a local carpenter and the glass panels. The result being a prominent art installation on the strand for visitors and resident to enjoy. To stimulate and inspire curiosity, reminisce and capture language and incidents in a way that can be shared and enjoyed.
I really enjoyed the opportunity of doing the project and how it seems to be fulfilling its role every time I cycle past and see parents pointing out various images to their children or people taking pictures of it and through it"
Each pane highlights details of Scilly's Island Heritage, including landmarks, place names and examples of flora and fauna. There is one special pane depicting Scillonian III and it is centrally placed in the screen and has our Company logo and "100" etched into the back, to mark the 100th anniversary of the group.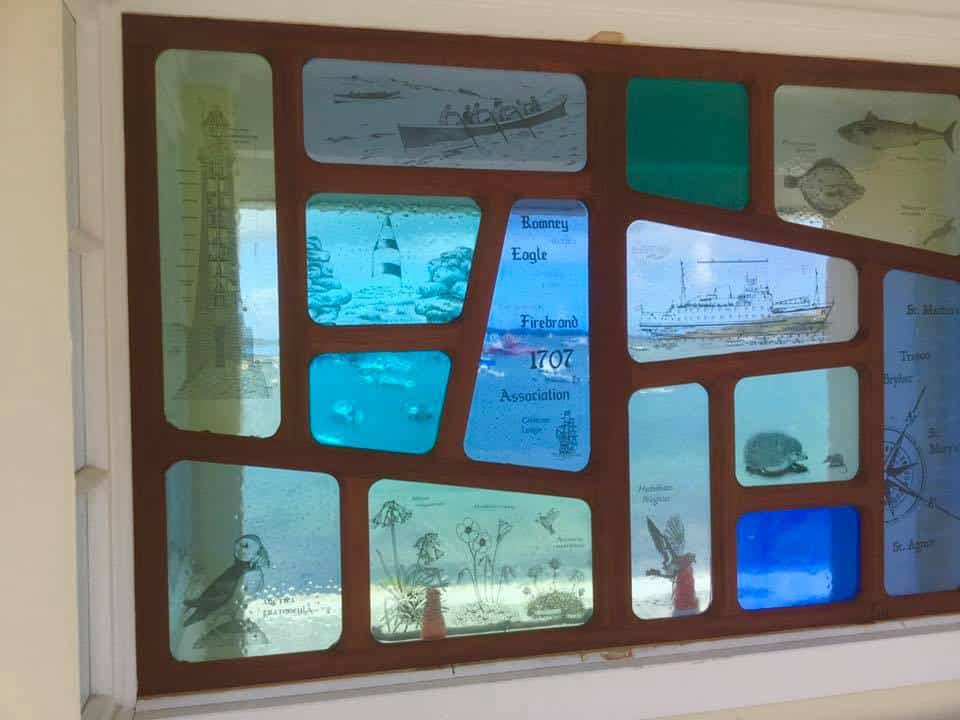 The Community Fund Project was first launched in 2016 and is part of an estimated £1 million that the Steamship Group returns to the community every year through subsidised travel for islanders, NHS flights, sponsorships and charitable donations.