St Agnes
St Agnes is the most south-westerly of the Islands and one of the smallest of the five inhabited islands. Remaining unspoilt, the silence on the island of St Agnes is disturbed only by birdsong and the murmur of the sea. Here you'll find secluded sandy coves, weathered granite tors, a 17th Century lighthouse and impressive views across the Western Rocks. The island has many stunning coves and bays for you to enjoy, including Pereglis, the Bar and Covean. These are all great for building sandcastles, sunbathing, rock pooling, and swimming or just sitting and watching the world go by. Scilly has very distinctive flora and fauna and clear waters giving the landscape a 'tropical' appearance. Flower farming and fishing are the traditional occupations on the island of St Agnes, but the mainstay of the trade is tourism although it is the only island without a hotel. There are guest houses, self-catering cottages and a campsite, a store with post office, three cafes and a pub for you to enjoy.
Things to do on St Agnes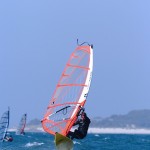 WaterSports
The clear waters around the island of St Agnes are great for snorkelling, diving, fishing and kayaking.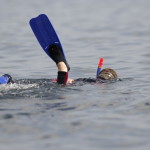 Sport and Adventure St Agnes has an outdoor all weather court for tennis, badminton and football for you to use. During your stay on St Agnes, you can book the court via the Coastguards Cafe.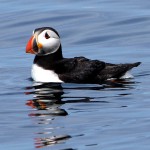 Boat Trips Boat trips are available to Annet and the Western Rocks where seals and sea birds can be spotted. Puffins with their multicolored beaks and unusual gait can be seen from April to July. St Agnes boating company run daily services during the spring, summer and autumn seasons with regular trips to Bryher, Tresco and St Martins. Boat tickets can be purchased online by visiting www.stagnesboating.co.uk or call 01720 422 704. For a schedule of weekly boat and wildlife trips please download the following PDF.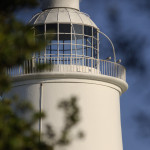 St Agnes, Lighthouse The most distinctive feature on St Agnes is its white-painted C17th lighthouse. It is not open to the public but it can be seen from around the island and from outside its walled garden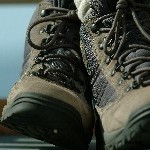 Walking Walking is easy around St. Agnes but is a little uneven on the coastal paths. Follow tracks out to Beady Pool to search for Dutch terracotta and glass beads or discover the Maze, just past the Nags Head granite outcrop.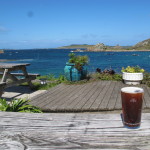 Dining out Enjoy the delicious homemade snacks at Coastguards and Covean Cafes . Alternatively visit the UK's most south-westerly pub, The Turks Head serving lunches and evening meals throughout the main season; whilst providing a good selection of real ales with an amazing view. For evening restaurant meals try the High Tide restaurant at Coast Guard Cottages.