With the Easter break fast approaching, you might be looking to book a last-minute holiday to spend some quality time away with the kids. Whether you're already planning to pop down to Cornwall, or you want an island escape without the long-haul flight, the Isles of Scilly are an adventure playground just a bunny hop away on Skybus.
What's on?
This Easter, the Isles of Scilly are hosting their annual Folk Festival. Starting on the 17th April and ending on Easter Sunday, it's an extravaganza of local musical talent, dancing and family-friendly entertainment. With bands playing in different locations across the islands, it's also a great excuse to experience what each has to offer.
Tresco Island is home to the world-famous Abbey Garden, a sub-tropical paradise created from an enormous collection of rare and exotic plants. The curious flora and fauna from all corners of the world will keep children occupied for hours – there's even a plant that smells like sherbet lemons. At the entrance you'll find a room with information about where all the different plants originate from, so it could become an educational visit too.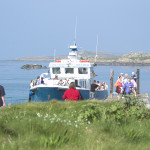 Boat trips around the off-islands are a brilliant way to spend a morning, and you can look out for seals, puffins and other rare birds as you visit the Eastern Isles, Samson or St Agnes. There are different trips of varying lengths, so there's something for everyone. If your family gets a taste for nature spotting, you can also book guided walks around the islands.
However, if you're looking forward to a relaxing break with the kids, you should take them to St Martin's. The white sandy beaches are the perfect place for mum and dad to chill out, and children enjoy building sand castles and paddling in the calm, clear water.
Where should I stay?
On the Isles of Scilly there are plenty of options when it comes to accommodation. From hotels located right by the sea, to camping, glamping and everything in-between. Wherever you stay, you'll never be further than a short walk from a beach or harbour.
Take me there!
The islands are remote, only accessible by sea or by air, but the journey there is most definitely part of the holiday experience.
Begin your adventure at Land's End airport, and you'll fly to the Isles of Scilly in a sixteen-seat Twin Otter. It's an exciting start to the holiday for children, as they'll have a great view of the cockpit, while you can enjoy the fantastic views over the coast of Cornwall. Plus, the journey only takes 15 minutes, so it's perfect for little travellers with little patience!
On the return journey, why not switch things up and head back to Penzance on the Scillonian III passenger ship. You can look out for dolphins and seabirds from the deck or through the windows, and you might even catch one of West-Cornwall's beautiful sunsets.
We look forward to welcoming you aboard this Easter, and we hope that you'll make some fantastic family memories.