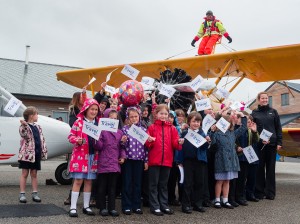 Fearless grandfather Tom Lackey made history today (22nd May) when he became the first person to wingwalk from Land's End Airport to the Isles of Scilly – on his 94th birthday.
Mr Lackey took to the skies from Land's End Airport at 12pm on Thursday, after receiving a birthday send-off from the local Sennen Primary School. Tom has dedicated the stunt to Stephen Sutton, the teenage cancer sufferer who lost his battle with the illness last week.
Tom touched down on St Mary's at 13:25pm, after a 20 minutes crossing in moderate weather. He now becomes the first – and oldest – person to wingwalk the 26 miles to St Mary's.
After setting the record, Mr Lackey said: "It was a rather refreshing flight I have to say. The weather was against us a little bit, so it was really really cold up there. But I survived and I have to say thanks to the pilot Mike Dentith who got me over in one piece. The views were amazing from up there, but I'm tired out now so looking forward to getting warm and taking the trip back to the mainland by sea this time on the Scillonian ferry."
Rob Goldsmith, our Chief Executive said: "We have operated both an air and sea service to and from the islands for 30 years and this is certainly the most amazing sight we have ever seen leaving the mainland. What an inspirational man and a fantastic event for the children who came along to send Tom off."
This is Tom's fourth record, he currently holds the Guinness World Records for being the oldest man to do a loop-the-loop on the wing of an aircraft, when he was 86; the oldest man to cross from Dover to Calais and back on the wing of an aircraft, aged 93 and the oldest man to cross the Irish Sea, aged 94.
The Pride of Britain award winner, who is wheelchair bound, was hoisted on top of the plane by a cherry picker for the 40 minute crossing, flying at 1,500ft and reaching speeds of 90mph.