Scilly offers the complete island experience without the long haul flight. In fact, you'll spend a maximum of one hour in the air, or less than three hours on the ferry. But travelling local isn't just about the islands' close proximity; it's about becoming part of island life for the length of your stay.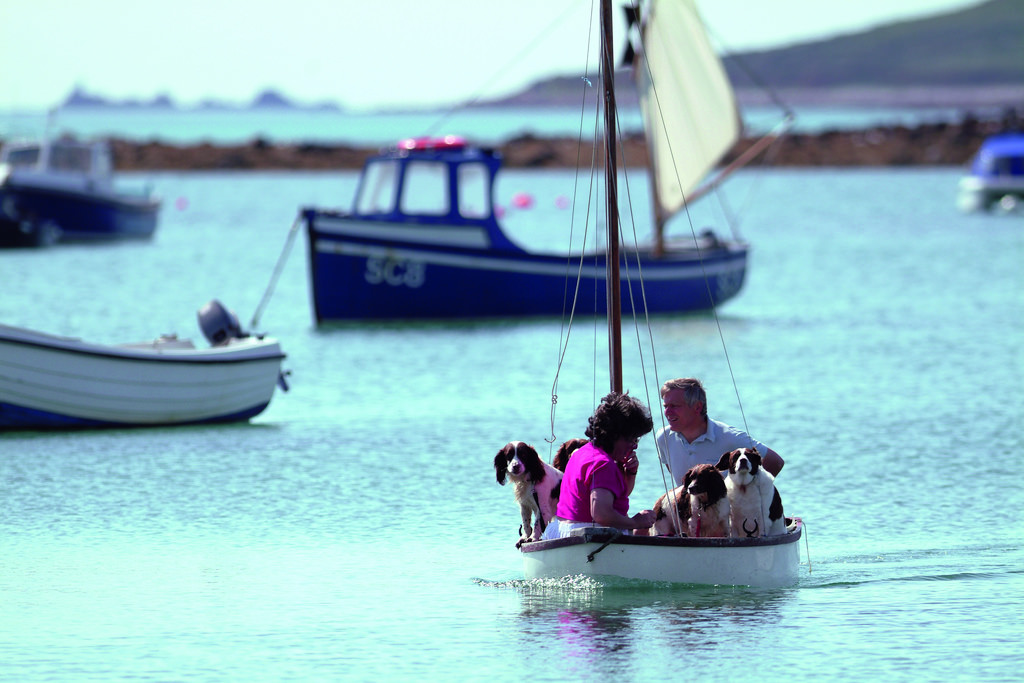 One of the good things about travelling local is you don't have to leave your best friend at home! Dogs are very welcome on Scilly and are a big part of island life, there are so many varied walks and dog friendly beaches on Scilly.
Whether you fly or sail we have both options covered to keep your best friend relaxed during the short crossing to the islands. If you're flying to Scilly, you'll find an RSPCA- approved animal box on our Twin Otter aircraft, from Newquay and Land's End airports. Dogs are welcome on Scillonian III. You just need to keep them on the lead, and out of the café areas and lower saloon.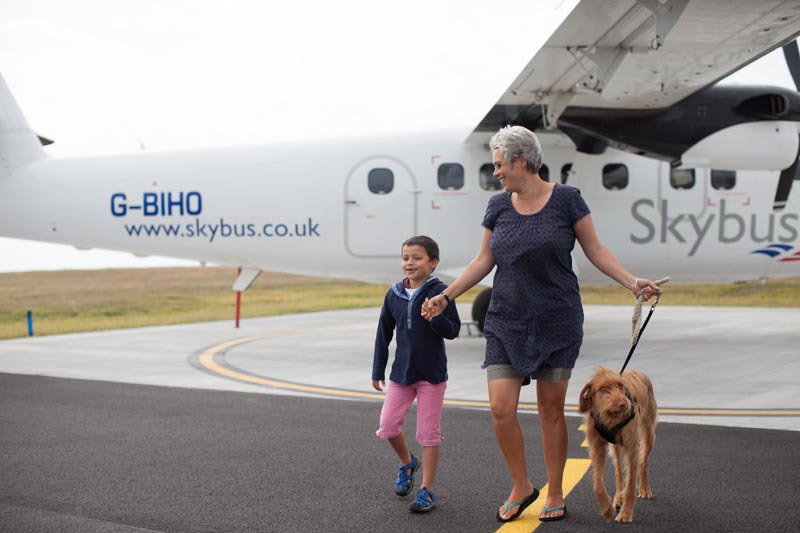 We caught up with retired island head mistress Sue Major, to hear about the best places to enjoy with your dogs on Scilly.
Hi Sue, which beaches on Scilly are dog friendly?
"Pelistry and Bar Point on St Mary's are accessible to dogs all year round and the main town beaches- Town beach, Porthcressa and Porthmelon have seasonal bans through April-October. All of the off- islands are dog friendly but on Tresco dogs need to be kept on a lead."
Are there dog friendly places to visit across the islands?
"All of the pubs are happy with dogs on leads, you can tie your dog outside the shop whilst you pop in for your shopping and it is safe! That's the beauty of Scilly. There are other dog friendly establishments too- Carn Vean tearoom, Juliet's Garden restaurant and the Country Guesthouse, along with many more!"
What's it like travelling with your dog to and from the islands?
"The booking process is made very easy; you just need to be organised in advance. As the journey over is very quick it's a stress free journey for our dogs, however I do think they prefer to travel on the Scillonian and breathe in the sea air. The boatman that run the inter-island boats are also very good, as most of them have dogs of their own. It makes it very accessible for us to island-hop"
Where is your favourite place on Scilly to go walking with your dog?
"Porthellick, Deep Point and Innisidgen Pines on St Mary's, as they are so peaceful and there is lots of space for dogs to run, it's also not too far for an older person to walk!"
Do you take part in the annual dog show?
"Yes! It's a great, fun, day out for locals and visitors too. The atmosphere is brilliant."
There are lots of places to stay across all the islands that are dog friendly, be it self-catering, camping or hotels. For more information, check out: https://goo.gl/YQMunm 
To book your dog friendly holiday to the Isles of Scilly visit: www.islesofscilly-travel.co.uk/book/ or call us on 01736 334220. Dogs cost £7.50 each way on the Scillonian and £40 each way by Skybus.  Whichever way you choose to travel; we can't wait to welcome you on-board.