A Scilly family is cycling unsupported from John O'Groats to Land's End to raise money for charity – despite only having five miles of island road to practice on.
After winning a £650 grant from the Isles of Scilly Steamship Group's Community Fund to pay for all their travel expenses and make the challenge possible, the Morel family has embarked on the ambitious 847-mile fundraising bike ride for the Alzheimer's Society in memory of a family member who suffered from the disease.
Jewls Morel, his wife Michelle and sons Finley, 14, and Shea, 11, plan to cover the distance slowly over the six-week school summer holiday, visiting new places across the country at the same time. The family is also camping throughout the trip, with each rider carrying all of their kit on their bikes.
Jewls, a science technician and teaching assistant at a school on St Mary's in the Isles of Scilly, said the entire family had committed to the epic challenge so they could raise money for the Alzheimer's Society in memory of Michelle's late father, who died two years after being diagnosed with the degenerative form of dementia.
Jewls Morel said: "We all love cycling in our family but this is still a major challenge for us, especially for our two boys, who will have to carry all their own clothes, sleeping bags and some of the tent and food supplies.
"We're prepared for it though because we feel so passionate about supporting the Alzheimer's Society, and helping those dealing with this awful disease, as well as their families and carers.
"Michelle's dad died after being diagnosed with the disease, and my own father has early onset dementia, so it's a charity very close to our hearts, and not a charity that gets a lot of attention either.
"No matter how hard our challenge is, it doesn't compare to what people are going through, and knowing that will drive us on."
Jewls and Michelle, who moved to live on the Isles of Scilly after they met there during a holiday in 1991, have always been keen cyclists, and the couple have instilled a love of the sport in their two sons, spending previous holidays cycling around Cornwall and Devon.
Training for the charity ride along the entire length of the country meant the family had to lap the small island of St Mary's many hundreds of times as they peddled along the five miles of available road to practice.
"We've been training by cycling around 120 miles a week, and in all weather conditions too – because that's what the actual ride will be like: we will cycle in gales, scorching sun, pouring rain, whatever the weather is doing," Jewls explained.
"The most we've done in one go is 50 miles, but because there's only five miles of road on St Mary's that meant we've gone over the same ground a lot of the time.
"Scilly is a pretty stunning place to be outside on a bike, and we never get tired of the incredible views. Everyone on the island has been so supportive and called out to us as we were training."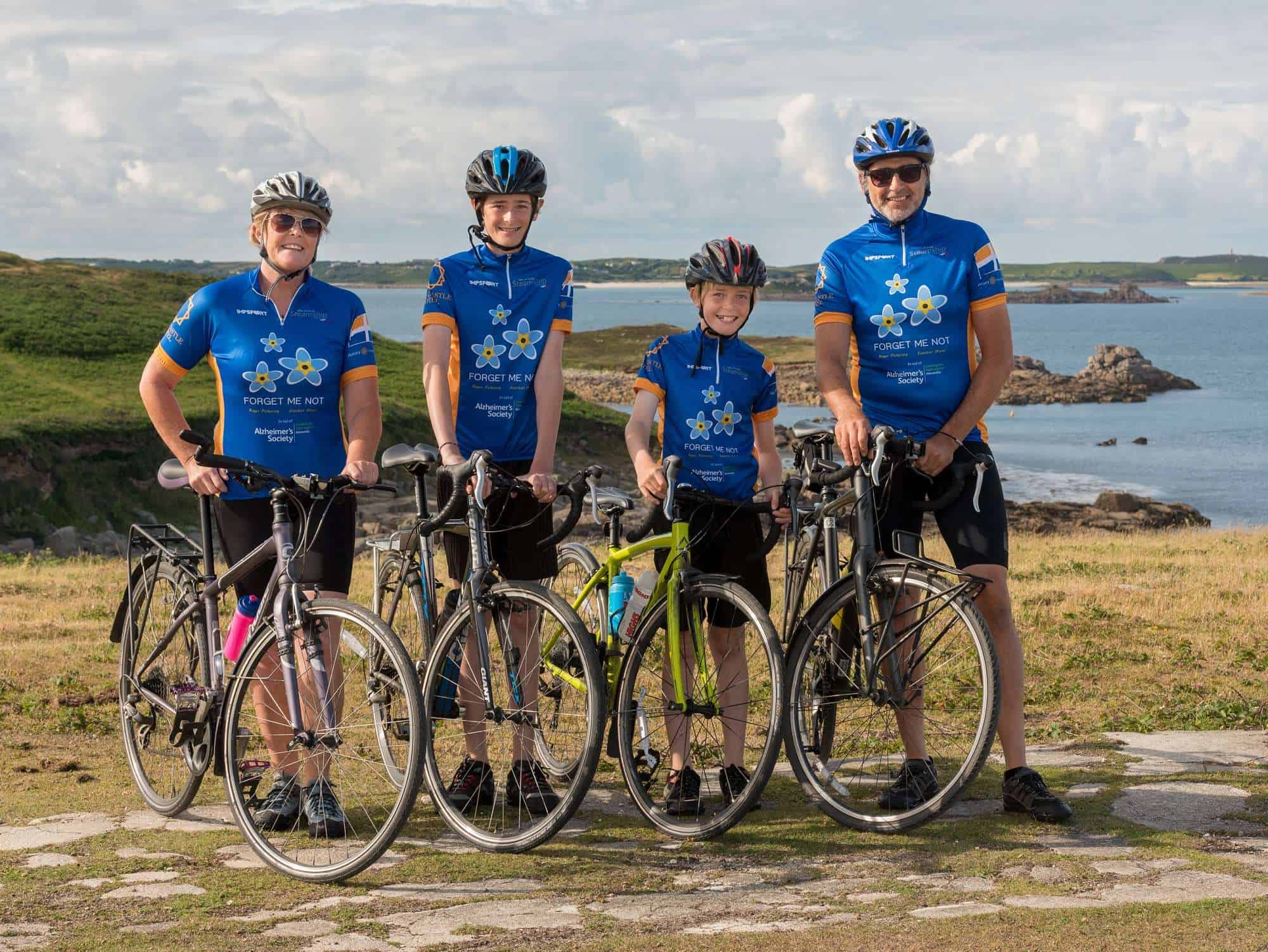 The family plans to break down the 847 mile distance into manageable chunks, interspersed with sightseeing and stays on campsites, with Finley and Shea planning the schedule.
Jewls said: "The training has certainly brought us together and the boys have been incredible; no matter what I've chucked at them, they just do it and they don't moan."
The Morels hope to arrive in Land's End at the end of August, and to raise as much money for the Alzheimer's Society in the process; their fundraising total already stands at over £1,000.
Donations can be made online at www.justgiving.com/fundraising/Julian-Morel
The family was supported to undertake the challenge by the Isles of Scilly Steamship Groups Community Fund, a new initiative by the Steamship Group donating money to help good causes which benefit the community.
Recent beneficiaries included Poetry Postie Sally Crabtree, who held poetry workshops with pupils at Five Islands School on Scilly to show children that poetry doesn't have to be boring after winning a grant of £1,500 from the Fund.
Terry Ward, chairman of the Isles of Scilly Steamship Group's Community Fund, said: "Jewls and his family have the most fantastic energy and spirit and we were immediately won over by their passion for this project; it is an amazing thing for two young teenage boys to commit to a challenge this demanding, and to train for many weeks. The Community Fund was proud to help make this endeavour possible, and wishes the Morel family well on this challenge."
The Morel family was also supported by Isles of Scilly clothing store 49 Degrees, which designed and produced the family's cycling tops, and by leading Scilly hotel Star Castle, which made a donation towards the costs involved in the challenge, while St Mary's Rotary Club donated electronic mapping systems so Jewls would not need to carry hard copies of the 30 Ordnance Survey maps required for the route.
Jewls added: "People have been so supportive; there's no way we could have done this challenge without help, especially the Community Fund grant which paid for all our travel to get to Scotland – the costs would have been too much without that grant, so the help has been essential."
Grants of between £150 and £2,000 are available from the Isles of Scilly Steamship Group Community Fund to support projects which benefit communities on the Isles of Scilly and in West Cornwall.
To apply for a grant, visit: www.islesofscilly-travel.co.uk/isles-of-scilly-steamship-group-community-fund/ or call 01736 334220.