The Isles of Scilly are a stunning UK destination just 28 miles from Land's End, perfect for active family holidays in the sun or a long weekend getaway. The arts and cultural calendar is brimming with exciting events, like foodie feasts, music festivals and theatrical productions.
This July, the Miracle Theatre open air theatre company is coming to the Isles of Scilly for a 4-day extravaganza performing their comic production, The Third Policeman.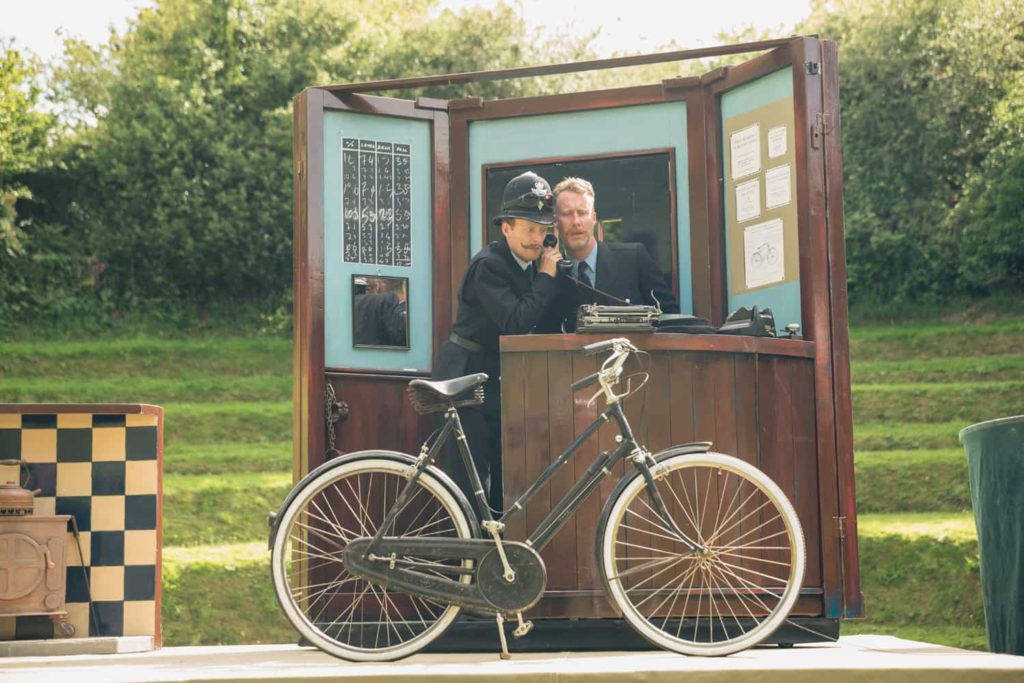 This summer Miracle ventures into a world somewhere between Alice in wonderland and Father Ted, where the earth is not round but sausage-shaped; where eccentric policemen fall in love with bicycles and you can visit eternity via a rickety lift, hidden in the heart of rural Ireland.
With its hilarious characters, streaks of dark humour and unforgettable plot twist, The Third Policeman earned its author, Flann O'Brien, a world-wide reputation as one of Ireland's great comic geniuses.
Fans of this cult classic and newcomers alike should expect the unexpected!
To see the production for yourself, choose from one of the below performances:
Thursday 27 July, 6:30pm old Grimsby Tresco
Tickets available from Tresco estate office & online  HERE
Friday 28, Saturday 29 & Sunday 30 July 8pm – St Mary's chaplaincy gardens, St Mary's
Tickets from St Mary's TIC: 01720 424031 & online HERE
Tickets available on the gate, please note no debit or credit card payments taken, *cash or cheque only*
What people are saying about 'The Third Policeman':
'Fabulously Mad!'
'Miracle meets The Grand Budapest Hotel'
'Probably one of the funniest plays I've ever seen!'
'Packed with wit, wordplay and winning one-liners'    
About Miracle
Miracle is an award-winning touring theatre company, based in Cornwall with a reputation for producing, comical, highly entertaining and thought provoking shows suitable for anyone & everyone.
Miracles outdoor productions have become a 'must do' activity and pop up in unexpected and extraordinary, including gardens beaches, castles and clifftops.
Audiences of all ages are invited to enjoy the full 'open air theatre experience', by bringing along well stocked hampers, cushions and blankets for a memorable night of theatre performed under the stars.
So, pack up your hamper, gather your loved ones and step out for an evening of sensational theatre on the Isles of Scilly. Where the show is all around you.
By sea or by sky, your journey to the Isles of Scilly will be as enthralling as the shows on stage. Lose yourself in the drama and book your Skybus or Scillonian travel tickets now.
It's easy to reach the Isles of Scilly, with Skybus from Land's End, Newquay or Exeter Airport in under an hour or sail on Scillonian III from Penzance.