Scillonian III marked the end of an era on Sunday (November 6th) as Master Pete Crawford made his final voyage from St Mary's to Penzance after 39 seasons on board.
Pete, 60, will be retiring in January after sailing approximately 666,000 miles on Scillonian III – or more than 30 times around the world.
It is estimated he has made more than 9,000 return journeys to the islands and carried more than two million passengers.
"It's been an honour and a privilege to have worked on board such an iconic and well-loved ship," said Pete. "I'd like to thank the Isles of Scilly Steamship Company for giving me this opportunity, and the Scillonian crew past and present. I couldn't have done it without them."
Pete, who lives in Penzance with his wife Angie, joined Scillonian in 1983 as a 22-year-old radio officer. His first job was collecting tickets from passengers on the gangway, where families would have their photo taken with him at the start of their holidays.
"Almost 40 years later, I'm having my photos taken with their children and grandchildren," he said. "It's like I'm part of their holiday. I consider a lot of our passengers to be friends."
With the company's support, Pete studied for his deck tickets and in 1992 became Scillonian III's Chief Officer, before taking over as Relief Master in 2002.
"I was the first person the Steamship Company put through college – it was unheard of in those days," said Pete. "It cemented my relationship with the company and I hope I've repaid it over the years."
Over 39 seasons, the highlights of Pete's remarkable career are too many to mention, but he cites the wildlife he's seen over the years as some of the best memories.
"We see something every day," he said. "I've seen humpback whales breeching off Land's End; a pod of killer whales; many, many fin whales, minke whales and dolphins and tuna regularly. I used to see giant groups of basking sharks – you could almost guarantee them from June. Once a fishing boat called to let us know about a super pod of hundreds of dolphins in a feeding frenzy, so we went three miles off course to take the passengers to see that.
"One magical thing I'll never forget is a very unusual whale called a Sowerby whale playing in the surf off the Eastern Isles probably about 25 years ago. I've never seen one since.
"I've carried lots of famous people over the years, including Princes William and Harry, and it's the passengers are what makes the job special. They come on holiday with smiles on their faces and it's my job not only to keep them safe, but to keep those smiles on their faces.
"I'd like to give a special mention to the islanders, some of whom have become dear friends over the years. One of the things I'm most looking forward to about retirement is spending more times on the Isles of Scilly. It's an incredibly special place."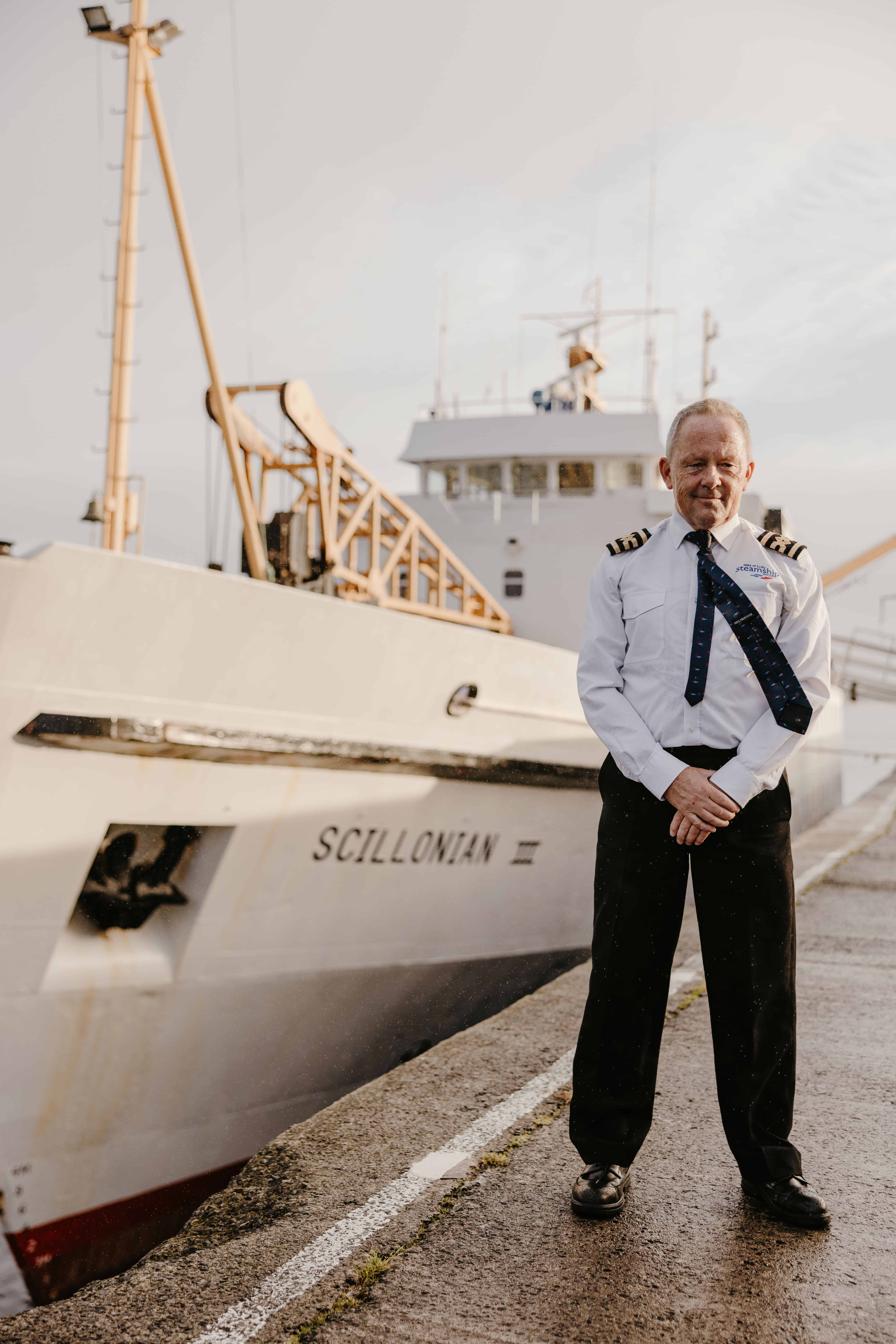 Islanders turned out to wave and cheer as Pete departed St Mary's for the final time on Sunday, with flags spelling "Thank You Pete 39" unfurled from the mast of Scillonian III. He was greeted on arrival in Penzance by his Steamship Company colleagues standing to attention on the Quay, freight ship Gry Maritha's fire hoses spraying in the air and a surprise party in the Queen's Hotel, which Pete described as "both humbling and emotional".
He is looking forward to spending his retirement travelling, sailing and spending time with his two sons – Ryan, who lives in Perth, Australia, and Lewis who lives in Hampshire.
Stuart Reid, Chief Executive of the Isles of Scilly Steamship Company, said: "On behalf of the Company, I would like to extend a heartfelt thanks to Pete for almost four decades of dedicated and unwavering service.
"Pete's support of and commitment to the Steamship Company has been nothing short of exceptional. His hard work and bountiful knowledge is respected by not only our passengers and employees, but also the communities of both Penzance and the Isles of Scilly in which he has developed an extremely close connection. Pete will be sorely missed by all at the Steamship Company and he will always be welcome on board Scillonian III."