Scenic flights
Even for people who know Cornwall well, seeing beloved landmarks from our twin-engined Islander aircraft can be a new, and moving experience. Often, it's a birthday or anniversary gift, or simply the high point of a holiday. Flying from Land's End airport at altitudes between 500 and 1,000 feet, you'll take a round trip over West Cornwall's iconic coastline – or, if there's a special place you'd particularly like to see from the air, we can help you design your own flightpath.
The aircraft can carry up to eight passengers, so you can fly as an individual, a couple, a family or a group. The flight itself takes around 20 minutes, depending on your route; your memories of the view will last for years.
Key Information
Departure
Land's End Airport
Flight time
20 minutes approx
Check in
30 minutes before departure
Weather
Flights depend on good weather; please call before setting out
2018 Scenic flight prices
Flexible bookings
To ensure we cover our flight costs, prices depend on the total number of paying passengers on the flight. We want you to be safe, and to have the best possible view of Cornwall. So if the weather's not good enough for your flight, we'll pre-book you for an alternative day.
To book contact: 01736 785231
20 minute flying time fare
4-8 passengers £50 per person
3 passengers £60 per person
2 passengers £90 per person
Private flight for one £180
Infants under 2 are free of charge
Your flight route
Our usual flightpath will give you a spectacular, aerial perspective on West Cornwall's most famous landmarks – and you'll see it all a second time, as we fly back up the coast to Land's End. We're also happy to discuss a tailored route, if there's somewhere special you'd like to see from the air.
St Michael's Mount
This tidal island dominates the coastline near Penzance. The monastic buildings on its summit are more than eight hundred years old.
Penzance Jubilee Pool
Scillonian III moors next to this art deco lido, which was built in 1935. It was recently restored, after suffering extensive damage in the storms of 2014.
Mousehole
The fishing harbour immortalised in The Mousehole Cat was called "the loveliest village" by Welsh poet Dylan Thomas. Every year, thousands of people visit its fundraising Christmas lights.
The Minack Theatre
You'll see the world-renowned open-air theatre, carved into granite cliffs overlooking Porthcurno – one of Britain's most picture-perfect coves.
Longships Lighthouse
Look out to the south for a glimpse of this 41-metre (135-foot) high granite tower, which has protected shipping since the 1860s.
Land's End
On a sunny day, the white clifftop buildings at Land's End are visible from deck before – or after – you can see the coast itself.
Eastern Isles
Between St. Mary's and St. Martin's, Scillonian passes close to these twelve, rocky islands – they're uninhabited, except for puffins and seals.
Sennen Cove
A long, famous expanse of beach on the Land's End peninsula. In summer, the waters are a tropical blue; at other times, the waves can be spectacular.
Cornwall... as you've never seen it before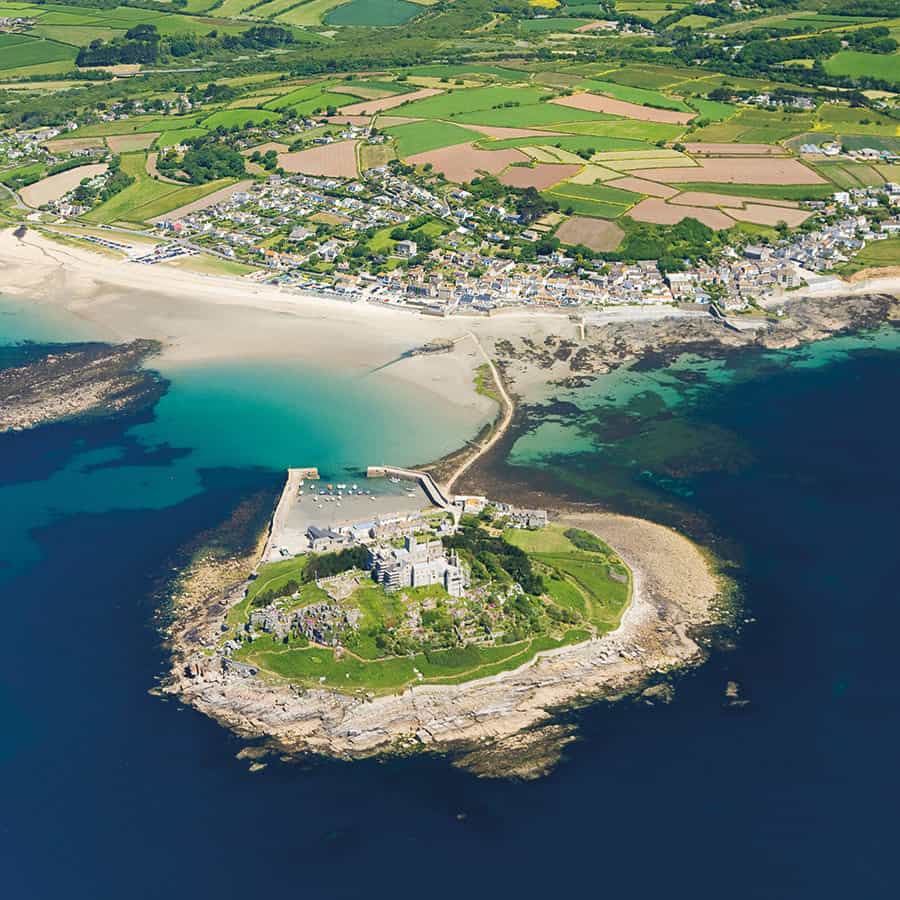 A whole new perspective
The Cornish landmarks you know and love look very different from the air. Once you've seen the Minack Theatre, Sennen or St. Michael's Mount from the air, they'll never look the same again.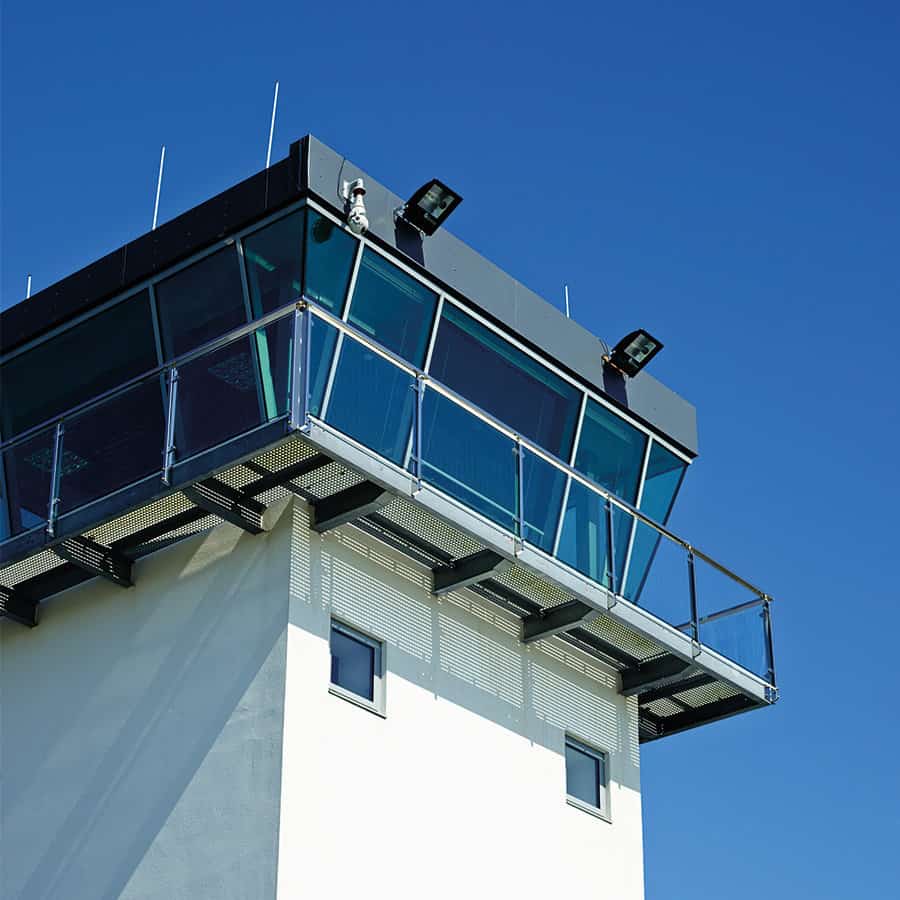 Choose your own route
If there's somewhere you'd especially like to see from the air, we're happy to create a tailored route, just for you. Ask us for details when you call.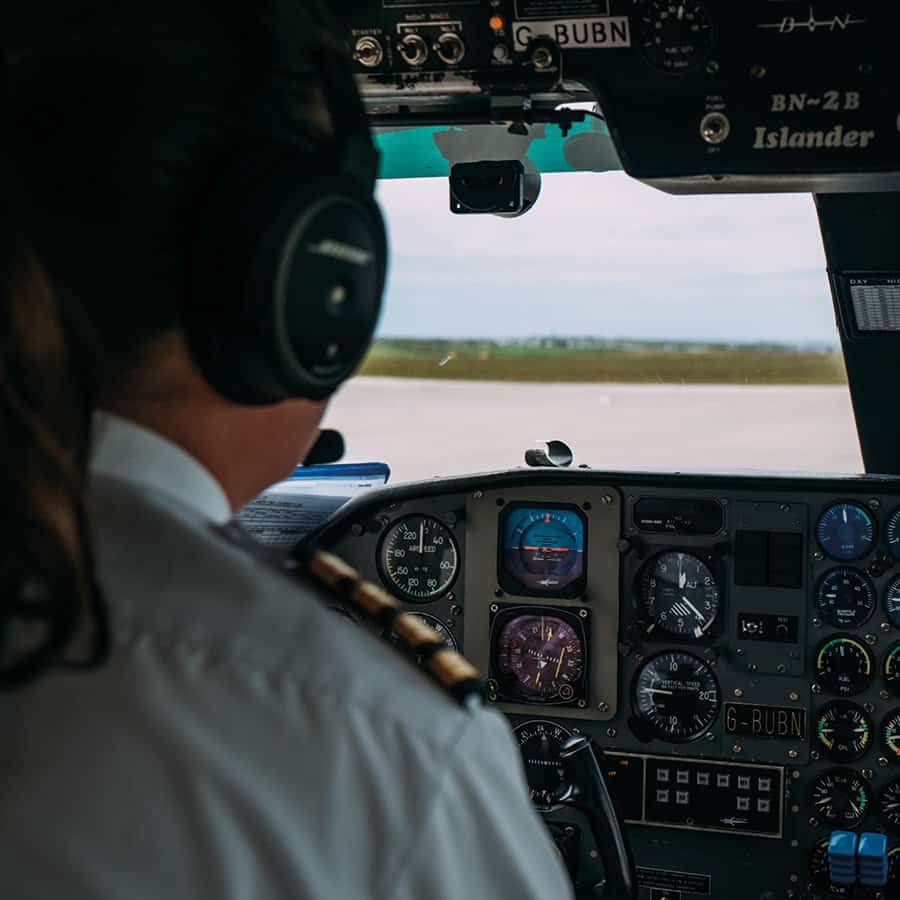 Your own personal pilot
You can look over the pilot's shoulder, watch them as they work, and see all the dials, instruments and controls throughout your flight – a rare treat for aviation fans.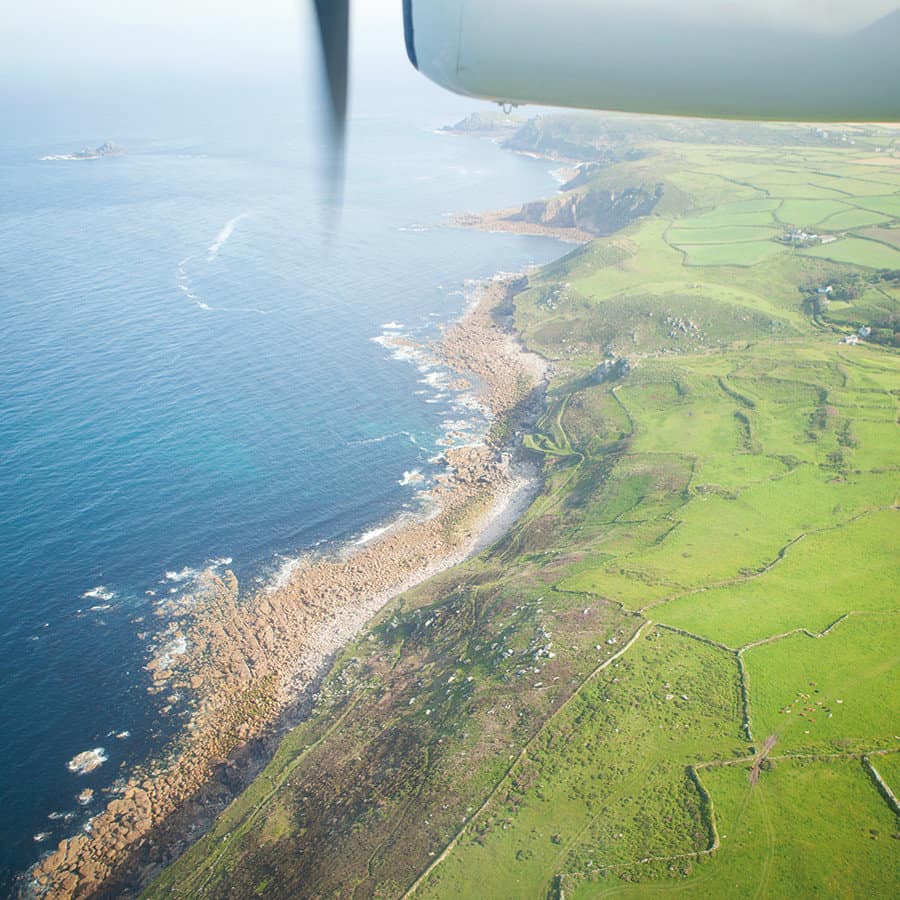 Endless Cornish coast
It's arguably the world's best coastline – and you'll never get a better view. See miles and miles of cliffs, beaches and coombes… including North and South coasts at the same time.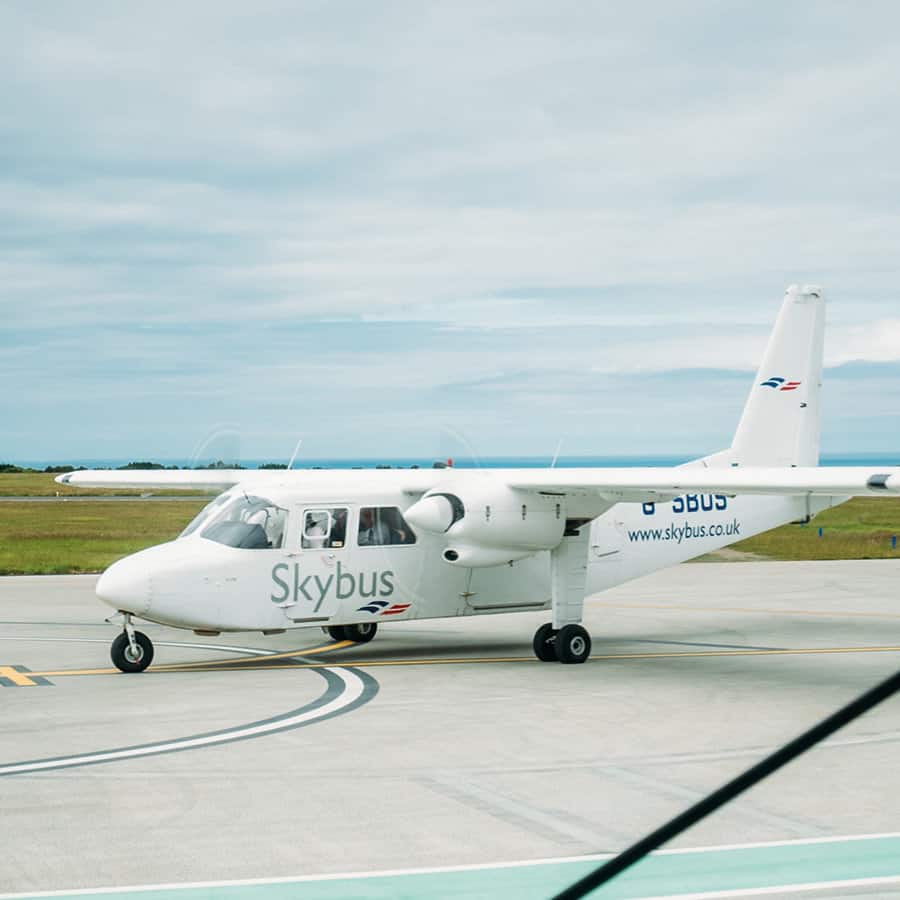 Flying, as it should be
Your small, nimble twin-engine aeroplane – a Britten-Norman Islander – is one of Europe's most popular light aircraft, and for good reason. Even James Bond has piloted one.
Can we change the route / book a longer flight?
We're very happy to tailor the flight for you, as long as we have aircraft available, and the weather permits. Although of course this might cost a little more, please call us to discuss it.
What happens in bad weather?
Flying depends on the weather – our priority is making sure you're safe, and get the best possible view – so please call for a weather check before you set out. If we can't fly, we'll rebook your flight as soon as we can.
What facilities are there at Land's End Airport?
There's a café and terrace, which both have views over the airfield. You'll also find ample parking, a shop, baby changing facilities, a children's corner and free WiFi. View more at Land's End Airport.
Can I share my flight with another group?
Yes; if there's another group that's willing to share, this is certainly possible. Please ask us about it when you book.
Can I photograph or film my flight?
Of course. We hope the flight will give you memories to treasure, and it's only natural if you want to capture some of the views.
How many people can the aircraft seat?
The Islander can carry up to eight passengers.
Gift voucher
Give an amazing experience they'll never forget. Gift vouchers are available in any denomination. Just ring the travel centre on 01736 334220 to arrange.