Be transported to the Isles of Scilly
Now that the Christmas decorations have been put away and we're all back to work, give yourself something to look forward to and book a restorative trip to the Isles of Scilly.
This spring, leave the stresses of modern life behind with a visit to the island paradise on your doorstep. Take time out for yourself and reconnect with your loved ones, on the idyllic collection of islands where life moves at a gentle pace.
Ignite your wanderlust and discover uninhabited islands, secluded bays and winding country lanes. Forget dashing about and stroll for hours through the spectacular Abbey Garden. Spend your days relaxing on an isolated beach, enjoy rock pooling with the kids or paddle a kayak around the crystal clear waters.
There are plenty of new experiences to try too – from snorkelling with seals to tasting new flavours at Scilly's summer food festivals. In fact, Scilly is becoming synonymous with great cuisine, from its fish restaurants to its cosy pubs, and the locals are passionate about where they source their produce.
With their white sand beaches and azure waters, the Isles of Scilly might look like they are a million miles away, but they sit just 28 miles from the coast of Cornwall. And getting there couldn't be simpler…
Fly by Skybus
Skybus flights whisk you to the spectacular Isles of Scilly from Exeter and Newquay in under an hour – making a short break or week long escape possible from a variety of locations, including Manchester and London, through connecting flights. Flying down the length of the Cornish coast is a great way to relax into your holiday – keep an eye out for two of Cornwall's famous beaches, Perranporth and St. Ives Bay, along the way.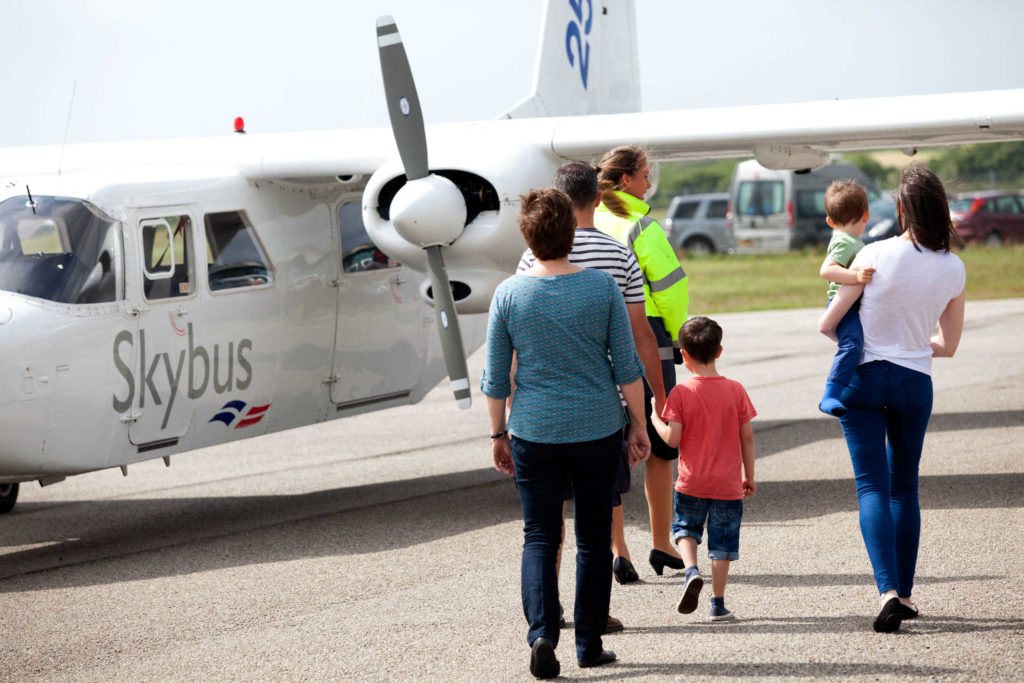 You can also fly to Scilly from our dedicated airport at Land's End –there really is no better place to start an extraordinary holiday. If you're local or driving to Cornwall, you can leave your car at our airport car park, if you're coming from further afield you can take the direct train from Paddington to Penzance and our minibus will pick you up. Flying from Land's End is simply wonderful. There are no long walks through never ending terminals; instead, you'll be welcomed into an open plan waiting area with panoramic views of the airfield and a wood-burning stove. Flying from here feels like you could be catching a private aircraft.
Sail on the Scillonian III passenger ferry

If you're booking some time away with the family, you may wish to sail from Penzance Harbour on the Scillonian III passenger ferry. You can point out famous landmarks, such as the iconic Minack Theatre, and take the kids onto the deck to look out for dolphins.
Whether you choose to fly or sail with us, we're sure that you'll find the journey as unique as the destination. We look forward to transporting you to the Isles of Scilly very soon!