Trotting across white sands, cantering along bridal paths and splashing in the bays – travelling on horseback is a wonderful way to experience the incredible coastal scenery around St Mary's. And with the stables just a couple of miles from both the airport and the harbour, horse riding is the ideal activity if you've just arrived and you're champing at the bit to explore!
In the third of our Travel Scilly blog posts, we're chatting to Claire Morley from the St Mary's Riding Centre, to find out about traversing the island under horsepower. Claire has eighteen horses at her stables, and they're a real mix – from tiny ponies to Shire horses – so we're confident she'll have just the steed for us!
Hi Claire, can you tell us a bit more about your horses?
Hello! Yes, we have everything here from our little ponies, Ernie and Bella, to huge Shire horses. Grace is our largest, a gentle giant at 18 hands!
I'm sure everyone would like to know – how do you get horses onto Scilly?
We bring them over on the Scillonian! We put them into a trailer, which is then lifted onto the ship. The horses settle in very quickly here, it's a very natural lifestyle as they can live outside all year round.
Are horses a big part of Scilly's heritage?
I actually have a photo of my great, great grandparents using horses for ploughing – so I'd say they've been around for while!
Which route would you recommend for beginners?
The one-hour hack (a horsey-term for a ride). We have on-farm trekking, so we start with that and then we go to the beach for a paddle in the sea, which is wonderful. You will have an instructor with you, who will walk beside you and lead you.
What about more advanced riders?
I'd recommend the 2-hour hack.  It's the same route to begin with, but then we head over Pelistry Bay and then on to Bar Point. We can use the bridal paths for cantering along the way.
Are there lots of bridal paths on St Mary's?
We ride by permission of the Wildlife Trust, and our routes vary in accordance with where they'd like us to walk – horses' footsteps help to keep the bramble under control and they produce manure, which is great for beetles.
What is your favourite route?
I love the Deep Point route, which enjoys views across to St Martin's. On a clear day you can also see mainland Cornwall. The water looks really beautiful here – it's either peaceful and flat or dramatic and crashing. We've even seen seals and dolphins during our hacks. This route also takes you past Bronze Age burial chambers, which are about 4000 years old.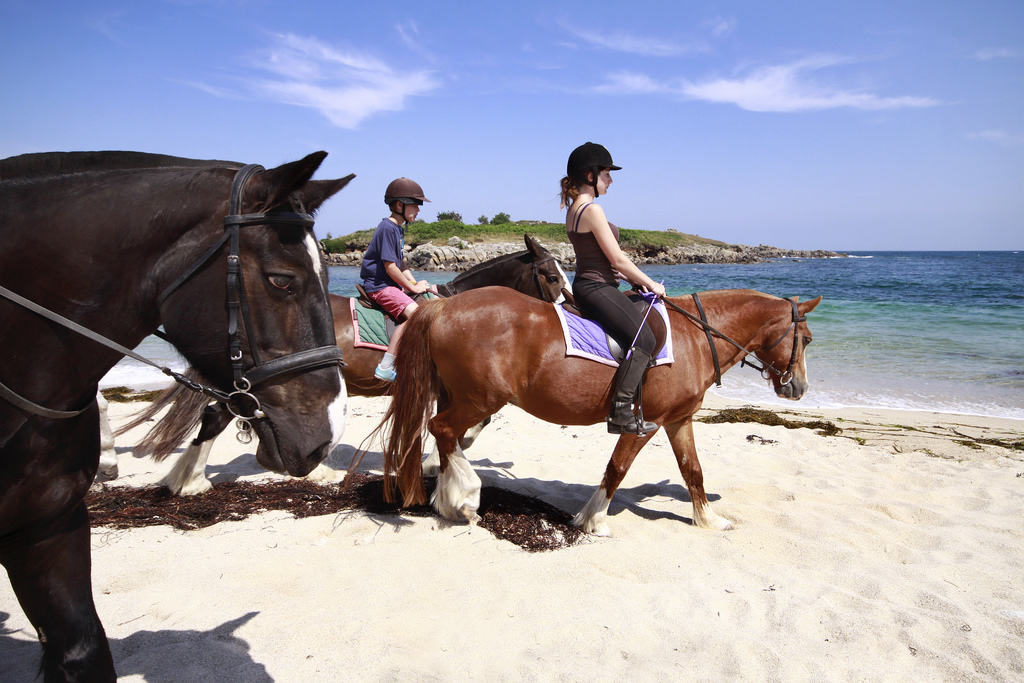 Sounds incredible!
It is! On horseback you get to see a lot of St Mary's in just an hour. We cover around three to four miles, and you have the time to look around and take it all in.
When should we visit?
In the peak season we offer four short rides a day. For the rest of the year we do fewer rides, but they tend to be longer. If you'd like to book a ride for the October half term we will certainly do our best to accommodate you!
What's your favourite place on Scilly, and why?
From a riding perspective, I love Porth Hellick beach, which is on the south coast of the island. There's a big rock formation there that looks just like a loaded camel!
And when you're not riding?
Hmm… St Martin's is probably my favourite island. It's also lovely to go off on a boat and explore the Eastern Isles. There is just so much to see on Scilly – I would love to be on holiday here!
Would you love to be on holiday too? We can't wait to welcome you aboard. With the option to fly or sail to Scilly from multiple destinations, let's make tomorrow extraordinary.