Discover the Christmas present that will put you on everyone's nice list – a trip to the Isles of Scilly!
It's less than two months until Christmas and here on the Isles of Scilly we're busy ironing our Santa suits in preparation for the Christmas dash and splash – a festive fancy dress event that finishes with a dip in the sea! We're also starting to think about gifts for our relatives, so we thought we'd share a little inspiration with you…
A gift from Isles of Scilly Travel is so much more than a travel voucher – it's the promise of postcard-perfect beaches, foodie feasts, unspoilt landscapes and complete tranquillity. Plus it's a gift that your loved ones can look forward to enjoying long after the pine needles have been Hoovered up.
Whether you'd like to plan a romantic escape for your other half, a little adventure for your dad, or you'd like to club together with other family members to treat the grandparents; we've got a gift idea for you. From day trips on the Scillonian III to scenic flights over the south coast of Cornwall, we can help you to make this Christmas extra special.
Day trips: For the one who needs a little adventure
The rugged coastal paths, white-sand beaches and nature trails of the Isles of Scilly are just a hop, skip and a jump away – in fact, travelling there takes just 15 minutes from Land's End. A day trip is a wonderful gift for time-poor travellers in need of a new adventure! Your lucky loved one could opt to fly from Land's End or Newquay, or sail from Penzance on the Scillonian III passenger ferry. With day tickets on the ferry from just £39.50 per person, Dad could be out exploring the coastline of St Mary's for the same price as a woolly jumper.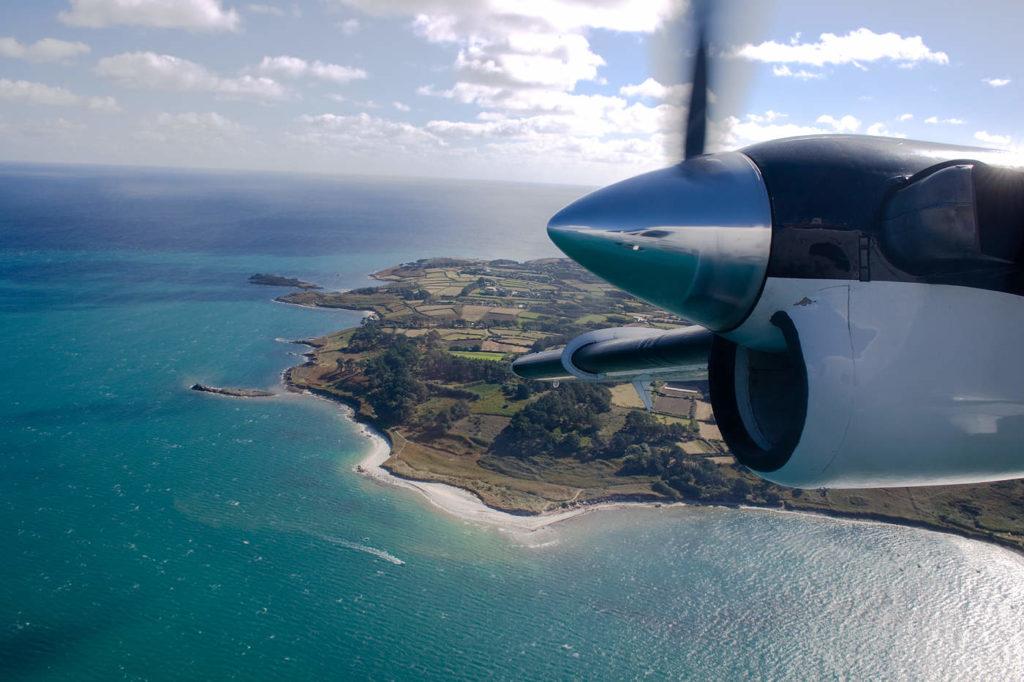 Skybus flights: For the one who means the most
Scilly's proximity to Cornwall (just 28 miles from the coast) makes it the ideal location for a romantic weekend escape. Picture strolling hand in hand along a secluded beach, hiring your own boat for a James Bond-style spin around the bays and tucking into fresh lobster as the sun goes down. If you're searching for a showstopper, flying by Skybus from Land's End is a fantastic way to travel. The Islander (our smallest aircraft) carries just 8 passengers, creating a private and special holiday experience from take-off to landing.
Scenic flights: For the one who thinks they've seen it all
Porthcurno Beach, Sennen Cove, St Michael's Mount, Land's End. The most westerly tip of the UK is known for its dramatic landscape and golden beaches – but wait until your family sees it from above! Our 20-minute scenic flights are simply spectacular, and certainly make a change from the usual bath bubbles and socks! Tickets are available from just £50 per person.
Give the gift of Scilly
From the warm welcome our guests receive as they board to the wonderful views they'll enjoy as they travel; it's our goal to make every bit of your loved one's journey to Scilly as special as the location.
You can purchase Isles of Scilly Travel vouchers for any value, so you could gift an entire trip or put something towards a special holiday. Please call our friendly team on 01736 334220 for more information.