In our latest behind the scenes series, we've caught up with  Master Peter Crawford to find out about life aboard Scillonian in the winter months.
Hi Pete, thanks for meeting with us, now Scillonian's not sailing what does a 'normal' day look like for you?
"There's no such thing as a normal day! But the normal day starts off with a 'toolbox talk', up on the bridge with a cup of coffee and the crew, discussing the jobs for the day. The jobs can depend very much on the weather, if it's dry weather we'll try to do outside jobs. It's not the best time of year to paint a ship, we always seem to get it done but we always panic thinking we're not going to get it done in time; it's been very wet so far this winter. Today is a beautiful day, everybody's out on deck doing those jobs and inside is coming on really well, there's also a lot of paperwork to catch up on and courses; it's a busy time for us.
It's quite nice because the summer season and the winter season are completely different and it breaks up the year nicely."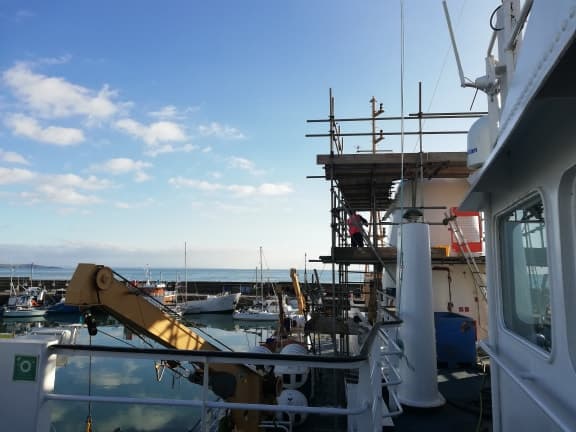 Cleaning of the iconic Scillonian funnel 
Which do you prefer, summer or winter?
"Summer, I prefer warm weather, light evenings and being at sea."
Are the crew kept busy through the winter months?
"Very, people think we get the winter off, you bump into people in Penzance and they say "oh you've got the winter off" its actually a really busy time for us. We do a 7.30 am – 5 pm day and work weekends, there is lots to do. "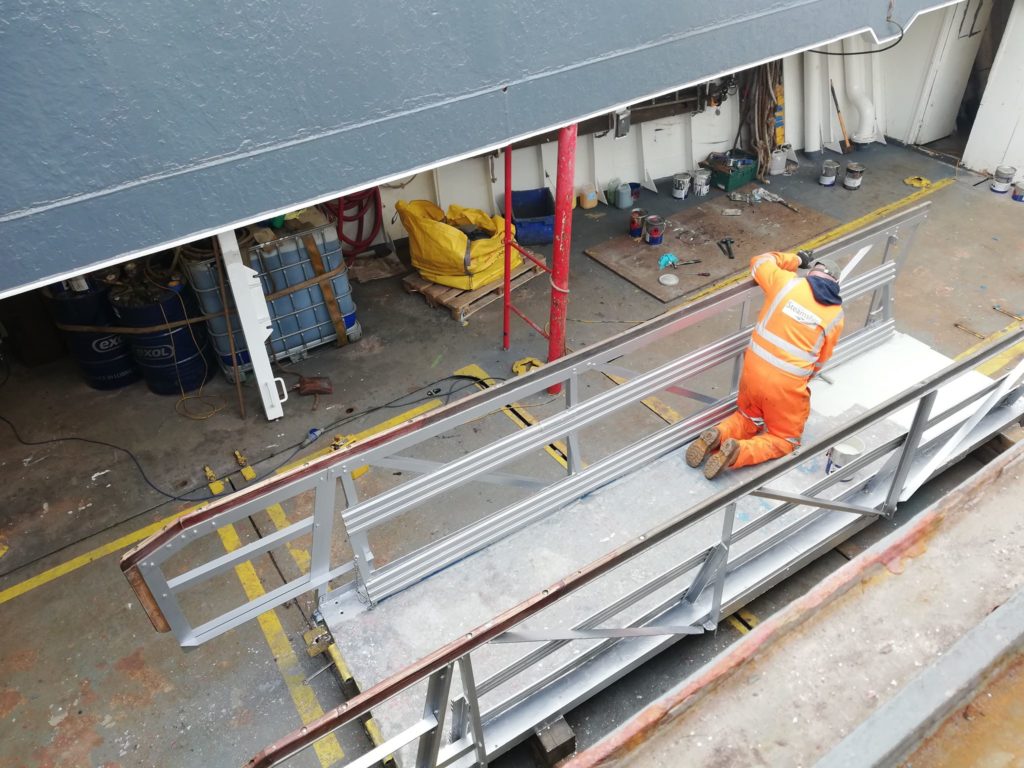 General maintenance of the passenger gangways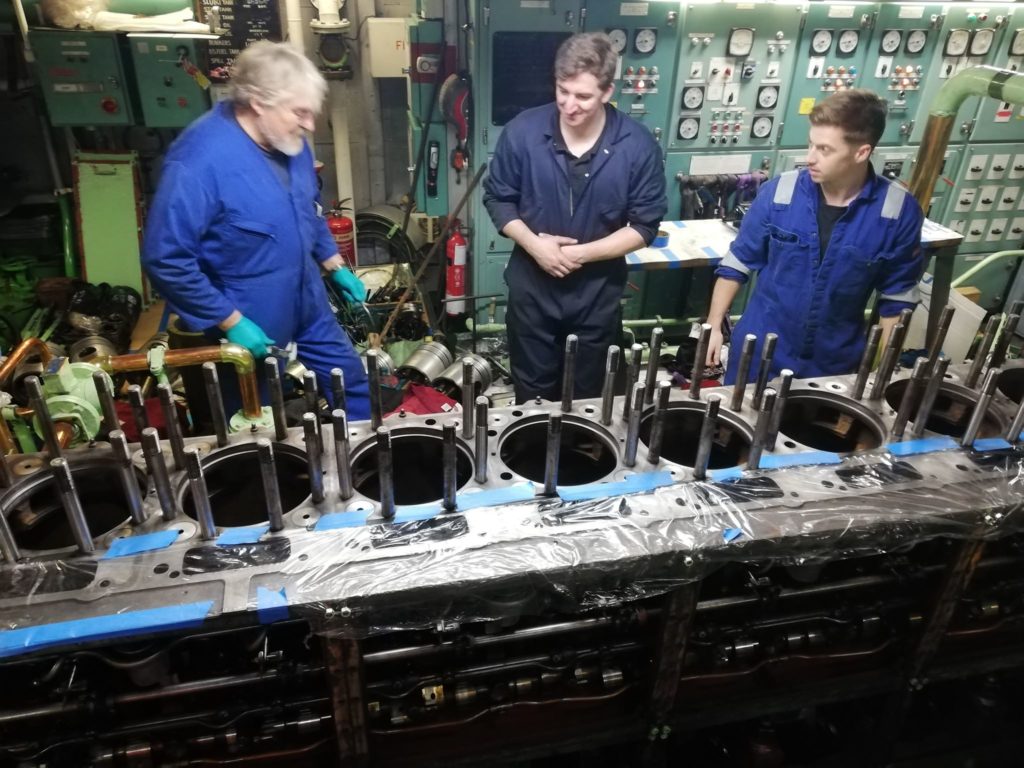 Inside Scillonian's engine room 
What's it like 'behind the scenes' when she's not sailing?
"Interesting, to say the least, you don't know what's going come at you next, you'll start a job thinking this is a small job and it turns into a big job or the other way around. Every day is different."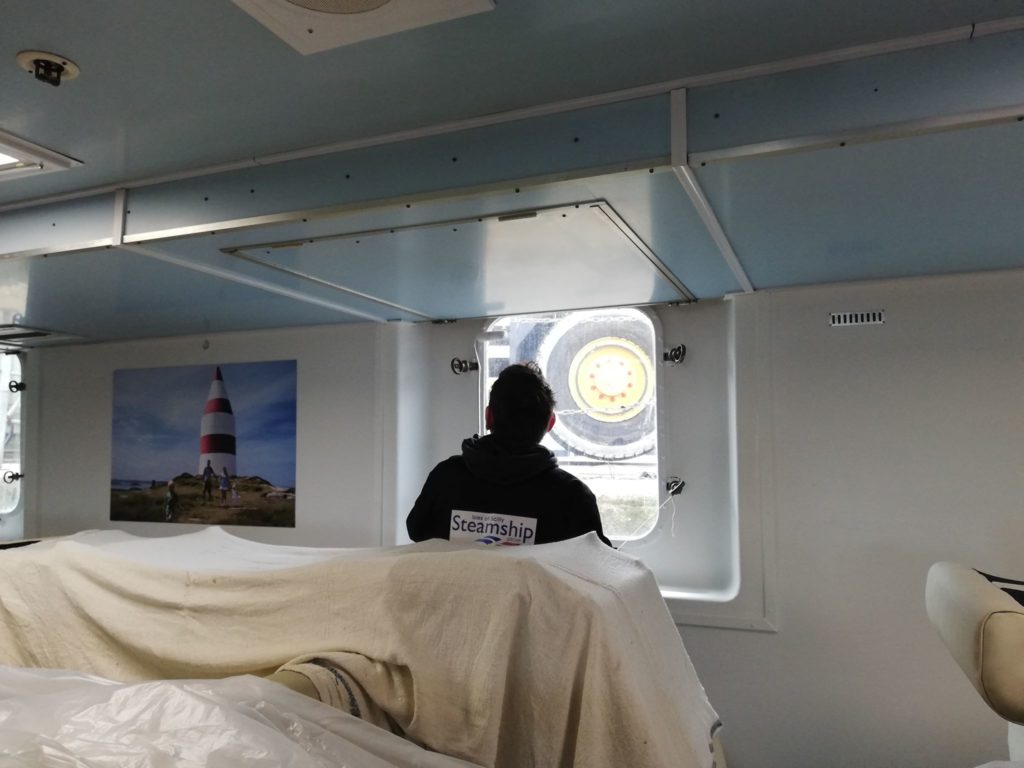 Cleaning and painting of the windows
How long have you been part of Scillonian's crew?
"37 years, I joined in 1983 aged 22, I've completed 37 seasons and I am the longest-serving officer with the company. I think this ship will see me out until retirement."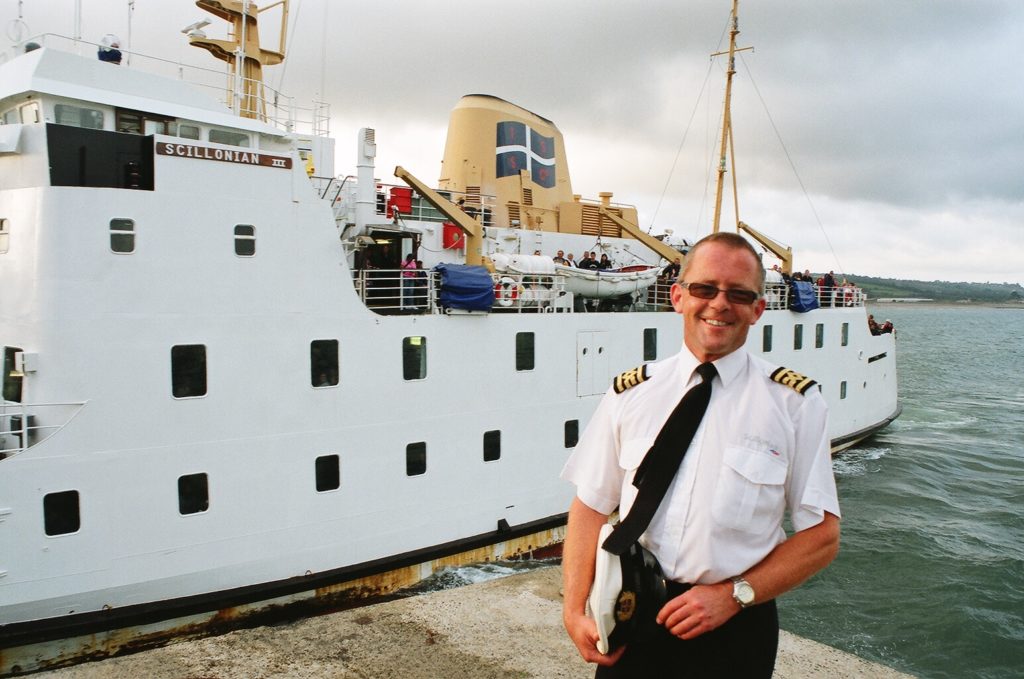 What's your favourite part of the job?
"Meeting people, in the summertime its meeting passengers and keeping a smile on their faces. What a great office, we can watch the wildlife which is another favourite part of mine but a concurring theme of good weather."
Do you have any tips for where and when to spot wildlife when aboard Scillonian?
"There's less near to the islands, more when you're this side (Penzance) or when you get halfway across to the islands near to Land's End. A lot tends to be feeding in the current, it's where the food is. We always expect more around the Runnel Stone/Land's End area and towards Wolf Rock, it's generally closer to land than the crossing of water between Land's End and the islands. But it could be anywhere, it varies tremendously, this year we saw lots of Minke Whales, Risso dolphins and an albino dolphin was sighted, a couple of leatherback turtles, we see a few birds but I'm not an expert – if they landed on the bridge of this ship I wouldn't know what they were!"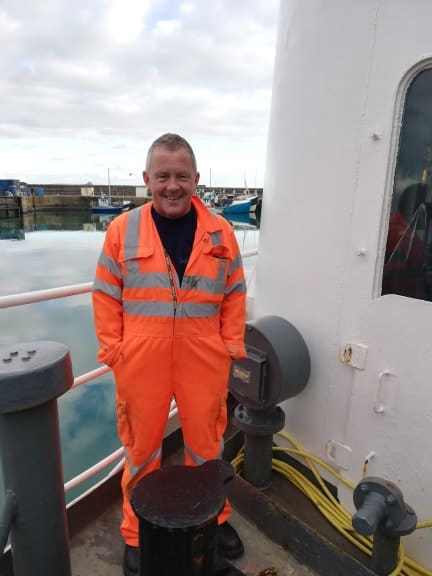 Master, Pete Crawford
If you'd like to make the crossing aboard Scillonian III in 2020, book your ticket today. Tickets are on sale here:  2020
Scillonian sails up to 7 days a week through March – November and the crossing takes around 2 hours and 45 minutes.