Safety is the number one priority of Engineering Manager Mick Yould and his team of nine – including engineers, aircraft fitters, two stores' supervisors and one technical records supervisor.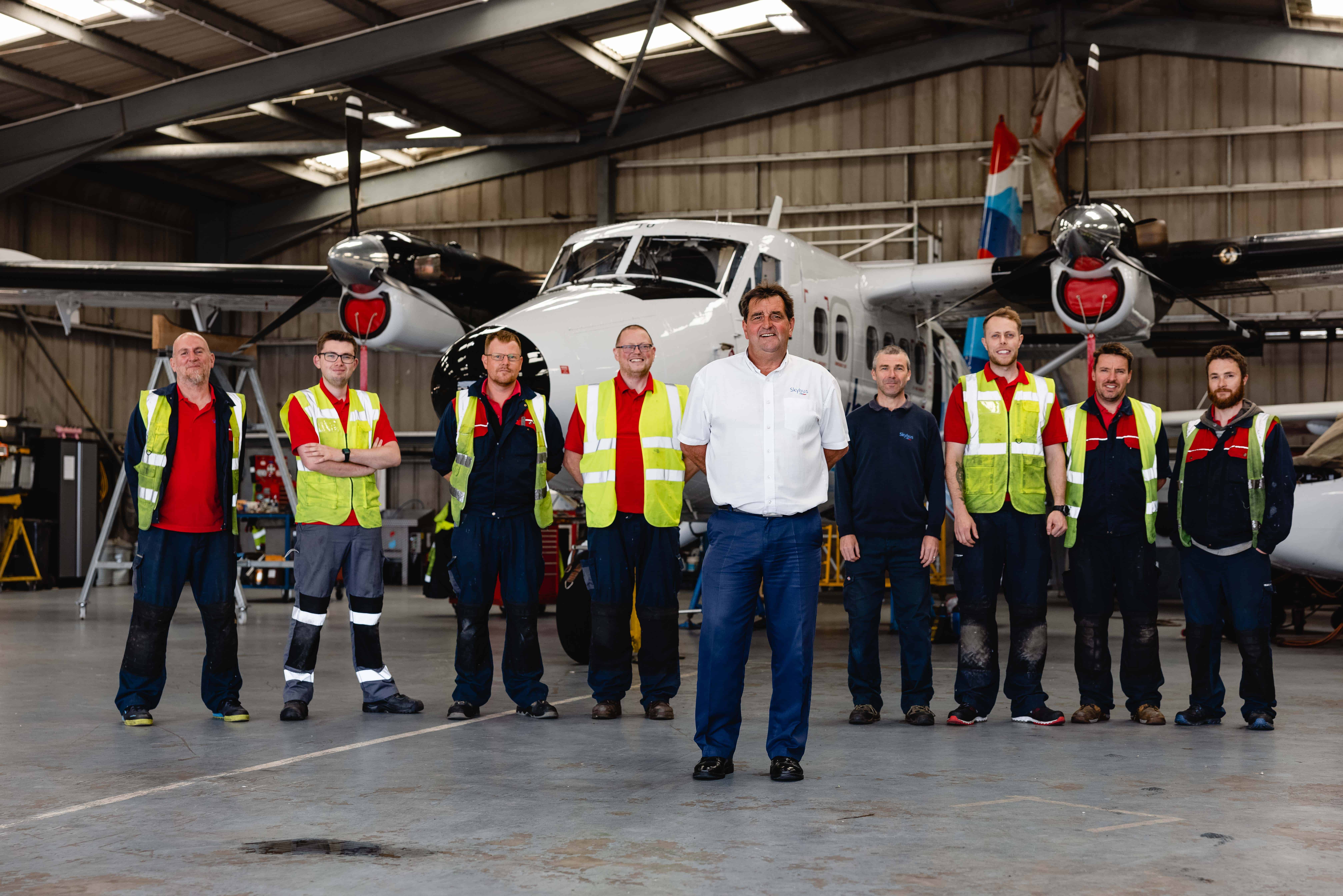 The busy department is responsible for the maintenance, safety, and airworthiness of Skybus's fleet of four Twin Otters and three Islanders.
Mick, who has been with Skybus for 27 years, said: "Every day 'post' various maintenance requirements, we sign the aircraft as being airworthy. It's a huge responsibility, and one we take extremely seriously as our passengers and crews' safety is paramount. The maintenance of the fleet is carried out to the highest standard possible."
It's no small task.
The aircraft have pre and post flight inspections daily. The team operates a six day a week shift pattern that begins at 6.30am to get the aircraft ready for the first flights of the day and can finish at around 8.30pm when they put them to bed.
Each day they clean the aircraft, check everything from oil levels to lighting, and deal with any technical issues and deferred defect rectification.
The Twin Otters, the fleet's 17-seater aircraft, also have routine maintenance after 200 flying hours – or after 93 days, whichever is first. Each aircraft flies on average 780 hours each year, so this happens every four to five weeks. The inspection on each aircraft takes the whole team of engineers and fitters three full days to complete.
The eight-seater Islanders, the aircraft used for freight and ambulance flights, have routine maintenance after every 50 flying hours or 62 days, whichever is first. This maintenance can vary in complexity and again takes the team up to two days to complete.
On top of this, each aircraft spends a month during the quieter winter season having its mandatory annual maintenance and progressive work that is carried out on a cyclical basis.
After a major inspection the aircraft are taken on either a general handling flight or a full test flight. During the test flight they are loaded to the maximum take-off weight capacity, which includes full fuel and individually weighed sealed containers that are strapped into the seats and baggage holds to simulate passengers and luggage. This is to check the aircraft flying characteristics meet the mandatory performance specifications for the aircraft type.
The department is highly regulated and is audited every six months by the Civil Aviation Authority (CAA), and internally monthly. Reams of paperwork, which must be kept for the life of each plane, are stored in an archive on site.
Mick said: "Our oldest aircraft is a Twin Otter dating back to 1977 and the newest is a 1993 Islander. People may think they are old, but the Twin Otters have new wings, and both the Islander and Twin Otters have new landing gear and engines throughout their lifetime. The oldest part of the aircraft is the stainless-steel plate that shows the aircraft's manufacturers' serial number. Except for the fuselage, nearly everything else is or can be replaced throughout its lifetime in service.
"For example, Twin Otter wings are replaced after 33,000 flying hours and the main frame station 218.8 is replaced after 39,000 flying hours.
"The finite life of our Twin Otter aircraft is 66,000 flying hours, or 132,000 flights, before they have to be retired from service. It's an incredible operation and one I am proud to be part of."
---
Factfile: Skybus in numbers
Skybus fleet of seven aircraft – four Twin Otters and three Islanders

Twin Otter Aircraft fly around 780 hours each year, and the Islander aircraft fly around 350 hours
CAA Audits every 6 months, internal audits monthly.
Basic weight of a Twin Otter on average is 7,650lb and Islander is 4,300lb (without fuel)
60 flights a day during busy periods
Skybus carries more than 90,000 passengers a year
Did you know?
Aircraft can put on weight and must be weighed every four years to re-establish the basic weight and its centre of gravity? Things that can affect an aircraft's basic weight include modifications, full aircraft re-paint, interior changes and avionic equipment upgrades.