NATIONAL MARINE WEEK 2022
23rd July – 7th August 2022
In celebration of last week's 'National Marine Week', we take a look at the magnificent wildlife that inhabits the shores of the Isles of Scilly – a designated Area of Outstanding Natural Beauty.
Whether you are whale spotting on board Scillonian III, snorkelling with seals or rock pooling at low tide, the islands are the perfect place to encounter a huge variety of marine wildlife and special species – protected and thriving thanks to the work of Isles of Scilly Wildlife Trust (IOSWT).
ISLES OF SCILLY WILDLIFE TRUST
IOSWT is a conservation charity with the aim of keeping Scilly special.  The charity relies on generous donations from the community, visitors, and our passengers – who have helped us raise more than £70,000 for the charity to date!
IOSWT's habitat management and habitat restoration work supports many of the islands' special species, whilst its education programmes help raise awareness of the islands' important wildlife.
Let's look at some of Scilly's special marine species…
The grey seal
If you've visited Scilly before, you've probably had an encounter with a grey seal lazing on a rock or out at sea. Keep a lookout for the head of an inquisitive seal breaking the waves offshore.
Best time to spot: All year round.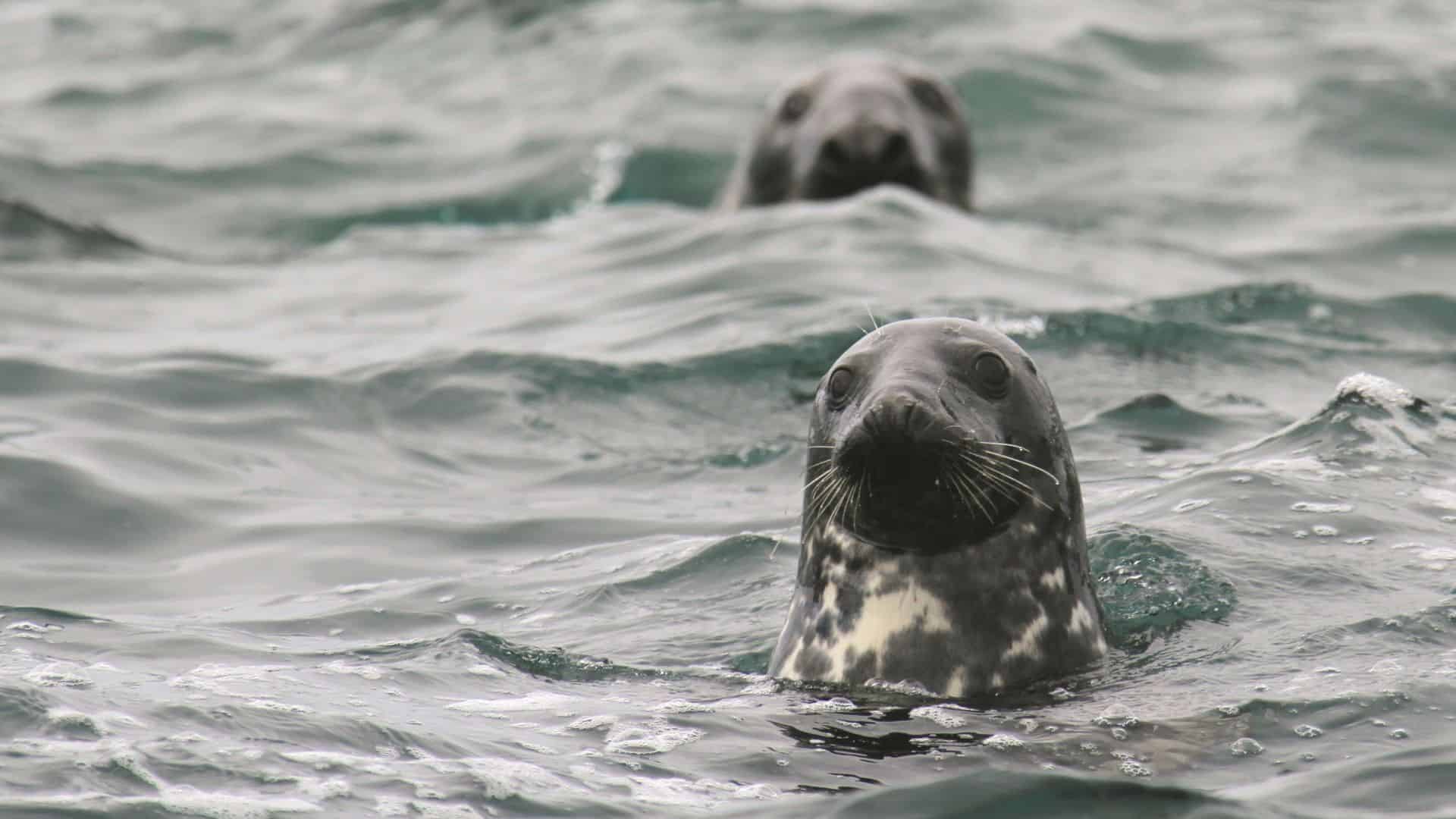 Find out more about this special species here.
Puffins
Possibly our favourite seabird, and tricky to spot. Puffins are only present from April to July. As they nest around some of our remoter rocky islands, make sure you book yourself on a wildlife-watching boat trip to give yourself the best chance of spotting this beauty.
Best time to spot: Only appears in Scilly to nest, from April to July.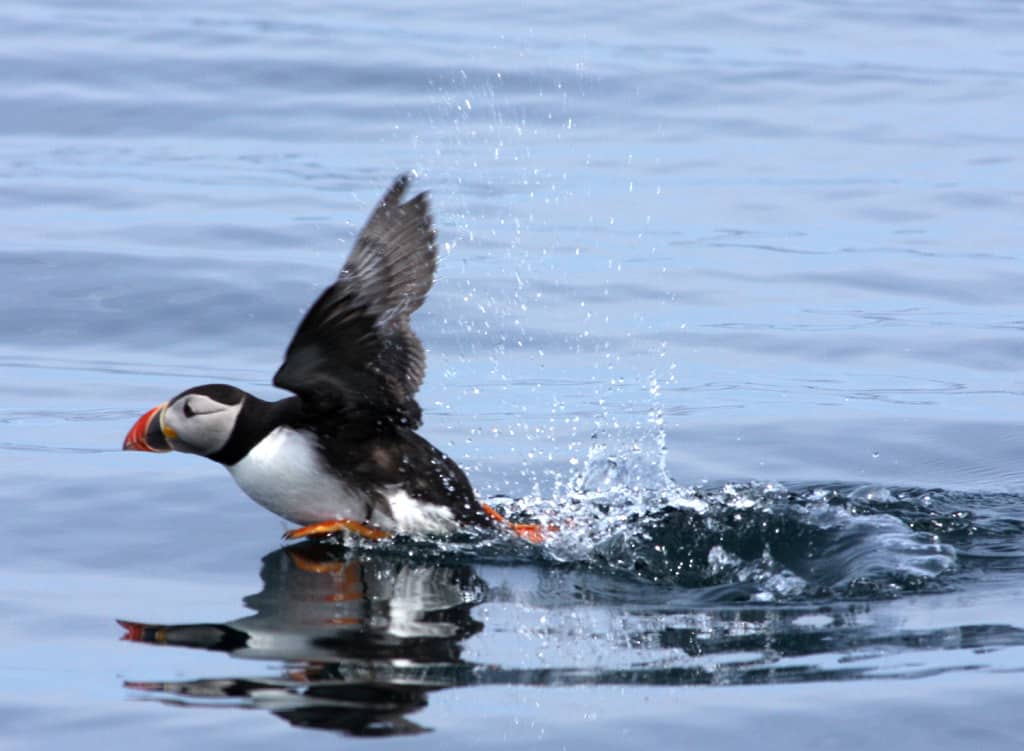 Find out more about this special species here.
The storm petrel
The Isles of Scilly are England's most important breeding ground for this tiny and little-known seabird. They can sometimes be seen on the crossing from Scillonian III, but to have your best chance of success, take one of the special evening "pelagic" boat trips from St Mary's.
Best time to spot: April to August.
Find out more about this special species here.
WILDLIFE SPOTTING ON SCILLONIAN III
Our passenger ferry, Scillonian III, sails between Penzance and the Isles of Scilly from March to November every year. The journey takes 2hr 45mins – which gives our passengers plenty of wildlife spotting opportunities!
It's certainly not a rare occurrence to spot something while on board, in fact it's more common than not to catch sight of dolphins playing in the wake, and if you're lucky – whales and even turtles are amongst the marine life to be spotted from the ship.
Since 2009 we have welcomed marine life specialists and expert surveyors from ORCA, on board, who have reported and logged wildlife sighting from the 163 crossings they have been on so far. Over this time more than 5,079 sightings have been recorded, which includes 23 different species!
The most spectacular sighting to date was the fin whale, the second largest animal on the planet, recorded back in June this year.
Head over to the latest issue of our in-house publication 'S-Magazine' to find out more about the Scillonian III crossing – the UK's most diverse ferry route for cetacean sightings.
SCILLY WILDLIFE EXPERIENCES
If you didn't spot anything on the duration of your Scillonian crossing, or perhaps you have flown across to the Isles of Scilly on board Skybus – don't worry, there are plenty more opportunities to catch a glimpse of wildlife once you've arrived.
Join the Reid family on fun and fascinating SCILLY ROCKPOOL SAFARIS the whole family will love! Slip into your wellies and learn how to find and identify a wide range of weird and wonderful creatures and discover a hidden world of sea creatures at low tide.
If you are comfortable swimming in open water, why not book a trip out to the Eastern Isles with SEAL SNORKELLING ADVENTURES and watch the wild seals swimming effortlessly in their natural environment. It truly is a fabulous experience and if you're lucky, you might even get a close encounter as the seals come over to say 'hello' and play.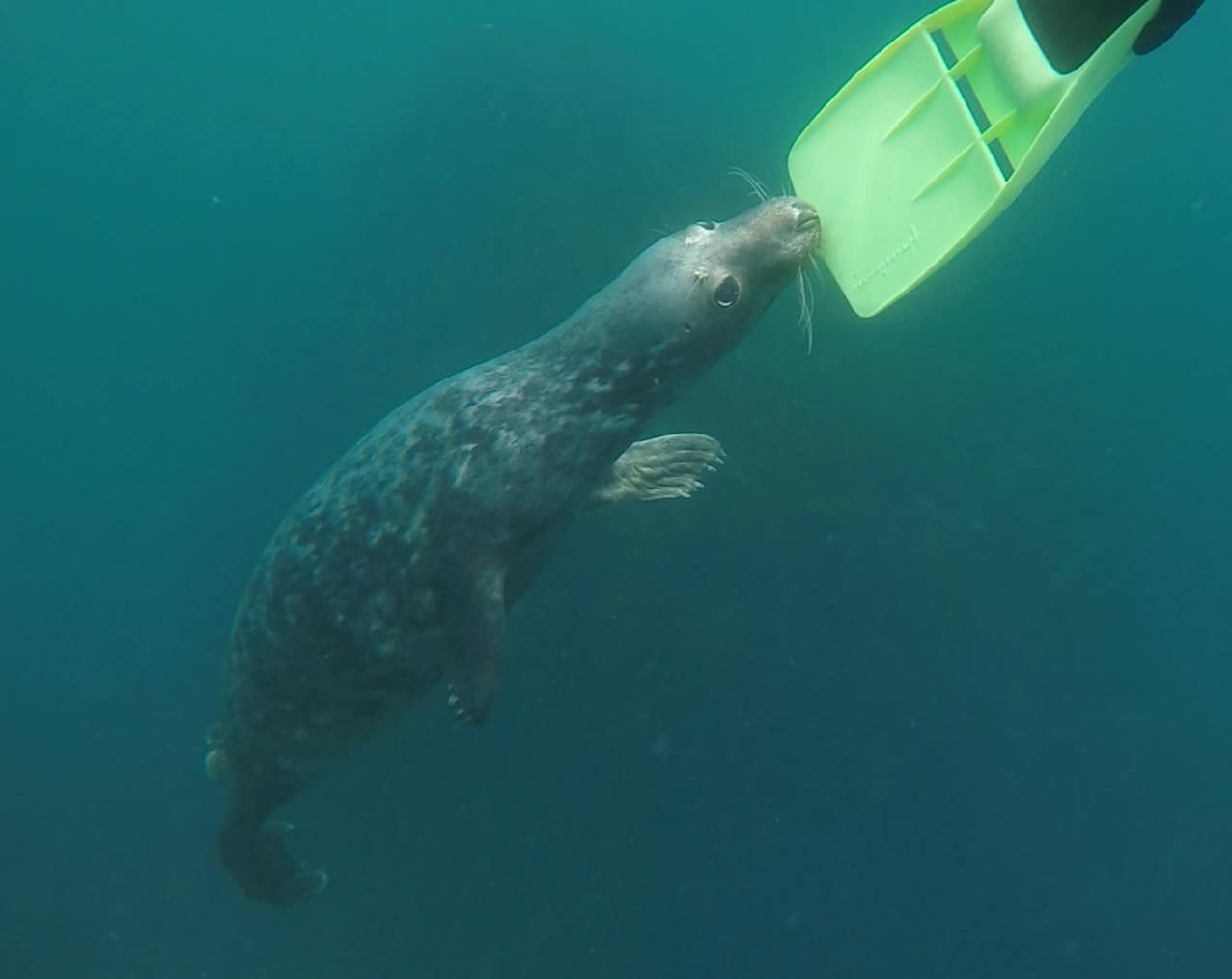 If you prefer to observe wildlife without getting wet, then ST. AGNES BOATING WILDLIFE SAFARIS may be for you.  These special trips depart every Wednesday from St Agnes with an onboard guide from Isles of Scilly Wildlife Trust.  Or try SCILLY PELAGICS – wildlife boat tours organised by members of St Mary's Boatmen Association.  In August 2021 a lucky boatload of visitors were blown away with sightings of two humpback whales and a minke whale in one single outing! Although whale sightings are unusual, they are becoming more and more frequent. Find out more about the 'Boat trip of a Lifetime' where Jo Pender had the most memorable day of his boating career.
For more wildlife experiences, have a browse of Visit Isles of Scilly's handy exploration guide, full of ideas for your Scilly adventures.
BOOK YOUR ISLES OF SCILLY ADVENTURE…
However you choose to spend your time on the islands, it's sure to be a memorable adventure.  It's not too late to book for 2022 and it's never to early to start planning for 2023… book your island adventure now.