The Isles of Scilly are famous for their white sandy beaches and azure blue seas, but relaxing on the beach isn't the only thing to do on your island escape. There's a whole host of activities waiting to be explored…
Isles of Scilly Island Hopping
There aren't many destinations in the world where you can explore multiple different islands in one day! The Isles of Scilly comprise of five inhabited islands, each with its own unique charm and character.
St Mary's is the largest and most populated island, with a bustling town centre and stunning beaches. Tresco is a beautiful and tranquil island, known for its world-famous Abbey Gardens. St Martin's is a peaceful and secluded island, offering breath-taking scenery and long white sandy beaches. St Agnes, the most south-westerly point in the UK, is a remote and unspoiled island with a rich history and dramatic landscapes, whilst Bryher is a rugged and wild island with sweeping beaches and stunning views. Each of these islands offers something unique and special.
A must visit of your holiday is to explore the islands by boat, as there are services every day of the week, and all of the inhabited islands have their own individual boat services.
You can purchase your tickets beforehand on St Mary's quay and choose from a variety of trips.
Visit Tresco Abbey Gardens
The world famous Tresco Abbey Gardens are a must see whilst on Scilly. This garden is home to more than 20,000 species of plants from 80 countries. Described as the perennial Kew without glass, it shrugs off sea spray and Atlantic gales to host a myriad of exotic plants.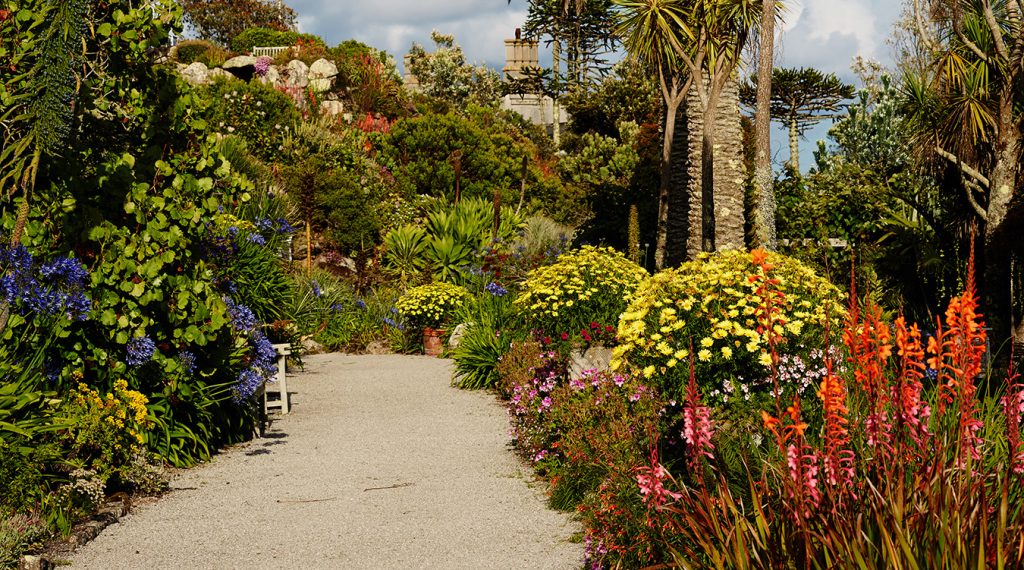 Wildlife Spotting
The islands provide a wealth of wildlife unique to the islands as the coastal waters are very peaceful, they host a rich diversity of species. The climate is warmer than the mainland and the land fruitful. Grey seals thrive here, as do song thrushes and puffins visit late spring. You'll find elm trees, red squirrels, stone chats, the Scilly shrew, dolphins and much more!
Explore the History of Scilly
From maritime shipwrecks to Bronze Age burial chambers dating back 3,000 years, the history of the Islands is compelling. Scilly houses 239 scheduled monuments, giving it a greater density of historical sites than anywhere else in the British Isles.
Local experts are happy to give guided tours across all the islands-uninhabited too. As well as guided tours, you can also visit the treasure trove that is the Isles of Scilly Museum, on St Mary's.
Snorkelling
The Isles of Scilly is a great place for snorkelling with crystal clear waters and abundant wildlife. Snorkelling is a wonderful way to experience a side of the islands that you cannot normally see. As well as the abundance of marine life, you can also snorkel with seals off the coastline which proves an unforgettable experience
Horse Riding
There's so much to take in on Scilly, and one of the best ways to explore the sights is by horseback. Horse riding on the Isles of Scilly is one of the best ways to explore the coasts and beaches, and the stables on St Mary's cater to all ages and skills. Whether you're a seasoned rider or a complete beginner, horseback riding is an unmissable activity.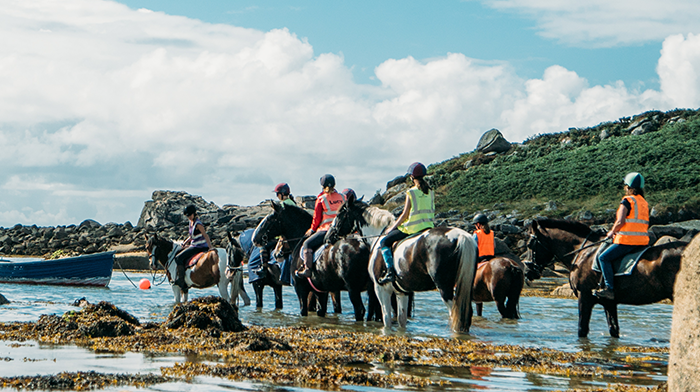 Cycle the Islands
With its beautiful coastal paths, lack of traffic and relatively flat routes, the Isles of Scilly are perfect for cycling. If you want to enjoy as much of Scilly's unique landscape as possible, exploring the islands on two wheels lets you to cover a lot of ground.
You can bring your own bicycle on the Scillonian III passenger ferry (just remember to book in advance), or you can hire one when you arrive. If you're staying on the islands, you can even have bicycles delivered to your accommodation. Some providers also offer electric bikes if you want a more leisurely cycle.
Visit the Art Galleries
Every inhabited island has artists and galleries enraptured by Scilly's wonderfully intensity of light. There is a wide range of media to choose from, including oil painting, watercolours, jewellery, stained glass, pottery or screen printing. You can even try your hand at making your own with daily afternoon craft workshops on St Mary's.
Enjoy the Food and Drink
Wherever you are on the Isles of Scilly, you'll never find yourself too far from a cafe, pub, restaurant, or a stall selling local produce. There is an abundance of island grown food and drink, ranging from reared beef and duck, to locally caught shellfish and Scillonian ales. A true foodie's paradise!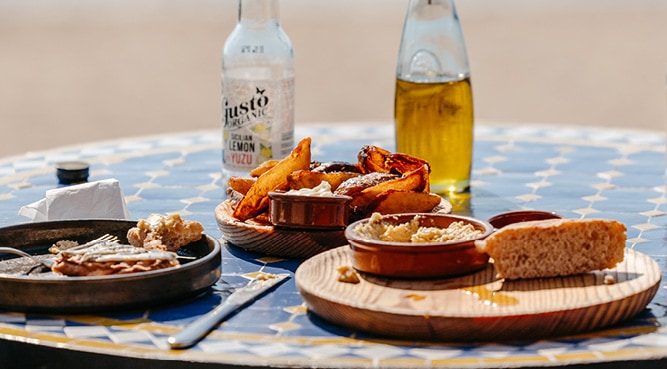 Relax
Do nothing! That's right; one of the best things to do on Scilly is absolutely nothing. This is a place where you truly can get away from it all. Even at the height of summer you'll find a fine beach to call your own.
The islands are just a 20 minute flight from Land's End, 30 minutes from Newquay or 60 minutes from Exeter Airport. You can also sail from Penzance in less than three hours on the Scillonian III passenger ferry.
What are you waiting for? Book your island escape today.