You've already decided that you need to make the most of this beautiful weather and plan a trip to the Isles of Scilly, but you now need to decide how to get there…
If you are looking for a memorable way to travel to the islands, then why not try a real flying experience on board Skybus. Soar above the stunning landscape and find out why it is such a popular choice for new and returning visitors.  And with regular flights to and from the Isles of Scilly from our three departure points, it's never been easier to plan a trip.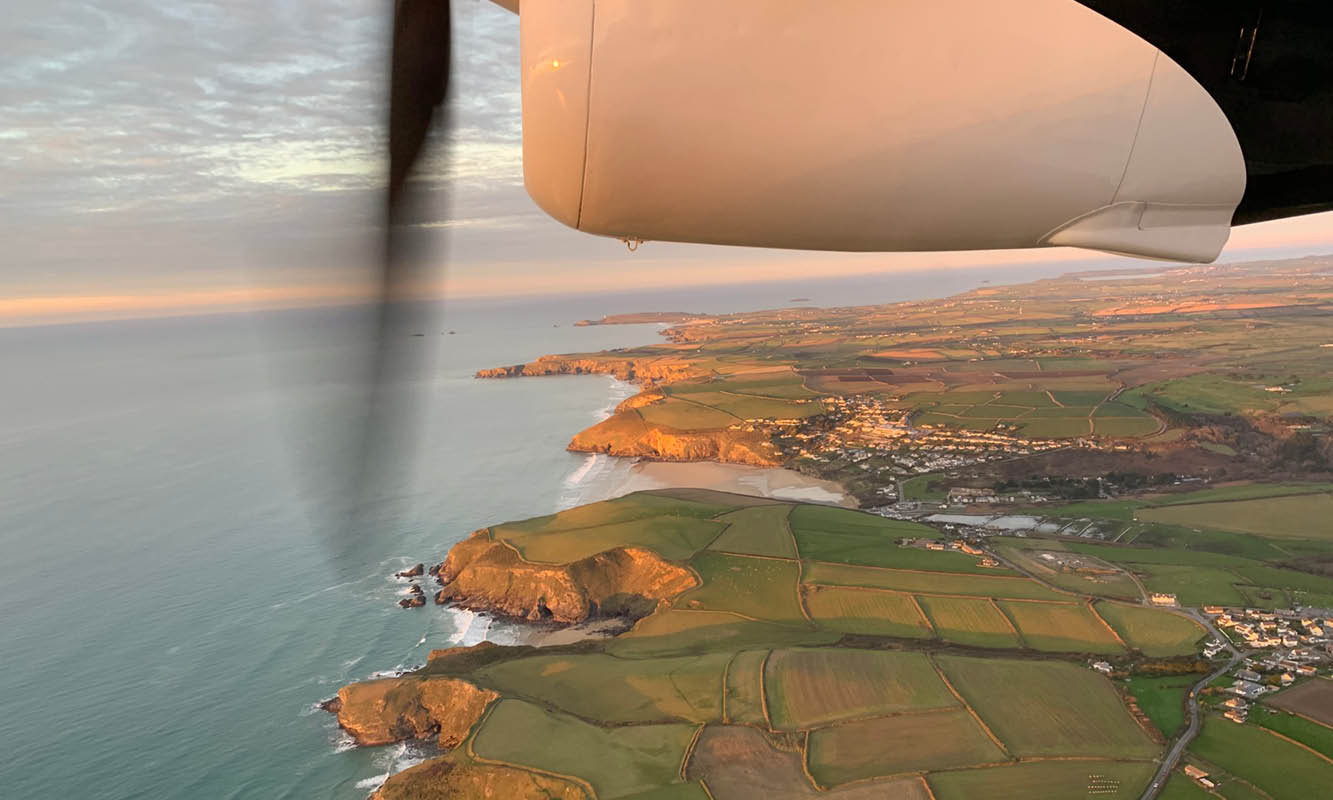 Our 3 Skybus departure points
No matter where you are in the South West, you won't have to go far to catch your flight to the Isles of Scilly.
You can fly from Land's End Airport – a great option for those who want to enjoy a day trip to the Isles of Scilly.
Or why not book your flights from Newquay Airport – ideal for those travelling from the north of Cornwall. Newquay Airport is just a stone's throw away from some of Cornwall's best attractions, making it the perfect place to start your adventure to the Isles of Scilly.
For those visiting from a little further afield, you can also fly from Exeter Airport which has great facilities, a journey time to the islands of just an hour and special VIP perks for all Skybus passengers.
If you are wanting to travel with your four-legged companion, both our Land's End and Newquay routes are dog friendly. 
No matter which departure point you choose, you can expect the same excellent service and stunning views.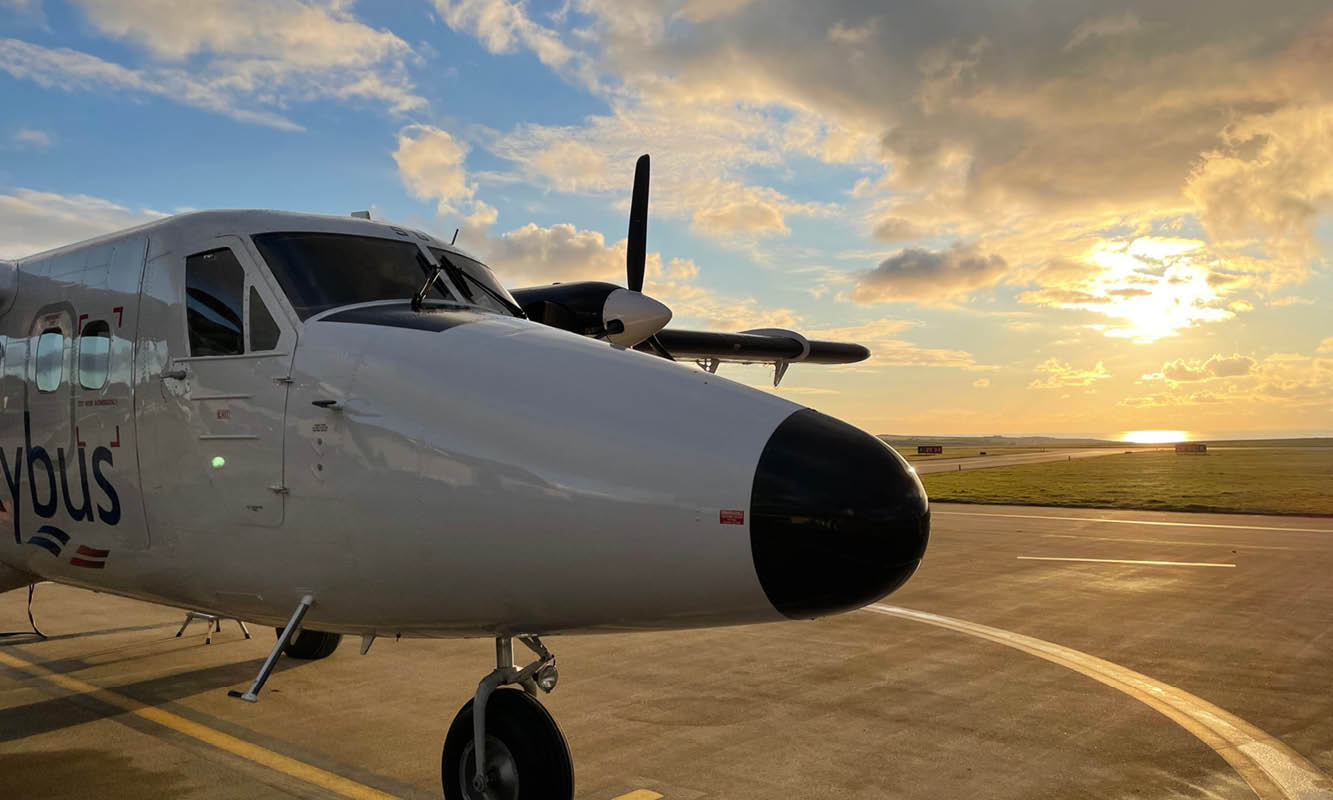 The ease of Skybus Travel
Whether you're heading to Scilly for the weekend, a longer break or even visiting just for the day – the simplicity of flying with Skybus means that you can sit back, relax and enjoy the start of your Scilly adventure.
All of our departure points have plenty of on-site parking with Skybus passengers able to redeem 10% off parking when flying from Exeter.
If you are travelling by train, our perfectly timed transfers take you quickly and painlessly from Penzance railway station to Land's End Airport.
All passengers have a free luggage allowance, with a quick and easy check-in process.
Once you have arrived, checked in and are comfortable – all departure points have café facilities, including our very own Western Rocks Coffee Co. at Land's End Airport, so you can enjoy something to eat and drink while you await your departure.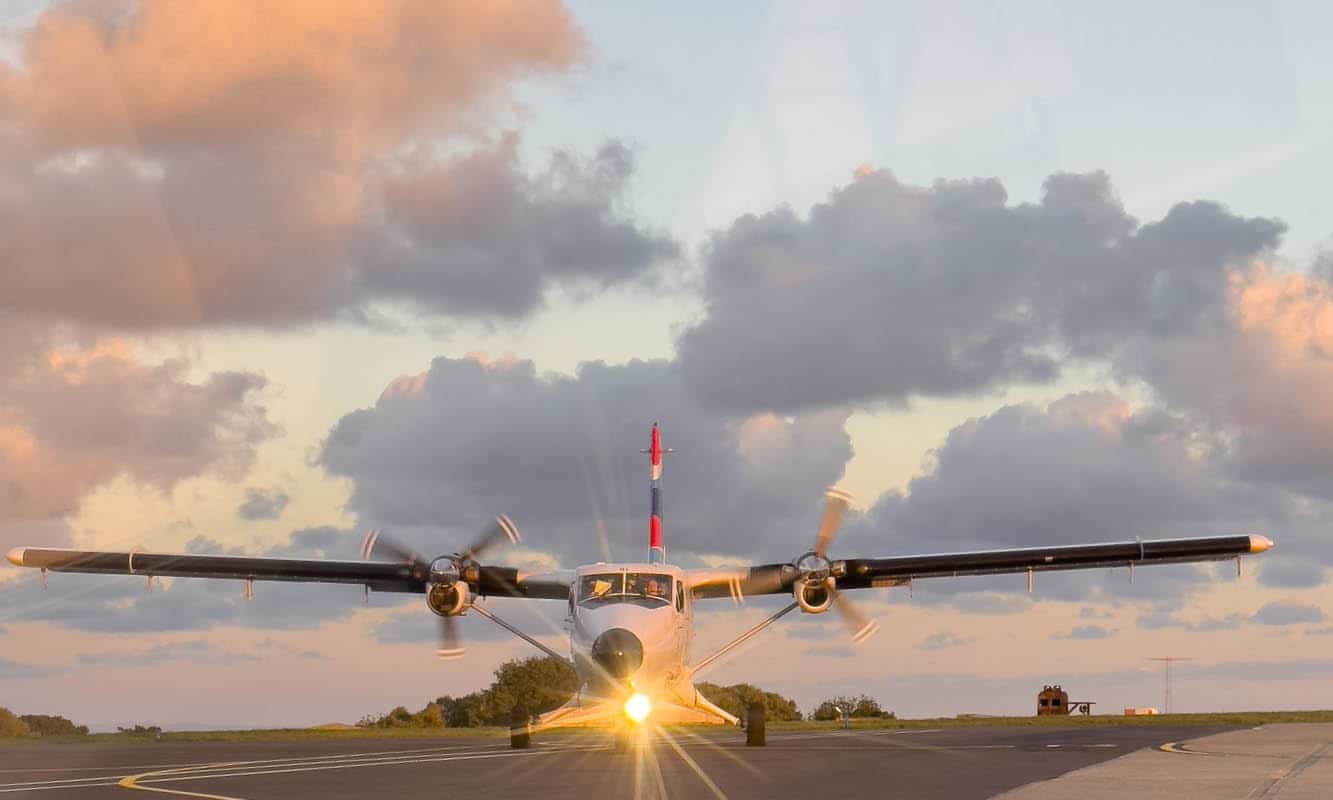 The amazing Skybus views
Enjoy stunning aerial views of the Cornish coast and the rugged, natural beauty of the islands. From the window seat, you can marvel at the crystal-clear waters of the Atlantic Ocean, and the charming villages dotted along the way.
Skybus flights are the perfect way to really appreciate the beauty of this unique archipelago.
With flights operating at different times throughout the day, you can choose the time that suits you best, whether it's an early morning flight to catch the sunrise or a late afternoon flight to take in the sunset.
Whether you're travelling to the Isles of Scilly for the first time or are a seasoned visitor, the views promise not to disappoint.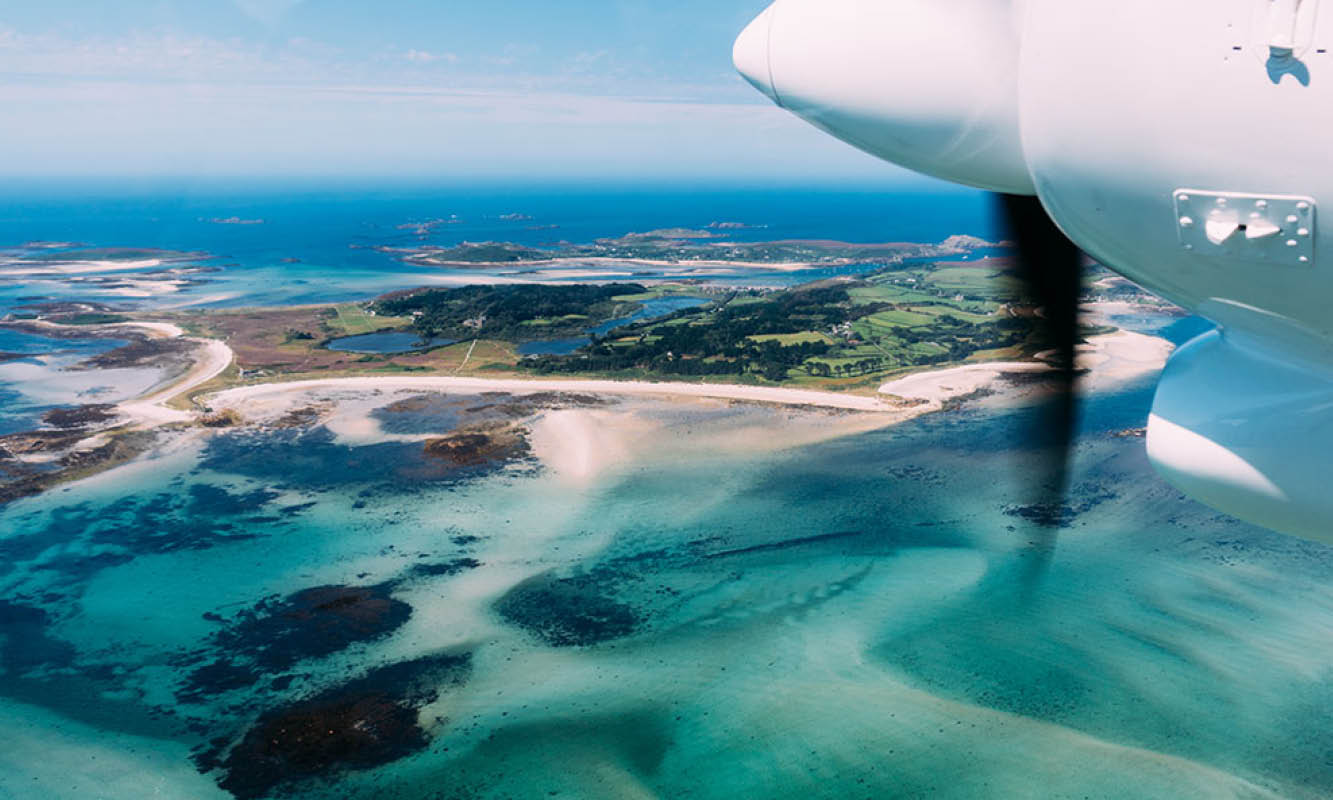 Day tripping with Skybus from Land's End
Why not try a Skybus day trip from Land's End? From here, you'll be whisked away to the stunning Isles of Scilly in as little as 15 minutes!
Once you've arrived on the islands, there are endless possibilities for adventure and exploration.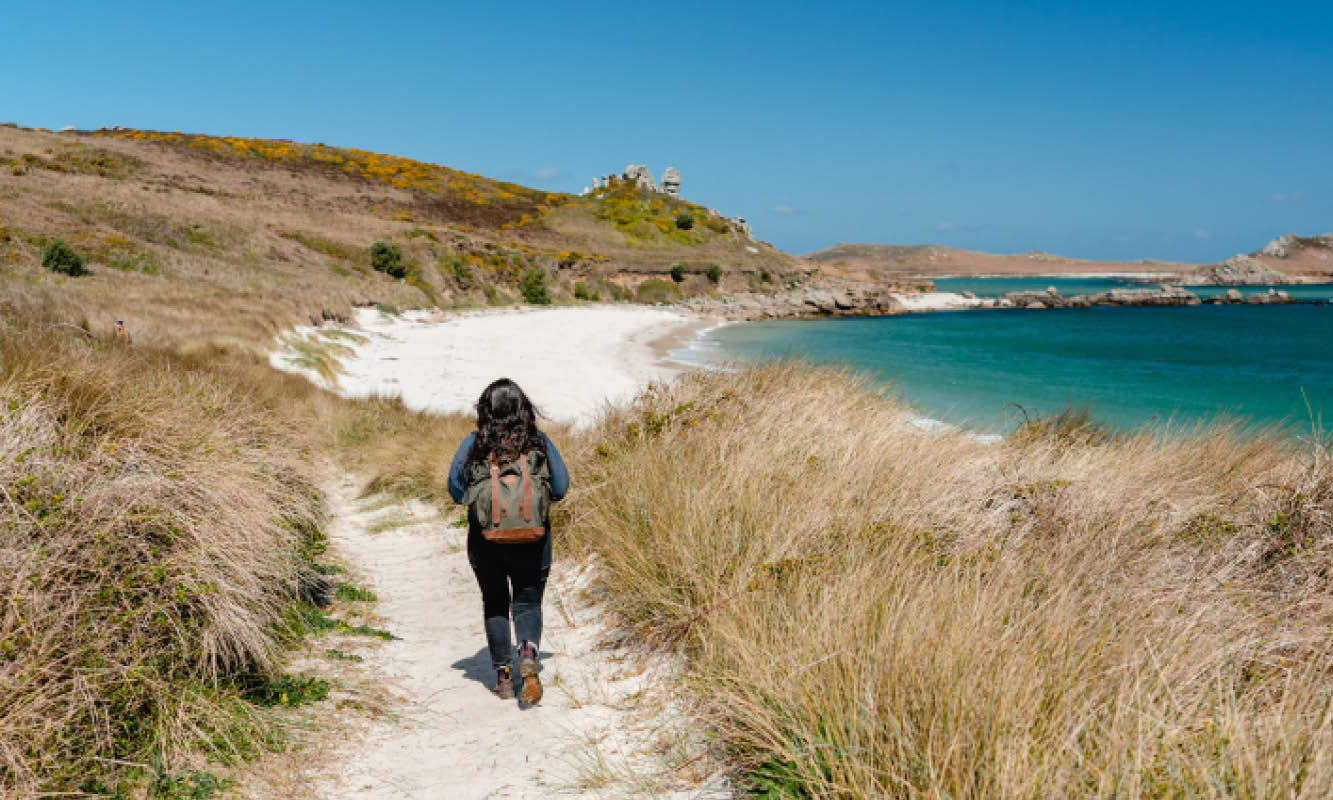 You could take a leisurely hike around one of the islands, enjoying the fresh sea air and stunning scenery along the way. Or, you could hop on a boat tour and explore the coastline, spotting dolphins, seals, and other marine life along the way.
One of the best things about taking a day trip to the Isles of Scilly with Skybus is the flexibility it offers. You can choose to spend the whole day on the islands, taking your time to explore all that they have to offer. Or, if you only have a few hours to spare, you can still make the most of your time by taking a shorter tour or activity. And because the flights run throughout the day, you can easily choose a departure time that works best for you.
So why not make your next trip a truly memorable one by booking a Skybus flight with Isles of Scilly Travel? You'll experience stunning views, incredible natural beauty, and endless possibilities for adventure and relaxation.