Saturday, April 11 – Friday, April 17
Walk Scilly offers tourists a chance to explore the islands from a unique perspective – through the eyes of the people who have made Scilly their home. With wildlife walks, historical talks, foraging adventures and "top to toe" island tours, the event is a fantastic opportunity to get to know the islands – and its inhabitants.
Explore with your eyes
Your adventure on Scilly begins either by plane or by sea – both of which give you an opportunity to scope out the islands before you set out on foot.
If you're travelling from North Cornwall or further afield, the islands are just a hop, skip and jump away from Newquay or Exeter Airport. As the plane comes into land on St. Mary's, you'll have a bird's-eye view of the white-sand beaches and coastal paths you're about to explore.
In fact, you can fly to the islands from Land's End Airport in just 15 minutes, making it the perfect place to begin a day trip.The airport has a cosy wood-burning stove and offers panoramic views of airfield – so it's alovely place to start a relaxing break too.
If you'd prefer to travel by sea, our Scillonian III passenger ferry departs from Penzance Harbour, Monday to Saturday. If you head onto the deck, you'll be able to enjoy a coastal view of a few of the islands before the ship arrives into St. Mary's.
Pull on your boots
During Walk Scilly you can really make the most of your stay, as you won't need to worry about organising boats between the islands. There will be more than 20 different themed walks during the event, covering all of the inhabited islands andsome of the uninhabited islands too. With the local experts to show you around, you might discover parts of Scilly you never knew existed, all while unearthing the islands' history and sampling local produce.
"April is a wonderful time to visit Scilly as spring is in full bloom and the wildlife is abundant. And there is no better way to explore the islands than on foot." Amanda Pender, Islands' Partnership Tourism Coordinator.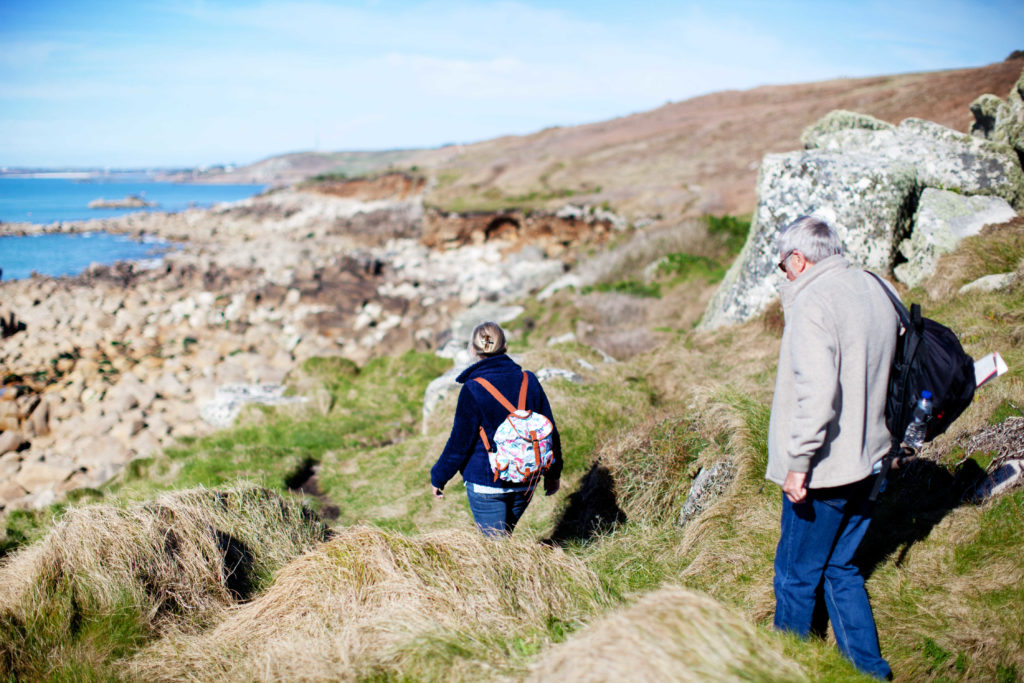 Walk on the wilder side
For those of you that long to discover more about the great outdoors, there will be foraging events during Walk Scilly. These fascinating walks will teach you about the islands' edible plants and herbs, which are then cooked up in the kitchen! There will also be opportunities to seek out sea birds and other local wildlife during nature walks – you could even go snorkelling with seals off the coast of St. Martin's.
The islands have relatively mild winters considering their proximity to the UK, which makes early spring a great time to see the flowers in bloom.
Booking your tickets and travel
This year's Walk Scilly is bound to be popular – so book your travel, pull on your walking boots and take part! As sponsors of the event we are offering 10% off the cost of travel during Walk Scilly.To travel bySkybus or on the Scillonian III, please contact our team in Penzance on 01736 334220 and quote 'WLK' when making your booking.
Tickets for Walk Scilly will be available from March – keep checking www.visitislesofscilly.com for more information.