Autumn can be a wonderful time of year to build a love affair with the Isles of Scilly. With migrating birds passing through, Atlantic Grey Seals preparing their pups for winter and the perfect opportunity to wrap up warm and enjoy a wild walk by the coast.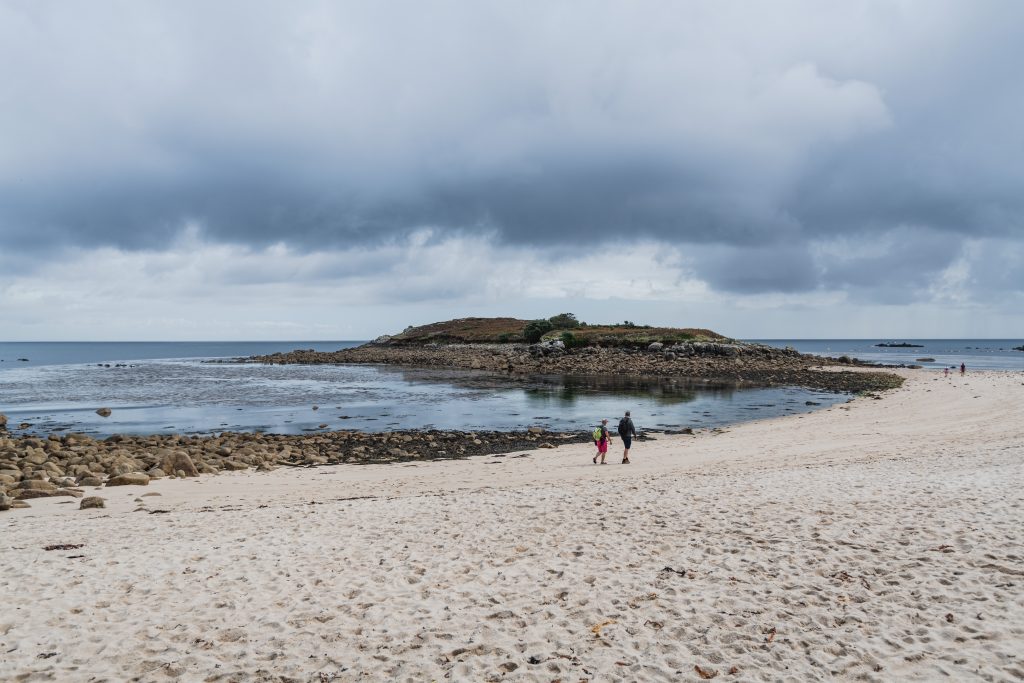 The Isles of Scilly Wildlife Trust is Scilly's only local independent conservation charity responsible for more than 50% of the Islands. Nikki Banfield is Communications Officer for the Isles of Scilly Wildlife Trust. Nikki has a passion for the weird and the wonderful, particularly in the marine environment, and can often be found rockpooling and beachcombing in her "down-time". We've caught up with Nikki from the Isles of Scilly Wildlife Trust to hear her top wildlife spotting tips for the autumn season and what visitors can do to help protect the landscape and habitats on Scilly.
Hi Nikki, can you tell us why the Isles of Scilly are so special for wildlife spotting?
The whole of our Islands are designated an Area of Outstanding Natural Beauty. Areas identified and recognised as important and special for a variety of different reasons; including Stalked jellyfish, Pink sea-fans, archaeological sites, rare Lichens, "waved heath", Atlantic grey seals, our breeding seabirds and so much more. Within our multitude of designations, you will find a veritable patchwork of habitats and ecosystems and, although we can't boast big flashy species like Deer, Beaver or Snakes, Scilly has some pretty memorable wildlife that you won't find anywhere else in the country. Whether you're passionate about plants, have a budding interest in birds, are mesmerised by mammals or bonkers for bugs, Scilly can show you something special.
What are the typical sorts of wildlife you'd see on the islands this autumn?
Migration is in full swing so we do have a lot of bird-watchers on the Islands looking out for their next "mega"; but you don't have to be "into" birds to appreciate it.
We get to enjoy a variety of bird life; including beautiful Wheatear and the fascinating Wryneck on the coastal stretches; Jack snipe, Plovers and Warblers can often be spotted around the pools or in the willows through the wetland sites.
You can still catch up with our Atlantic grey seals, and often at this time of year you will hear their soulful, mesmerising "singing"; accompanied by the background sounds of the ocean.
Additionally, you will often see Shags and Cormorants fishing closer in to shore; Gannets hunting and diving offshore and hear the vociferous calling of Oyster catchers as they march across the beach or the twittering of Turnstones, as they chase the lapping waves backwards and forwards on the more sheltered beaches.
What tips can you give to safely observe the wildlife and protect the landscape when visiting Scilly?
Here at the Isles of Scilly Wildlife Trust we advocate putting wildlife first; we want people to have memorable wildlife interactions but not at the expense of our wildlife and wild spaces. For that reason we encourage wildlife watchers to use binoculars (or long lenses) to get the best possible views and those that are enjoying our great outdoors to leave no trace.
Do you have any tips for rainy day activities?
Some of my best outdoor adventures, spots and finds have been on rainy days.  Come prepared for all eventualities and don't let the rainy days put you off.  There's nothing more refreshing than spending the day outdoors, in the wind and rain; returning home after seeing a completely different side of Scilly to dry off.
What can visitors do to help protect the landscape on Scilly?
It can be tricky to know what to do to help protect Scilly's landscapes and wildlife; particularly when there is so much information available on a global scale in relation to our environment, climate change and the impact our lives have on the natural world. One really simple and manageable thing you can do is support the Isles of Scilly Wildlife Trust, the local independent conservation charity responsible for looking after more than 50% of Scilly, by becoming a Friend of Scilly Wildlife. If you want to help the very nature of Scilly, then do consider becoming a Friend of Scilly Wildlife or if that's not within your means there are other ways to Support Us.
Here at Isles of Scilly Travel, we're supporting the Wildlife Trust by having a dedicated Wildlife Ranger onboard Scillonian in the peak season and we've added a donate button to our website so you can support the IOSWT when booking your travel tickets to the Isles of Scilly.
If you're feeling inspired to spot some of Scilly's wonderful wildlife, travel tickets to the islands can be booked here.