In a field currently dominated by men, we believe it is important to encourage and inspire women to pursue a career in aviation.
In 2021 it was estimated that less than 5% of pilots in the UK were female. At the Isles of Scilly Steamship Group, we have 23 Skybus pilots made up of four female pilots (making up 17.4%), three of whom are captains.
Today, to celebrate the company's strong female workforce on International Women's Day, we are re-sharing the story of Amelia Richardson, who was inspired by two of our very own Skybus pilots.
Amelia at 14 is the youngest member of the Black Mountain Gliding Club in the Brecon Beacons National Park. She recently completed her first solo flight and aspires to become a RAF fast-jet pilot.
Her dream to become a pilot was sparked on discovering the Skybus Twin Otter she had boarded to the Isles of Scilly was going to be flown by two female pilots.
When our female Skybus pilots learned they were the reason behind the 14-year-old's dream, they sent her a personal video. Firstly, to congratulate her on her first solo flight and secondly to offer advice to make her dream become reality.
Amelia and her parents were so touched by the video they visited Land's End Airport to meet them in person.
"What can I say other than THANK YOU and WOW! We were absolutely blown away by the way you treated Amelia and us today. That was really special. The company I work for Suzuki, has won several awards for outstanding customer service and we focus on being great at the basics and creating magic moments. You most certainly have something magical at your organisation, it really is something to cherish. We hope the little treats get to you safely. Thank you all again. James, Sarah and Amelia."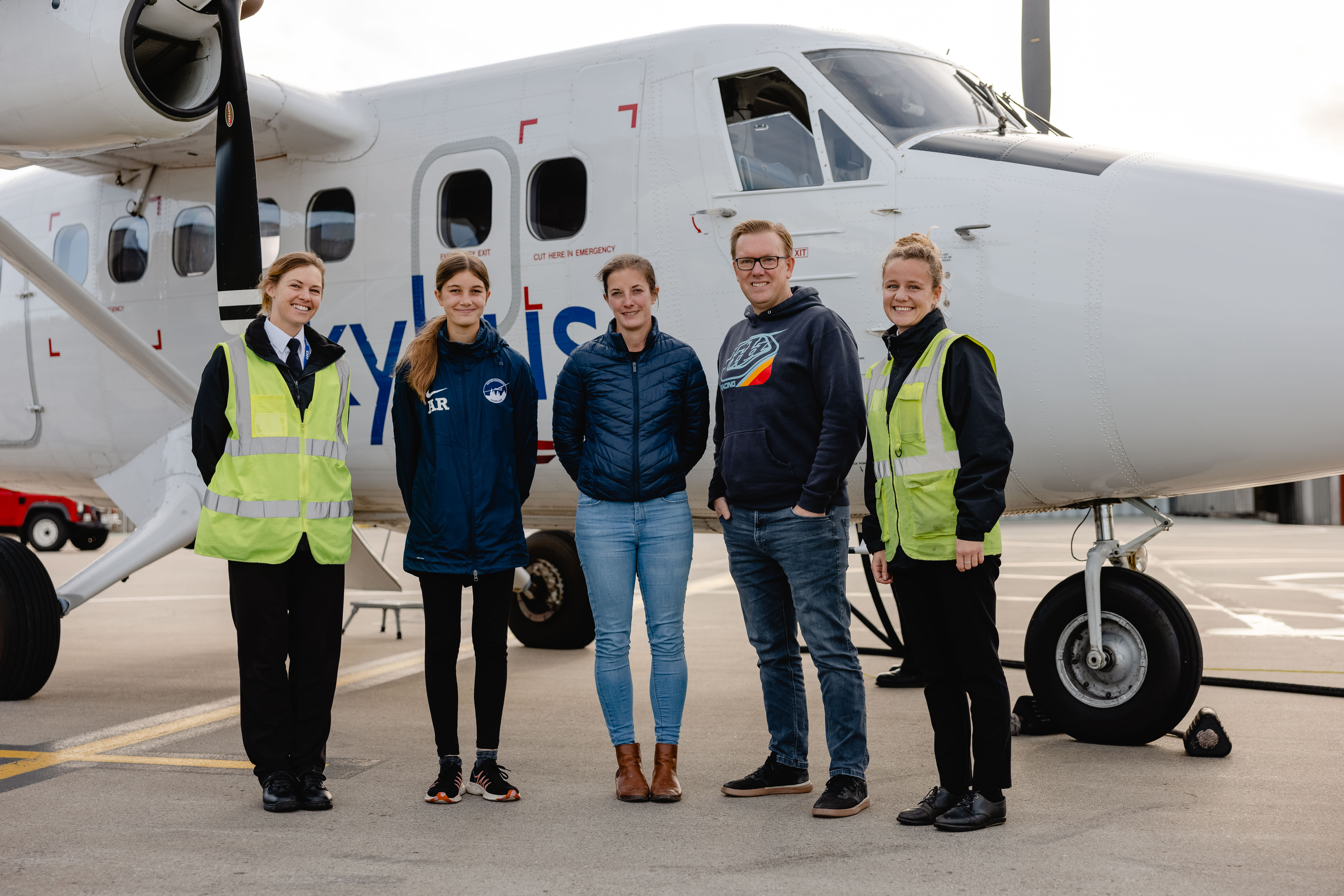 To help other young aspiring pilots we have put together this short guide on how to get started on your chosen career path.
To become a commercial airline pilot, you'll need to apply for an Airline Transport Pilot Licence (ATPL). To get your ATPL, you'll need to train with an aviation academy or flight school and have obtained a Class 1 Medical Certificate.
The qualifications required to become a trainee pilot may depend on the academy or school you train with. A degree is not always essential, but it is beneficial to have good knowledge in maths and physics before starting.
You'll graduate from flying school with a Commercial Pilot Licence (CPL) and an Instrumental Rating (IR), which combine to make up a 'frozen ATPL'. With a frozen ATPL you'll be able to apply for jobs as a first officer or co-pilot. To 'unfreeze' your ATPL you'll need to complete 1,500 hours flying experience and meet certain conditions along the way, after which you'll be able to apply for jobs as a captain.
Find out more about the career opportunities, apprenticeships, and work experience placements we offer by contacting out HR department hr@issg.co.uk, they will be happy to help and give you advice.